Within Tennis Heritage Australia we have a range of collectors and historians interested in books, equipment, autographs and of course researching the development of the game.
This next story highlights how valuable a small amount of information can unravel a story about an Australian Player who never really gets a mention in any of the published tennis books produced over the years.
Now that is not a criticism, because he is often listed as being British, however with a stroke of good fortune  and with today's TROVE Australian Newspaper search engine we have been able to join some dots, so to speak about this most accomplished Australian player during the 1920′s.
OUR MYSTERY PLAYER IS HARRY SAMUEL LEWIS BARCLAY
In 1922, he was rated the 4the best Australian over in the UK by A. Wallis Myers a renowned tennis critic and writer.
He was rated in 1925 in the top 12 players in Britain just behind Randolph Lycett, who coincidentally was another Australian who went to the UK to live and enjoy a tennis career in England and Europe.
So how did Harry disappear off the Australian Tennis radar?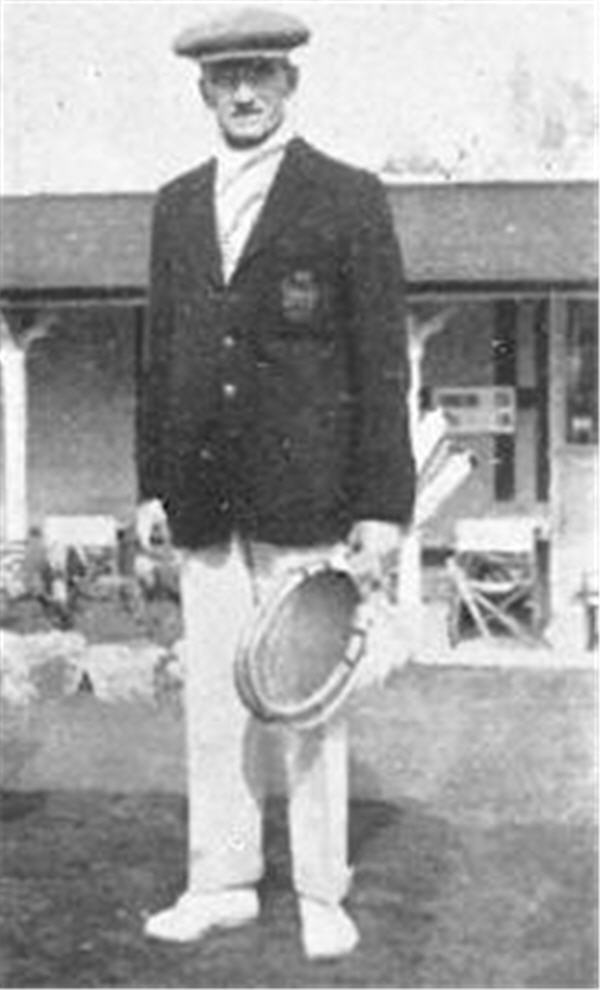 This story begins a few months ago when a UK auction house was selling some old tennis trophies.  Being inquisitive, I explained that it is difficult to sell them unless your sale descriptions include who won them, the tournament and the dates, so some better pictures were provided.
To my amazement there were two trophies from 1915, engraved with Tasmanian Singles and Tasmanian Doubles.
Surely then he must be an Australian and not a British player  and so the Trove investigation immediately began.
Harry Samuel Lewis Barclay was born in Beaconsfield,Tasmania on 7th November 1892 and didn't start playing tennis until 1911.
Only 4 years later aged 23, he won the 1915 Tasmanian State Singles and Doubles Championship playing with W. Sheehan of Alexander Tennis Racket fame (down the track). He had been rising in the ranks in Tasmania and pre the 1915 wins formed part of a Tasmanian team to play the MCC in Melbourne and the 1914 Autumn Championships. After winning the 1915 events he again traveled as part of a Tasmanian team to NSW.
With the outbreak of war, he joined the war effort and spent time on the front lines in the army.  He survived unscathed but at the end of the war became a career soldier and joined the British forces in the Indian Army where he attained the rank of Captain.
Tennis was still a passionate pastime and he played in India winning some major tournaments there and when he could organise extended furloughs would travel into Europe and England for the tennis season.
In 1920,  he played in the Beau Site Tournament in Cannes which was a very prominent tournament attended by many fine UK and European players over the years.  He struck good form and won the event beating  Fisher 6-2, 7-5, 3-6, 7-9, 6-1.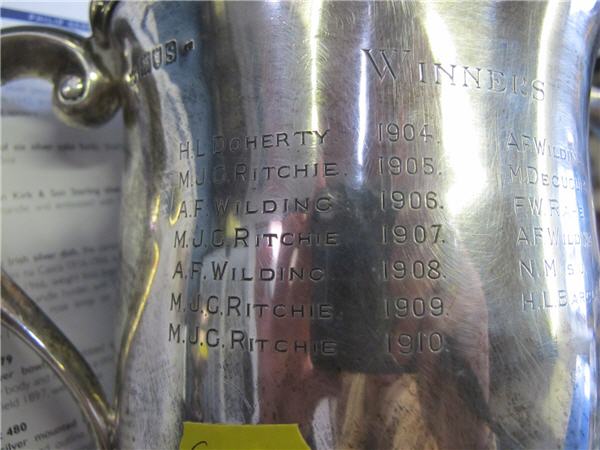 As you can see from the trophy he is in fine company.  It was a unique event for this was the first time an Australian had won the well contested title, owing to New Zealander Anthony Wilding defeating his doubles partner, Australian Norman Brookes in a  previous final. He wrote a letter to "Austral" (R.M.Kidston) of the referee giving details of tennis in India and his match at Cannes.
In 1921, he won the Indian Army Singles and Doubles and also the Open Doubles.  He lost the Open Singles in the final but was thoroughly exhausted from playing so many other matches during that day. So much different than players of today.
The Davis Cup association introduced a rule that only British or natural born Indians could play in the inaugural 1921 Indian Davis Cup Team.  It also stated that once a player had played Davis Cup for a country he could not play for another.  Interestingly two Japanese players living in India, Shimidzu and Oakamoto, were forced out of contention to play for India owing to this ruling.
Barclay and other British Officers were eligible to play with other native born Indian representatives including the Fyzee Brothers, M. Sleem and S M Jacob being the best of  the local players. My assumption is that Barclay and co really contributed to the standard of play in India to the point where these players not only could play in the Davis Cup but also achieved notable performances in some of the UK tournaments.
In a letter to the Referee in 1921 he suggested that being selected (if not for Australia, would be a dream he had had since 1915) however he mentioned a shortage of officers as perhaps the reason he could not be selected.
Owing to the ruling about players only playing for the one country,  in 1922 Harry ruled himself out of contention as a player but instead became the team captain. He could have been selected to play for Australia by birth or wait for residential status in England to play for the British Isles.   Harry headed back to the UK to play with the team with the thought that he would be soon living in England.  In the preliminary tournaments he had wins over Italian Davis Cup Player Baron DeMorpurgo in the North London Singles Championship, at Middlesex he beat prominent UK player Gordon Lowe and Australian Davis Cup player Rupert Wertheim.
His first Wimbledon tournament he played to the 3rd round where he was beaten by Brian Gilbert who made the semi finals along with three other Australian players, Anderson, Patterson and Lycett. In doubles with Wertheim, Harry made the Quarter finals being beaten by USA pair George Caner and Dean Mathey in 4 sets.
Over 1923 and 1924, Harry appears to have only spent time playing tennis in India for there is no record of him returning during this period.  He must have been playing regularly for in 1925 he came back to England presumably having left the Indian Army to take up residence in England and was in great form.
The tennis season in 1925 brought Harry tantalisingly close to the top ranks.
Of particular note in the regionals was his performance in the KENT championships. Here he was defeated in the singles final by Lycett in 4 sets, remembering that Lycett lost to Patterson in the final on f the 1922 Wimbledon Championship and in doubles Barclay and Crawley lost to Lycett and J.O.Anderson, the Wimbledon Doubles champions in 1922. Lycett won them three time straight with separate partners.  The score at Kent was 3-6, 6-3, 6-8, 6-2, 6-1.  That really does show that even at 33 Barclay was a very strong player.
He won the Hurlingham singles championship but went down to Woosnan, a UK Davis Cup player at Manchester with a newspaper article suggesting Harry had not reached form.  However he and Lycett made the doubles final together losing a very close one to Woosnan and Godfree (both ex Lycett Wimbledon doubles champions) the score 2-6, 3-6, 10-8, 7-5, 6-4. He played J.O.Anderson is a warm up match to Wimbledon and won a set.
He also played in the Torquay singles final against UK Davis Cup player Kingsley.   Together, Barclay and Kingsley also went onto win the British HardCourt Doubles Championship.
In order to join the British Davis Cup team he played in the trial matches and beat Wheatley, yet despite this was overlooked for inclusion in the side, perhaps due to residential qualification issues since he hadn't been living in England for less than a year. Wheatley, a previous Davis Cup player, was chosen again in 1925. Harry was however selected in an International side which toured Ireland.  He also won numerous UK Army tournaments.
At Wimbledon in 1925, the club introduced a new structure, like today, whereby a list of nominated players was included in the main draw with the final 8 having to compete via qualifying matches.  Harry Barclay was included in the main draw.
The first round was the most telling where he met Theodore Mavrogordato a veteran Davis Cup and  Wimbledon player. It was a massive 5 setter 12-14, 7-5, 6-1,3-6, 6-3 so Harry presumably out ran him in the fifth. The second round was against M. Temple, the third against P.M.Davson and he won both in 3 sets. In the fourth round he defeated Lt. Col. H.G.Mayes again in a close, come from behind 5 setter 6-2, 1-6, 4-6, 6-3, 6-3.  With this win Harry was now in the quarter finals along with fellow Indian player S.M.Jacob. Fyzee had made the fourth round.  This was the start of the French dominance and Harry was to play Jean Borotra.
The 1924 Champion began nervously and Harry was up three games to nil.  What must have been going through his mind. Borotra settled and came back to win the next 6 games straight. In the closer second set, Harry was up 4-3 and then Borotra won the next games. Harry squared at 5 all and then eventually took the second set 7-5.  The newspaper reports the match was a very thrilling one to watch with the scores moving like a pendulum. Even changing tactics in the final set to playing the net to some success, Borotra won the last two sets 6-3, 6-3.
In doubles with Gordon Crole-Rees, they made the third round.
In total Harry played at Wimbledon 8 years starting in 1922 and lastly in 1934.  1925 was his best performance in singles and in doubles 1922 with Australian Rupert Wertheim. After this his form fell away and he was defeated in the first rounds bar a second round in singles in 1931.
In an article from 1949, Harry had along the journey preferred the Christian name Lewis and so is listed as such in the Wimbledon records.  He remained in the Army, retiring as a Lieutenant Colonel and his match against Borotra was indicated as his career highlight.
So thrilled to re discover this additional personality from the 1920′s.
An article about him : Tasmanian Abroad. SUCCESS IN BIG TENNIS. CAPTAIN H. L. BARCLAY'S CHAMPIONSHIPS. International Players. 19TH JUNE 1920
Tennis players throughout Tasmania will be interested to learn of recent doings in the old world of a player who in pre-war days as a comparative youth achieved the distinction of singles and doubles champion of this state – Captain H. L. Barclay. Now an officer of the Imperial Army stationed in lndia, Captain Barclay has latterly been enabled to participate in big match tennis in France and; England, and won very appreciable successes. He has written chattily of recent happenings in the tennis world. My first tennis, he writes, was in Poona (India) last September. I had only been playing a month (the first since 1915), and managed to win the Open Championship Cup there. My leave to England was than granted. From October to February I played nothing but golf, and finished up with a handicap of scratch at Harry Vardon's club. No lessons, either! In March I went to the French Riviera for the tennis. My doubles game came back quickly, but my condition wasn't good for singles. At the Menton meeting I got to the final of the Open Doubles. At the Cannes club meeting my partner (Aslangul, a French man) and I heat F. G. Lowe and Dudley, 6-0,6-4, in the semi-final of the Open Doubles, but we were put out by M.G Ritchie and F. M. B. Fisher in the final. At the Beau Site (Cannes) meeting my singles game came back with a vengeance. Fisher was playing great tennis, and had beaten Ritchie and Lowe on his way to the final. I had come through without dropping a set. In the final Fisher and I had a capital match. I won the first set, 6–2, the second 7-6 lost the third 3–6, and after being within a point of match several times lost the fourth, 7-9. In the fifth I made no mistake, and won, 6-1. Ritchie came on the-court at the finish, and said it was the finest tennis he had seen on" the Riviera. Later in the day Aslangul and I were beaten again by Fischer and Ritchie in the doubles final. The Beau Site meeting is the oldest and biggest meeting on the Riviera, and my cup has some famous names on it. They may be interest ;H. L. Doherty-1904-. M. J. G. Ritchie–1905 A. F. Wilding–1906. Ritchie 1907. Wilding 1908, Ritchie-1909. Ritchie-1910. Wilding-1911, Max Decucuis-1912 F. W. Rahe-1913. Wilding l914. N Misu 1919 H. L. Barclay-1920. The newspapers were very nice to me, and predict all kinds of wonderful, things. You will notice this is the first time the Beau Site has been won by an Australian. Brookes unfortunately fell to Wilding when he tried. This week (late in April) I've been playing in the Surrey Hard Court championship. The field included Ritchie, Misu, Turnbull, and Sherwell (South Africa). The first three were in the top half. and Sherwell and I were in the bottom lot. Sherwell was my only danger, as he is playing awfully well. Last week at Queens he was 2 sets up and several times had match point against Mavrogordato, but just failed. 1 set about Sherwell in the third round, and beat him, 6–3, 6-0. Yesterday 1 met a man named Bell in the semi final, and was beaten two sets to one. It was appalling, as he is only second class, and people had said how easy he was, and that the cup was mine, etc. Also I was suffering from dysentery (which I picked up in India), but really lost through slackness. Then when I commenced to play everything went wrong. He never once beat me with a stroke. I beat myself. In the top half Ritchie beat Misu, Turnbull (an international) beat Ritchie by very fine tennis, but another "rabbit" beat Turnbull. The same thing happened there as with me. So today the final was held, and l believe Bell won. The moral is:-never under-estimate an opponent, and win 6-0, 6-0 if possible. On the 6th of May unfortunately 1 have to return to India. However, I intend to settle down to hard practice. and hope to get across to England again next year. I have improved greatly, and really believe I can do big things with some hard practice. Lycett is over here now, and he tells he intends to settle down in England. I met and played a good deal with Suzanne Lenglen in France. She's a tophole player, and has every stroke in her bag. She doesn't hit hard, but her accuracy is wonderful; also she gets about the court well, and altogether plays the game more like a man. Her strokes are just plain faced racket ones, with never any top spin or cut. She is steady on the low volley, and places them well. Overhead she is not severe, but puts them back with good length. A very short lob she finishes off across court in a very convincing style. By the way she is just' 21. Off the court I find her very nice, and not at all spoiled. One often hears strange tales of how her father taught her to play by marking the court into small squares! The truth is, to simply used to mark the corners of the base line and get her to drive into them. Mr, G.M. Simond (the well-known player and referee of all the 'Riviera tournaments) tells a good yarn about Suzanne. Before she was any good see was beaten in a handicap at Nice by a lady who owed 30, and Suzanne was to receive 15-3. Suzanne's father (or Pa Lenglin, as he is known by) came up to Simond and said in a very indignant manner, "I consider my daughter's handicap was disgraceful. If you don't give her a bigger handicap I'll never allow her to play in a tournament again." Times have changed since that, eh?
Captain Barclay's letter will be read with general interest, for recent English cables have brought news of important fixtures in which the international players he mentions have been participating. Lycett, the Victorian. now resident In England, particularly has been prominent .through the medium of the discussion as to the justice of his inclusion in the British Isles Davis Cup team. Suzanne Lenglen recently won all three French championships –singles, ladies' doubles, and mixed doubles. Captain Barclay sends his regards to his many tennis friends in Tasmania.
The trophies are now back in Tasmania with Denis.