This article started due to finding the name John Cawthorn on UK pro tour programme and wondering who this player was and how he came to be there as a vitrual unknown. We invited John's brother Tim along to one of our Tennis Heritage Australia meetings  to discuss this "unknown player". It was, to say the least, a captivating story that interested all those attending.
This is a story about Australian Tennis in the early 1950′s.
Not from a position of Australian Champions but from a perspective of the many other Australians who made great inroads into the International tennis scene but for one reason or another never became household names.
But they could have, had the conditions been different. Sadly, while OPEN tennis was often discussed, even then and before, it wasn't until 1968 that this occurred. In the interim it meant that amateur players turning pro couldn't represent their country or play in the large amateur tournaments such as Wimbledon.
John Cawthorn (or Peter), as he was known, represents one of these stories.
Naturally, as a late comer to tennis history,  I had never heard of Peter before and although he died in 2002 we managed to find his brother Raymond (known as Tim, a family thing about names!) to discuss his journey through the tennis world. Tim, was also an A grade pennant player and participant in a few Australian Championships but in all his time as kids perhaps only won a set off Peter. I also found his old partner Don Tregonning to fill in a few gaps as well.
Growing up in Melbourne in the 1940′s Peter attended Box Hill High School, coincidentally the same school as Frank Sedgman. At sport he excelled and as a school prefect captained teams in swimming, football and tennis.
He started playing tennis at 13 1/2 years old. By 17 he was one of the top junior players in Australia having won many of the state junior titles and he played no.1 Linton Cup for Victoria. Players he mixed with included, Merv Rose, George Worthington, Don Tregonning, Brian Tobin, Clive Wilderspin.  Also coming through the junior ranks were the younger NSW pair  Lew Hoad and Ken Rosewall.
However in 1949 Peter Cawthorn was considered Victoria's top junior and even in some literature as Australia's top Junior since he won many of the State Junior Championships and the National hardcourt championship.
A p0tential highlight for Peter in 1950 was defeating Lew Hoad in the  Australian Junior Championships at Kooyong to eventually play Ken Rosewall for the title.  The finals match was played after the men's final and saw Peter in front 6/4, 4/6, 3-1 when rain delayed the entire affair for nearly a week.  With momentum lost, the continuation permitted Rosewall come back to win the 3rd set7/5  and capture the title.
Later that year, Peter headed off to the UK on his own accord to play in various tournaments.  He was only the second player to tour outside of the LTAA touring teams policy so no doubt the administration were not impressed and I suspect Peter didn't really care either.
Australian Tennis was in its Golden era with a talented list of adult players and the up and coming juniors.
Peter was joined in England by mate Don Tregonning in 1951 and together and separately they won many of the top regional tournaments leading up to Queen's and Wimbledon. When they got together they were close to broke but making a few finals where they could cash in trophy money plus with expenses paid for by the clubs running the tournaments meant they could sustain themselves by playing around the counties.
Don Tregonning and Peter Cawthorn
At Birmingham, Peter won the title beating Ignacy Tloczynski, former Polish Davis Cup player, 6-2, 7-9, 6-3.
In another shock win Peter beat Davis Cup hopeful John Horn in the semis 6-0, 6-3 at the Cumberland tournament in April.
He also played British Champion Tony Mottram in the Essex Connaught Club tournament taking the first set much to the shock of local pundits.
At Queens, Peter had the best win of his tour defeating Brazilian champion Almeda Vieira and was eventually beaten by Vladimir Cernik. But,  the Aussies dominated with Rose, McGregor and  Sedgman all making the 1/4′s. Peter and Don also did very well in the doubles.  Frank made the finals but lost to South African Eric Sturgess in the final probably due to not playing as many lead in tournaments as Peter and Don had done.
Peter and Don along with a host of other Aussies played at Wimbledon. Peter made it to the second round in singles and the third round in both Doubles and Mixed. Don and Peter were knocked out by Drobny and Sturgess the eventual losing finalists to Sedgman and McGregor.
1952 was a similar year for Peter and Don. They escaped the UK winter by heading across to India and Paksitan for a couple of months and then onto the Egyptian Tournament. Peter made the  1/4 finals being defeated by Ismail Adel 5/7, 6/3, 6/3. They made the doubles semi finals also, being defeated by Polish player Skonecki and USA's Straight Clarke.
He played UK Davis Cup hopeful Gerald Oakley in the Cumberland finals and beat him 6/3,6/1 prompting the press to hail him as yet another strong prospect for Australia.
Unfortunately Wimbledon success proved illusive once more. It was the year Frank Sedgman won singles, doubles (2nd time) and the  mixed. Although beaten in the first round of singles and doubles, Peter and Lorna Cornell made the 4th round in the mixed being defeated by Australian Don Candy and USA's Pat Todd.
In January 1953, Peter announced his engagement to British heart throb, Lorna Cornell.  Lorna was an exceptional tennis player in her own right having won the Wimbledon Junior Championships in 1949 and 1950.
She was also modelling for Ted Tingling and was capturing attention in the same way as US player / model Gussie Moran.  Lorna appeared in a few editions of Australian Tennis modelling some of the latest Wimbledon wear.
To ensure an income Peter,aged 23. turned pro in February and thus his potential to enter the record books of major tournaments was at an end probably way to early on reflection, but there was no money in tennis for the players, just some expenses recovery and that was it.
Peter turned to coaching and began a tennis school to which he invited Don Tregonning back from Australia to the UK to help organise. Peter was also coaching his new wife who continued to play the major amateur events and even after three daughters returned to play for the UK in the Wightman cup.
Mid 1953,  he and Don played in the Slazenger Pro tournament at Scarborough and was beaten by the other new Pro to join the ranks, namely, Frank Sedgman.
In November he played at the Pro Tournament at Lyon to be beaten  by Gonzales but not before he had taken the first set 3/6, 6/1, 6/2.  He also played Riggs in Switzerland taking a set off him also.
Against a depleted (few Australian & USA player involvement)  field Peter won the Slazenger Pro Tournaments in 1954 and 1956. In 1954 he beat A G Roberts an ex Davis Cup player 6/4, 7/5, 7/5 and with Don won the doubles.
He was also conducting short term coaching roles for various Davis Cup teams over this period The Irish and Pakistan in 1955, Spanish, Irish and Dutch teams in 1956 and Dutch and German teams in 1958.
In 1958, he played along with Australians Jack Arkinstall, Lew Hoad, Ken Rosewall, George Worthington and Frank Sedgman.  The main stars were Gonzales, Trabert and Segura but Frank won this event.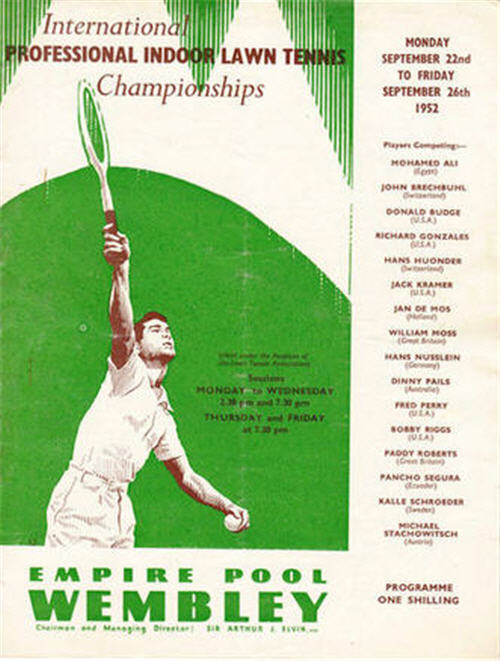 Australians were prominent in this event 1958
Sedgman and Peter played many pro doubles events and one over 90% of matches.  Against Hoad, he lost in 5 sets in a   pro event conducted in Spain.  He also beat Tony Trabert, having just one Wimbledon in a French Pro event 6/2, 6/2, 6/2.
At the end of 1958, he was convinced by mates like Pancho Segura that the USA was the place to be and Peter headed over to the Rochester Country Club as the club pro, a position he held for 25 years.
Organising tournaments was part of the job and in one encounter with USA Davis Cup player Barry McKay, 15 years his junior, Peter beat him.
He returned to Australia in early 200o to retire, even with a pension from the Rochester Club for valuable services rendered.  Lorna and Peter were divorced prior to his leaving for the USA and re married a couple of times.
Looking back on Peter,  he was probably unlucky to be an Aussie tennis player. We had so many talented players in the Davis Cup team from 1949 to the 1960′s.  Peter was probably under them all, just.  He certainly would have made the British Davis Cup team and he clearly had the game to play with the pro's.  Really, it came down to him turning professional at a young age because he had to finance a family. Who knows if it was the open era we may well have seen Peter in the Davis Cup photos of the late 50′s.
Thanks to Tim and Don.