Tennis Heritage Australia currently has two active groups in Sydney and Melbourne.
Ideally, over time as more people learn about the group we may be able to develop further groups in other states or regions. Facebook now has 213 Likes and this newsletter heads out around the World to over 600.  All the International collecting groups and tennis museums are all connected via Facebook.
The premise for the group is to actively support the preservation and promotion of Australia's fabulous Tennis past. This includes researching topics or players, assisting authors writing on tennis events, past players and even manufacturers. In the last three years books have been written on Randolph Lycett by Peter Kettle,  The Wizard- Norman Brookes , Muscles -Ken Rosewall, both by  Richard Naughton and the Alexander Racket Company – "What a Racket" by Gus Green.  Additionally, Chris Maron has done extensive work on the history of Sydney's Eastern Suburbs Tennis Association and other works.
More books are in the pipeline, the trick being to find a publisher.
One very worthy project is that by Ron McLean who published "Country Cracks" NSW Country Tennis History some 30 years ago.   Over this period, Ron has amassed and written an impressive, 70,000 word history of the game from inception through to World War 2.  He has interviewed many players of the era and their families to obtain many stories and photos from this first "golden age" when Australia was gripped by being the first country to win the Davis Cup outside of the British Isles and with Norman Brookes winning Wimbledon in 1907 & 1914 and Australasian (NZ) Anthony Wilding his doubles partner who also won Wimbledon from 1910-1913, losing to Brookes in 1914.
T0 get this book published we need to find a publisher prepared to invest and willing customers happy to pre-order.
We are speaking with a publishing group now, but the $43,000  required to create the artwork and print 1500 copies needs come from a benefactor or in the main by pre-sales. More information will be provided in the next newsletter.
JULY MEETINGS
SYDNEY MEETING JULY 11th at AUSTRALIAN TENNIS MUSEUM, HOMEBUSH
In Sydney, THA meets and associates with the Australian Tennis Museum. Members of the group include authors, researchers,  memorabilia collectors, tennis racquet collectors and  Real Tennis and Lawn tennis enthusiasts.
The museum with its wonderful collection of memorabilia and full support of patron Ken Rosewall provides an excellent back drop for the gathering.
Members of the Alexander family live in Sydney and actively search for examples of the companies products made from 1925-1959 including tennis, squash racquets, golf clubs and cricket bats.
Back  in the hey day when Australian champion Jack Crawford signed on to use Alexander product, as did many in the Davis Cup team the racquets were highly regarded around the country.
To enhance their retail store displays, Alexander produced a fancy wooden unit holding 5 racquets.
While a rare vintage example sold recently for over $600,  a gent in Tasmania has replicated the design to produce a small number to assist  the Launceston Tennis museum and one made its way to NSW (shown here).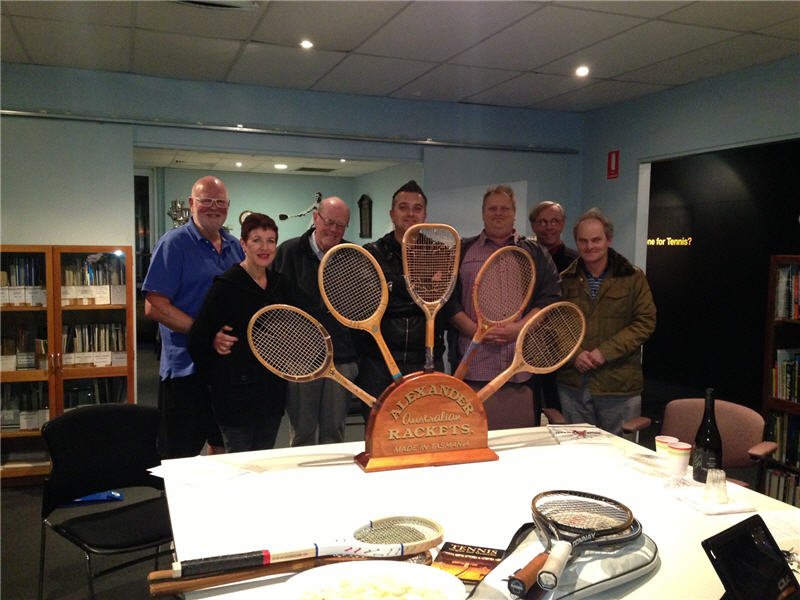 The Sydney group in front of this lovely Alexander racquet display with some examples of Alexander oval and semi flat top racquets popular in the 1930′s.
Other discussion points from the meeting included:
*   A viewing of some collectable racquets
*  Note that Noel Dodds has a Facebook page devoted to racquet collecting BREAKPOINT TENNIS COLLECTION (click link). Noel has over 900 racquets across a broad range and also works in the industry.
*  A new book on Tennis in the Sydney Southern Districts is being written by THA member David Graham
*  A discussion took place regarding local research as to the history of Real Tennis in Sydney and how early can a date be found in relation to the game being played.
*  A suggestion on racquet classifications taking into account condition and rarity which has merit.
* Trivia question who was the first tennis professional to wear shorts?
To join THA Sydney please call Michael Fitzgerald 0405 232 232
or email mfitzgerald (use the symbol @)  taliscivil.com.au
MELBOURNE MEETING JULY 19th at TENNIS AUSTRALIA HQ, MELBOURNE PARK
Meeting at various locations over the last couple of years, this meeting was conducted at Tennis Australia HQ where were kindly invited by Steve Wood, TA CEO.
Steve started his introduction with an explanation that what makes a "Grand Slam" tournament is the history,which we all agreed with.
Next he advised that the planned permanent museum to house some of the 68,000 items in storage following the acquisition of Rolf Jaegers collection is NO LONGER likely to be permanent. So we may only see parts of the collection during the tournament.
TOTALLY SHATTERED we toured the new multi million dollar facility wondering how commercial pragmatism over ruled the reason the Australian  Tournament is a grand slam event, its 100 year plus HISTORY and how inconceivable this is when considering Wimbledon, Roland Garros and Newport Rhode Island all have renowned and highly popular museums.
What an amazing opportunity lost.  Given the thousands of dollars being spent on storing the 16,000 items over the last decade, the collection may as well be sold off if only select pieces see the light if day.  That makes great commercial sense also.
Hopefully, with some LUCK we could see  reversal of this position, or perhaps a State Government with some foresight may see the opportunity to upgrade (NSW) or invest in a really first class museum to attract tourists and tennis followers alike.
Our meetings highlight was the bringing together for the first time family members of Alf Dunlop and Norman Brookes who played 1890′s-1915 era Melbourne club, Intercolonial and then International tennis events together. Tim and Norman, with wife Jillian, are the grandsons. It was a real treat to see some mementos belonging to Alf.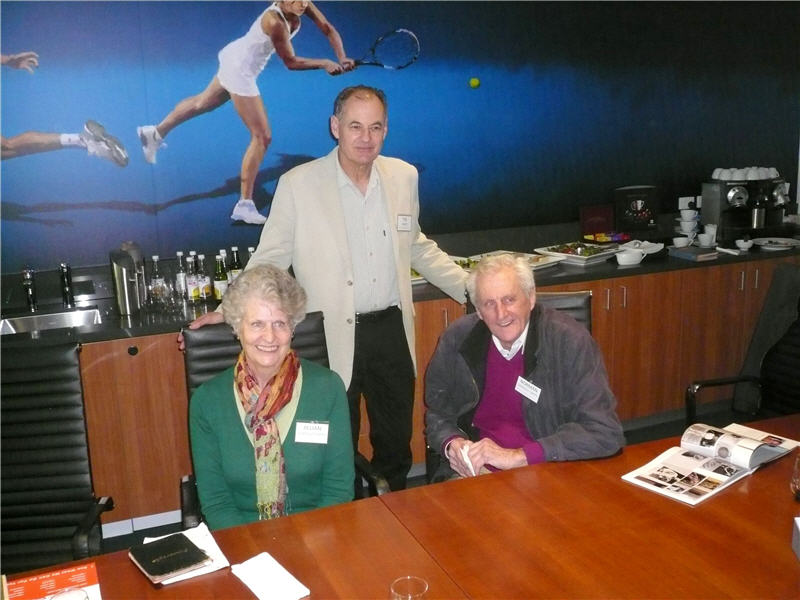 Jillian, Tim (Alf Dunlop)  and Norman (Norman Brookes) linked from the past.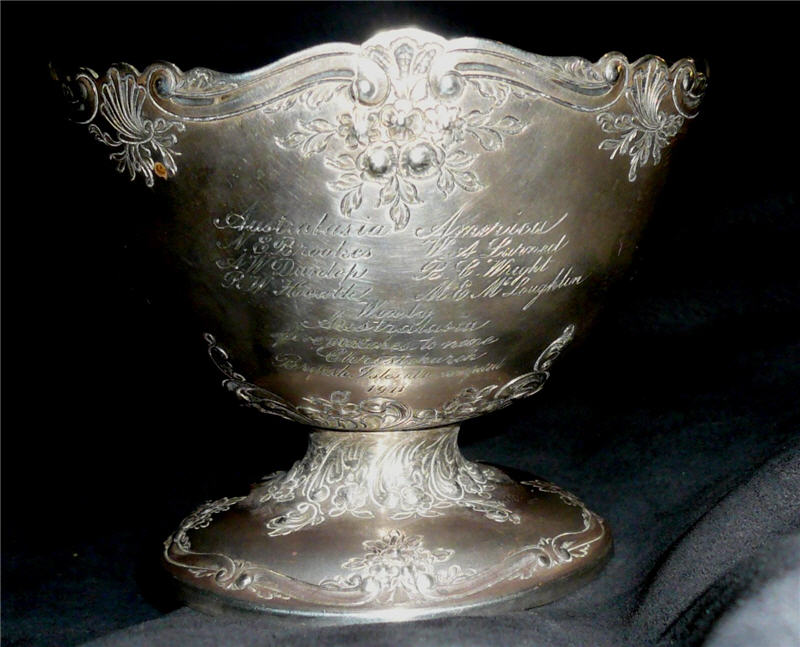 A famous Davis Cup 1911. Australasia won with Brookes, Dunlop, Heath against Larnard, Wright and McLoughlin in Christchurch, NZ. Australasia won the Davis Cup 1907, 1908, 1909, 1910 no contest, 1911 and 1914. We also saw an autograph book which represented the best Australian and Davis Cup player collection from this era I could ever imagine seeing.
Other Discussion points:
*  Group presented with Althea Gibson LP record. Not only was she a great player in the 1950′s, being the first African American to win the French & Wimbledon titles she was also a singer and saxophonist.
*  Three wonderful 1940′s tennis racquet catalogues were shown. These full colour examples are an excellent research tool.
* A Hillebrand photo decal racquet made by Spalding Australia was shown.
*  Fed Cup book with player signatures. The quest is to have all the Australian players sign there photo in the book so the quest is international.  Excellent progress has been made so far.
*  A 1900 decorative expandable belt was presented.
*  It was agreed that THA should charge $20 as a membership fee
*  THA should find a patron to assist with promoting the group and building the profile with over seas equivalent groups. On this matter we are helping with the formation of a EURO group. Strong US and UK groups already exist.
* US player Vic Seixas recently turned 90
*  Australian lady player from 1938-mid 1950′s Thelma Coyne Long inducted into the International Tennis Hall of Fame.  A wonderful tennis career. Thelma is in her early 90′s living in Sydney.
Pictures of the above can be found on Facebook AUSTRALIAN TENNIS HISTORY
NEXT MELBOURNE MEETING FOR DIARY
Xmas date as December 4 at Royal Melbourne Tennis Club with club
archivist and THA member Mike Garnett who will be able to show us the
first known tennis book, an original 1555 Scaino.
To join THA Melbourne please call Rodney Lack 0418 362 386
or email rod (use the symbol @)   tacticalresponse.net.au
OTHER TENNIS HISTORY TREASURES
One of our THA members acquired the 1909 Doubles trophy from the Australasian Championships conducted in Perth in 1909.  Winners were J.Keane and E. Parker defeating Anthony Wilding and L.Crooks 1-6, 6-1, 6-1, 9-7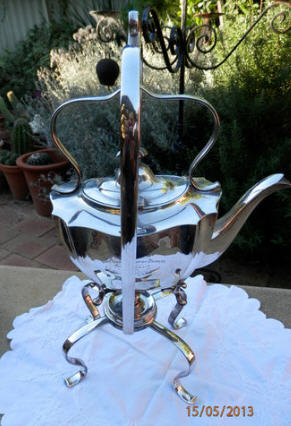 Back in the 1920′s Australian born Randolph Lycett married UK Davis Cup Player  "Bunny" Austin's sister, Joan. They lived a grand life playing tennis along the Riviera and through out Europe.
A second book about this man who gets little recognition for his Wimbledon performances in particular has been written by Peter Kettle. This books tells of his life with Joan. For copies contact pbkettle(use the @ symbol) gmail.com
During this period a firm used Lycett's name on a racquet. THE LYCETT
In April, THA was invited to participate in an event hosted by Rippon Lea. A group of us got a display together and headed down for a hit on the grass court wearing period costume and with a display of items for the visiting public to see.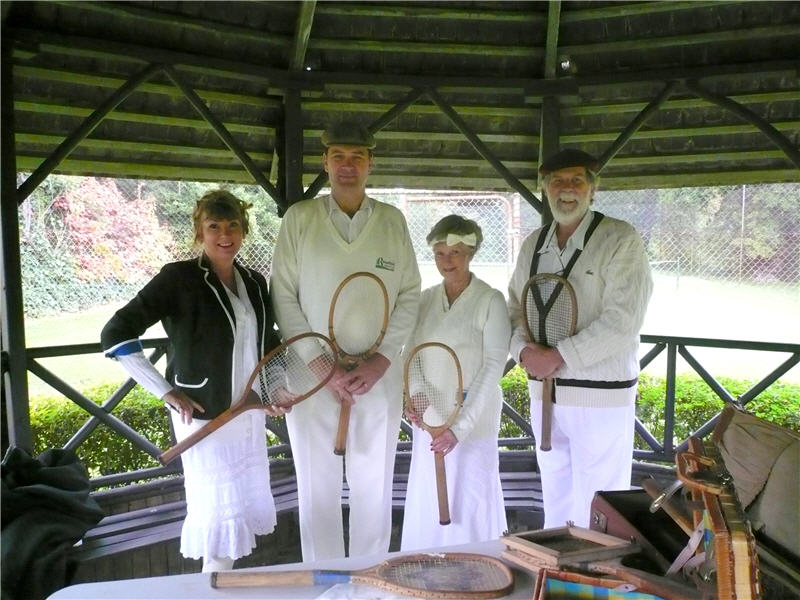 A grand day but owing to wet weather numbers were down on expectation. A great way to promote THA though none the less.
Up in Queensland Peter Rasey is mounting a spirited campaign to have the green at  FREW PARK, Milton  be named in honour of Wendy Turnbull.
PLEASE SIGN ON TO THIS ONLINE PETITION CLICK HERE
Thanks……….The THA team