Greetings  Tennis Enthusiasts,
This last few months has typically been quite interesting but perhaps a little more so than usual owing to some major finds.
Unknown Australian Wins 1923 Irish Tennis Championships: George Eric Mackay
In January, we found a simple small article about an Australian player who in 1923 won the Irish Championships. We had never heard of him and so this set in motion a challenge to see if we could find out more about him and what happened to a trophy he received.
Having served in WW1 in Egypt in the Medical Corps,upon his return to Australia, he recommenced his medical studies at Ormond College, Melbourne University and while there became the University Captain of the Tennis team which played both Sydney and Adelaide Universities.  Having obtained double first class honours in 3rd year and honours in 4th and 5th year this then enabled him to apply to travel to London to complete the FRCS (Fellowship of Royal College of Surgeons).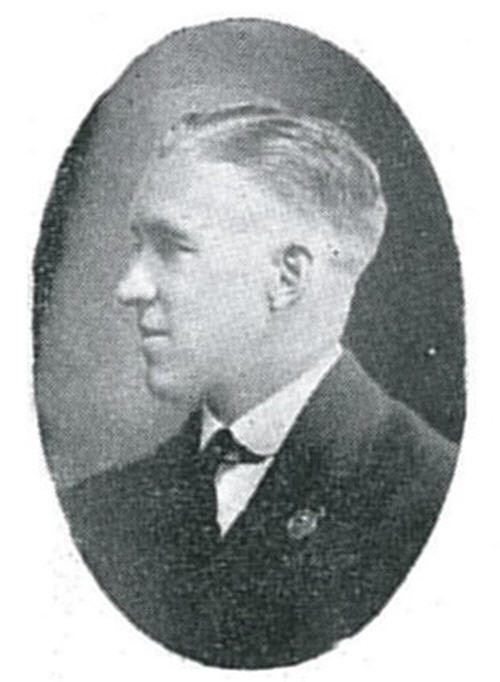 Apart from playing for the University, George also represented Victoria in interstate matches against NSW and SA.
While in London between exams, George went to the Dublin Rotunda Hospital for some practical experience and while there entered the Irish Championships of 1923.  Impressively, he won the event defeating 1896 Wimbledon Champion Harold Mahony 1/6, 2/6, 8/6, 6/2, 6/3 with perhaps the advantage of youth against the much older Harold who from the score looked like he gave it all and just fell short in the 3rd set and had no reserve for the last two.
As to why a player of George's capability won the prestigious event is a tad unclear. There was considerable turmoil in Ireland at that time between the Protestant and Catholic political debate. Many of the well known English players probably stayed away for fear of being caught up in some action off the court.  Although, the existing Irish champions, Cecil Campbell and D'Arcy McCrea were  engaged in Davis Cup matches against India and France in Dublin around early to late June.  In the doubles final four prominent Irish players played for the title so maybe George had some excellent wins leading up to the final.  Hopefully, we will learn more in time.
In September that year, George became very ill, with what was diagnosed as Military Tuberculosis and he sadly died at St Bartholomew's Hospital London on October 25th.
His body was returned for burial to Bendigo and his Irish Trophy, again from a snippet in a newspaper story, was donated to Melbourne University for presentation to the intercollegiate tennis champions.
This week, Melbourne University invited us to photograph the trophy which had luckily been found still in use as the donation had intended and was just back from the Silversmiths where it had undergone some repairs and re-plating.  Needless to say it is in close to the  same condition in which it was provided back in 1924 except it it appears to be missing a plinth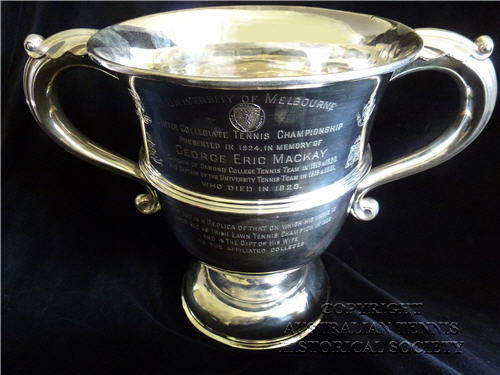 Inscribed
UNIVERSITY OF MELBOURNE INTERCOLLEGIATE TENNIS CHAMPIONSHIP
PRESENTED IN 1924 IN MEMORY OF
GEORGE ERIC MACKAY
CAPTAIN OF ORMOND COLLEGE TENNIS TEAM IN 1919 & 1920
AND CAPTAIN OF THE UNIVERSITY TENNIS TEAM IN 1919 & 1921
WHO DIED IN 1923
THIS CUP IS A REPLICA OF THAT ON WHICH HIS NAME IS INSCRIBED AS IRISH LAWN TENNIS CHAMPION IN 1923
AND IS THE GIFT OF HIS WIFE
TO THE AFFILIATED COLLEGES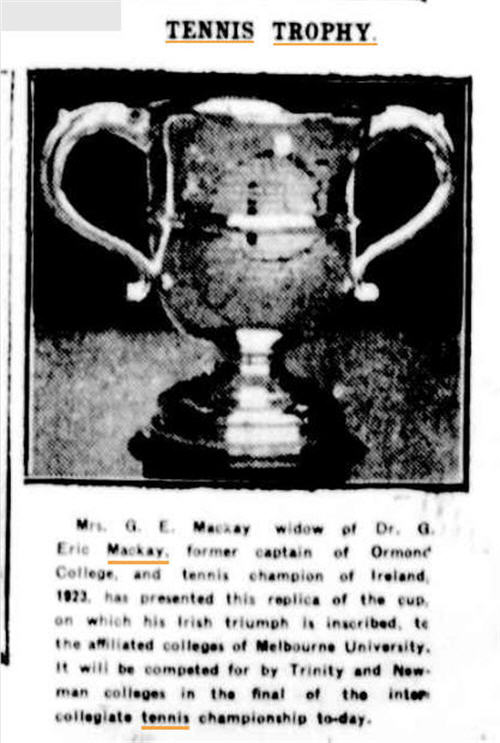 One of the newspaper clippings that inspired the search.
Melbourne University has a rich tradition in Melbourne society and many famous early intercolonial and state championship players were taught there.
In another very exciting twist in the search for the Irish Trophy,  we also made contact with a relative of a prominent Intercolonial player Ben Green.  Ben was a famous Victorian Champion and when he and NSW champion Dudley Webb played the crowds numbered in the thousands.
This shield was presented to the Victorian team's most valuable player and the other names inscribed are of equal value and importance to Australian Tennis History.  This wonderful shield measures 20 cm across and 22cm tip to tip.
We feel thrilled to be able to share this with you and thanks to Lesley from Melbourne University for sharing this with us.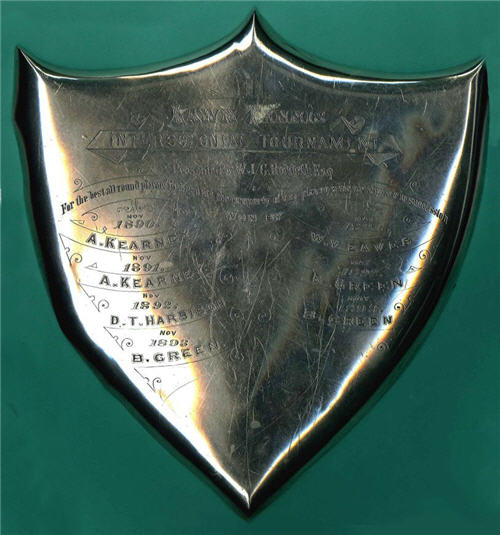 Inscribed
LAWN TENNIS INTERCOLONIAL TOURNAMENT
Presented by W.J.C Riddell Esq.  (MCC Tennis Club Secretary & organiser of first event)
For the Best All Round Player. To become the Property of any player winning it twice in succession.
Nov 1890 A. Kearney   May 1891 W.Eaves  Nov 1891 A .Kearney May 1892 B.Green  Nov 1892 D.T. Harbison
May 1893 B.Green Nov 1893 B.Green and his for the keeping.
As a footnote W.V.Eaves was born in Australia and then went back to the UK to also become a doctor.  He won the same Irish Championship in 1897 and was very successful at Wimbledon and other events.  Please read the story about W.V.Eaves elsewhere on this site as he had a major influence on tennis development in Australia and our first Champion Norman Brookes.
Tennis Heritage Australia NSW Branch
Michael Fitzgerald put his hand up to organise the first and second meetings of tennis history fans in Sydney and for those on our database who wish to join the NSW group please email Michael at mffitzgerald@bigpond.com
On May 28th a few of us from Melbourne will be joining the Sydney group and meeting for the first time at the Australian Tennis Museum, Ken Rosewall lunch with this years guest, Margaret Court.
BOOKINGS INFO CLICK HERE
A new Tennis Museum in Tasmania
Denis Tucker has been collecting tennis autographs and memorabilia since he was a young lad.  His passion for tennis led him into state tennis administration and his collection has now reached the point where he would like to share the experience with other enthusiasts.
While the collection includes many racquets, trophies, books and clothing, his autograph collection is simply stunning. With a focus on Australian Championship players, Davis Cup Players and Wimbledon Champions there are a only a few missing and as you can see from the photos they are most impressively displayed.
Denis lives in Launceston and would enjoy hearing from anyone with autographs that might fill in the missing gaps.
Denis can be contacted on 0409 317 804
Craig Tiley, Director of Tennis Australia, helps open The Tucker Tennis Musuem and presents Denis with a Roger Federer signed "well wishing" photograph.
Australian Racquet Marketer of FIN:  Barry Todd
This quarter we found Barry Todd the designer and owner of FIN racquets living in London.  Barry has never really had the success deserved for all his effort in creating some terrific designs for FIN (1980′s)  and DEESSE.  Read more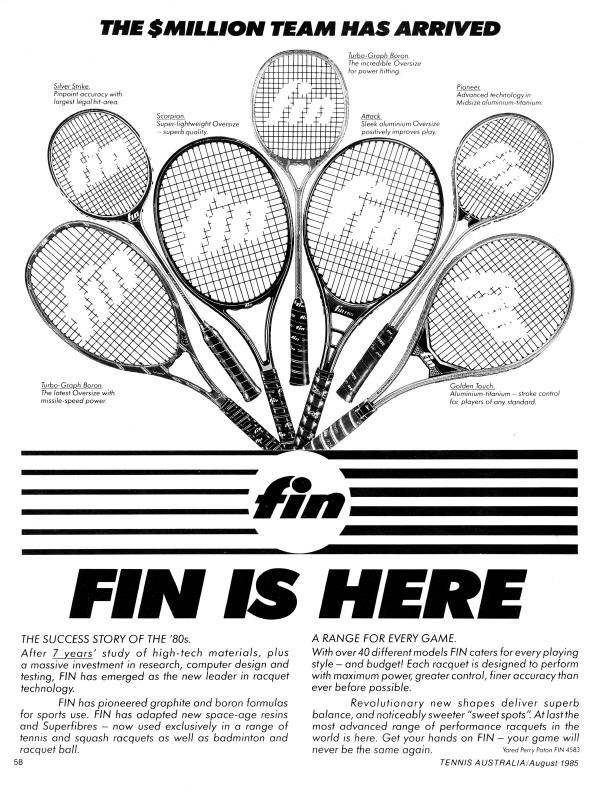 Male Tennis Champions in the 1920′s J.O.Anderson & Gerald Patterson
An article on the development of tennis in the 1920′s has been added to the site.  The two great Aussies leading the charge were J.O.Anderson and Gerald Patterson.   While great players this was the era of Bill Tilden and W.Johnston from the USA in the early to mid 1920′s followed by the French Musketeers in the late 1920s'. Success in Davis Cups was hard to come by…..yet on home soil, Anderson and Patterson were great rivals from schoolboy days through to the end of their careers.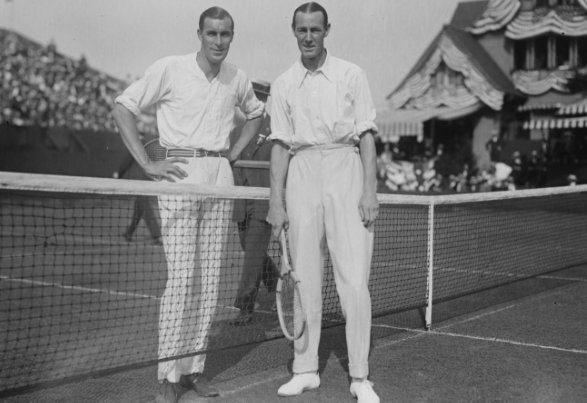 Anderson (right) beat Tilden (left) in the USA in a match described as the best ever seen.
Tilden played Davis Cup in New Zealand against Australia and also played exhibition tennis in Melbourne and Sydney with the rest of the team.  Read more
Other Interesting Memorabilia
In this section I will just present some nice tennis items to help educate viewers.
This badge would be mounted to a tennis racquet throat in honour of the win
Manufacturer Alexander's may have started this miniature racquet craze in the 1930′s with their mirrors while the  Slazenger Brush promotes the Fred Perry "All White" Model created in Australia to combat the public interest in Jack Crawford's Semi  Flat top Alexander racquet.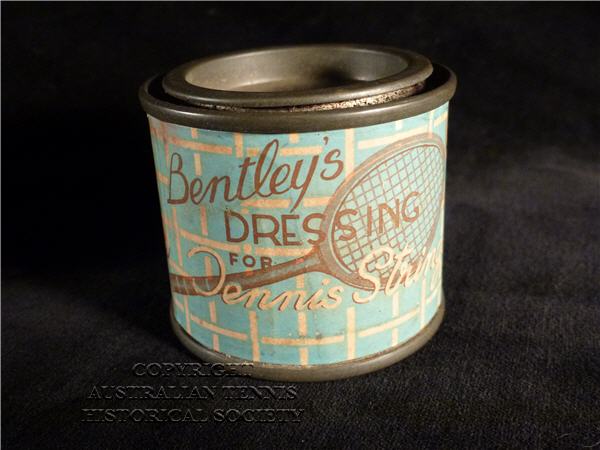 To help pro long gut string life, reviver was sold in order to coat the strings for added protection from moisture.
The product would be brushed on lightly after a game.  Very hard to find bottles and kits so if you do come across one grab it.
A nice old tennis racquet and ball napkin ring.
Anyone who has some interesting memorabilia or family history that relates to tennis, please contact me rod@tacticalresponse.net.au 0418 362 386
AND PLEASE JOIN AUSTRALIAN TENNIS HISTORY ON FACEBOOK link from here