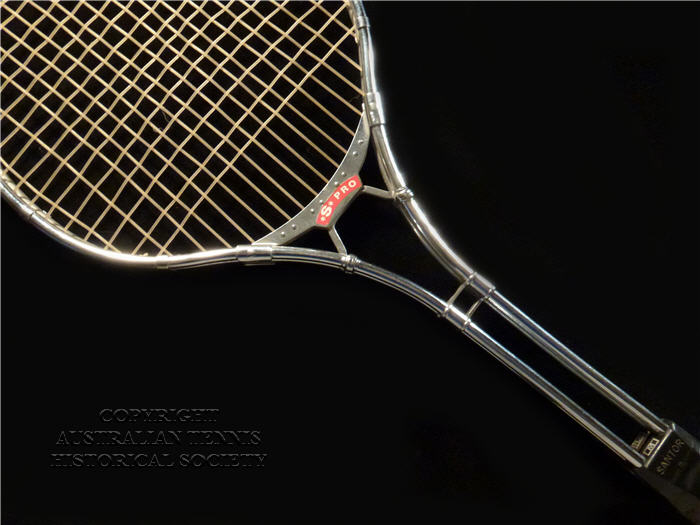 Santor S-Pro Steel racquet with really lovely industrial design cues.
Little else is known about this company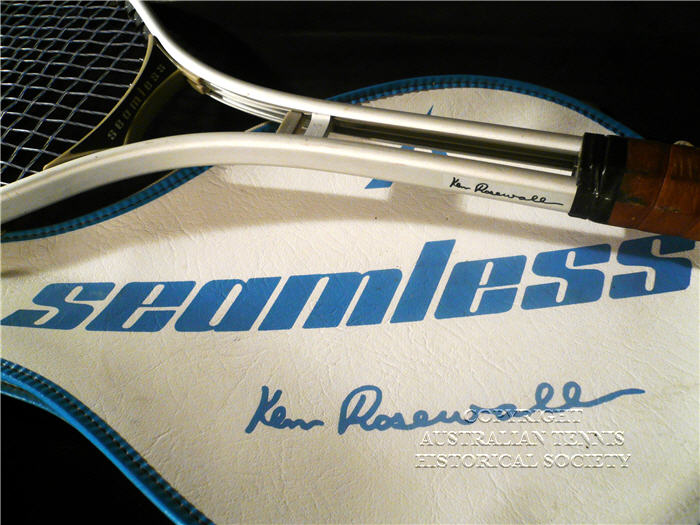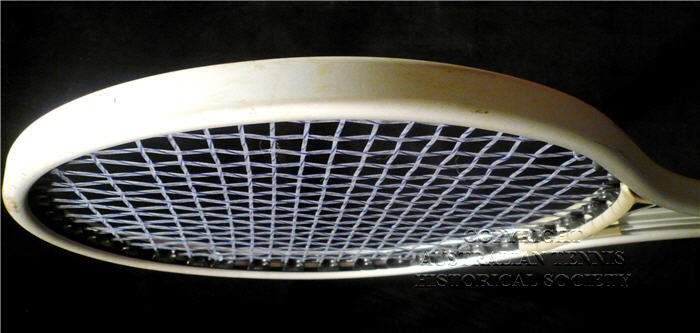 The "Ken Rosewall" Seamless (Seamco) c 1971
As you can see the string supports are located inside the extruded aluminium
frame leaving a very unusual smooth finish.
Ken was a consultant to the firm hence the interest to Australia.
If you like this smooth look out for a Wilson TX 6000 c1978 which has a smooth finish unlike the channeled look of the T2000.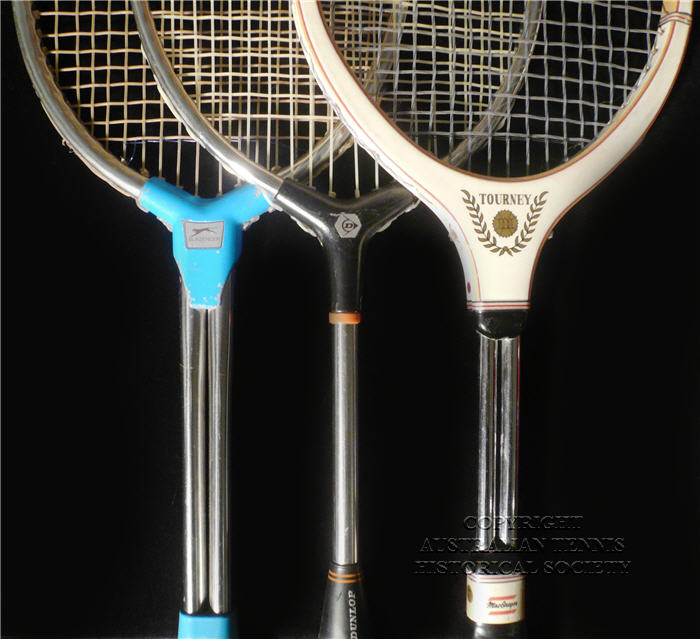 Steel Shaft Models (late 1960′s and 1970′s)
Slazenger twin shaft, Dunlop Monoshaft UK 1972, MacGregor Tourney USA
As the Wilson/Lacoste T2000 was booming, Dunlop produced these very nice looking racquets, often confused for squash racquets.
Grays Silver Gray estimated 1954-1974 era (UK)
Steel Shaft with wooden head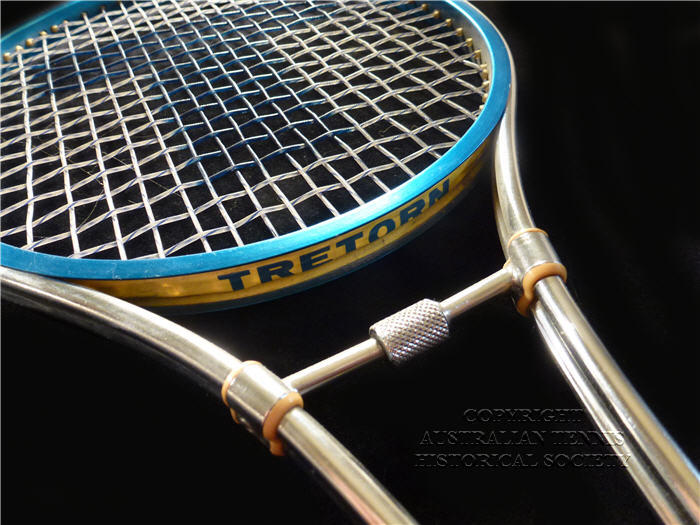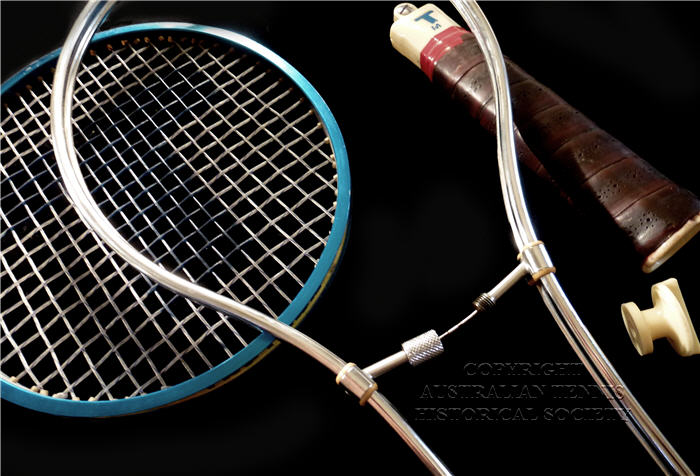 Tretorn ( Demountable) Sweden 1968
String set in the blue aluminium frame can be removed from the racquet frame by undoing the butt cap, sliding off the handle and undoing the spindle in the centre of the cross bar (pictured). This allows the frame to spring open so a new string set can be inserted. Takes a few minutes only.
They often came with 2-3 different string sets with different tensions or as back ups for breakage.
See the Maynard below for another string set removal option.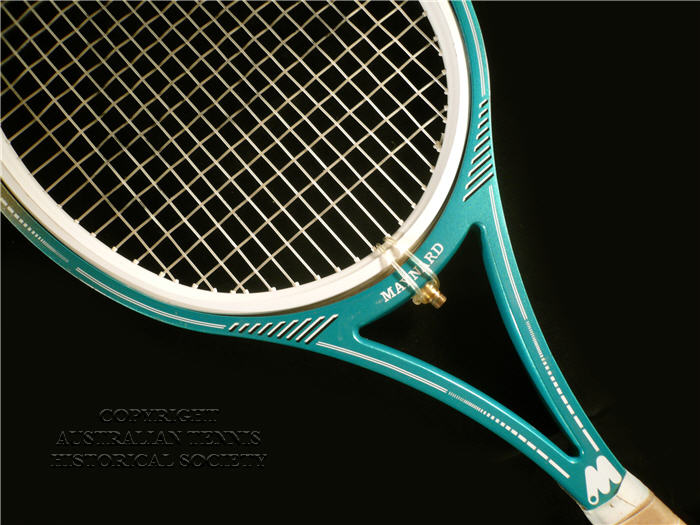 Maynard AirPower Racquet c late 1980′s
USA designed, the string set comes on a separate frame which is held in place by a tube filled with air.
Patent filed 1986 # 4 772 021  Michael Maynard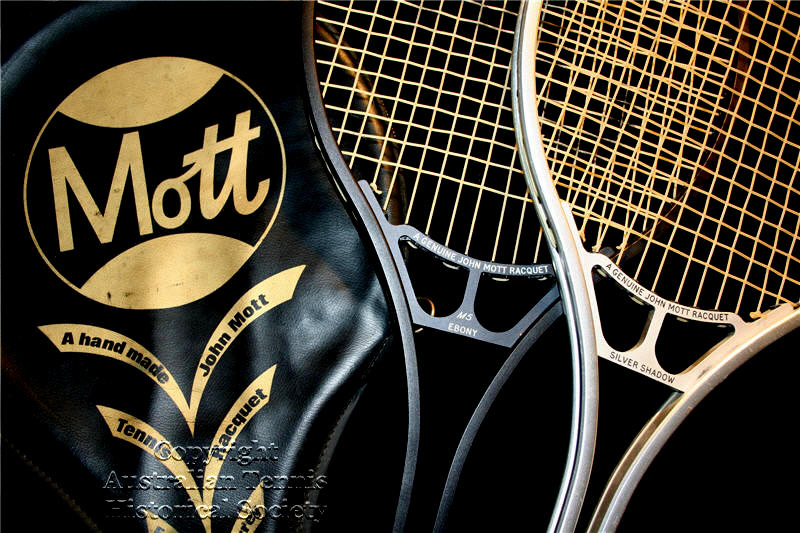 John Mott, Silver Shadow, UK (1980′s)
Hand made in Farnham Surrey.
The factory made tennis and squash racquets for a short time then sold the patents and left the industry.
The finish is superb with no visible rivets and the fit between the throat piece and frame is sheer precision.
We would like to learn more about this company.

Wilson Legacy 1983
Rare shape. Wood with plastic throat.
A bit weird, but that's interesting

Wilson Sting 1985
Aluminium frame with nice string treatment at the throat.
You can tell they are from the same family as the Legacy above

Bancroft Slingshot USA 1983
Made in Germany under license by Markhill.
Great extended string pattern to the top of the very long handle
Bio sports The Gripper 1984
A curved grip.
You might think you have seen everything but this is meant to help with tennis elbow by keeping the racquet face up in line with the ball.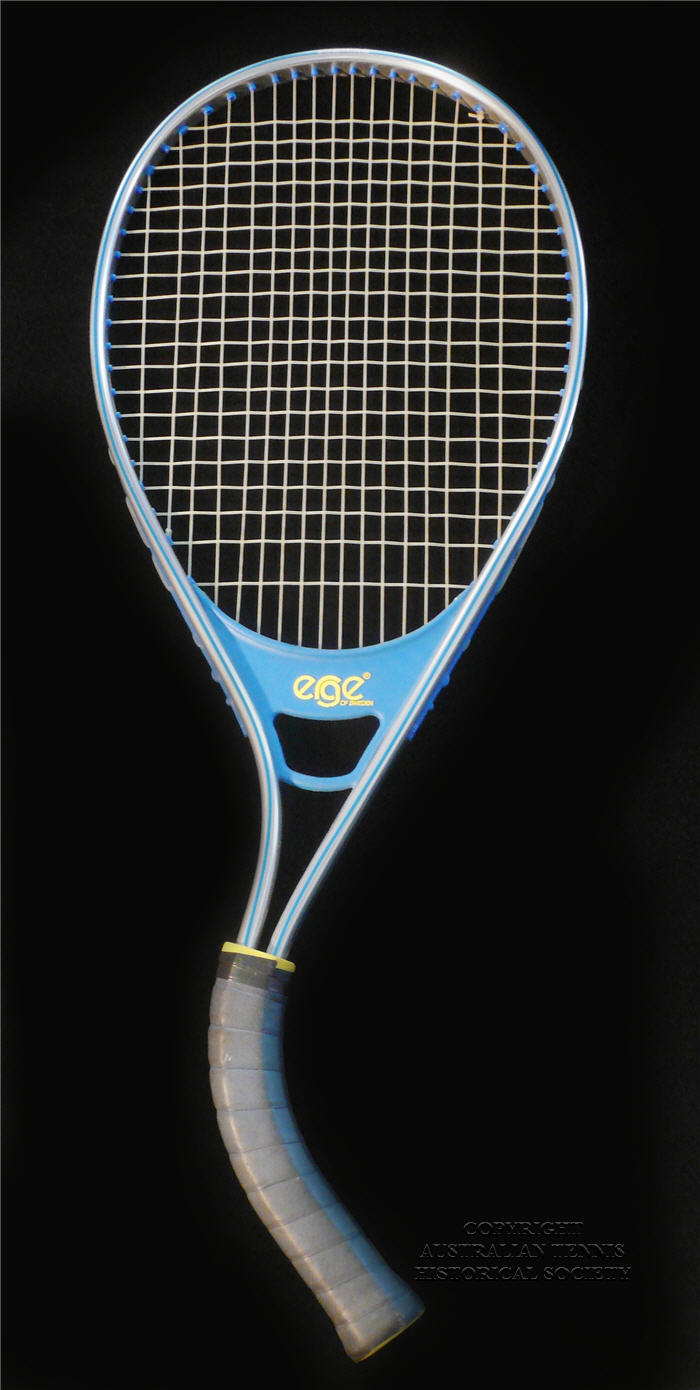 The Erge (Sweden 1983)
Ergonomic Curved Grip racquet.
Far more pronounced and clearly inspiration for the Neoxxline Range (listed under modern unusual).
Aluminium model came in 1983 followed by a graphite version in 1984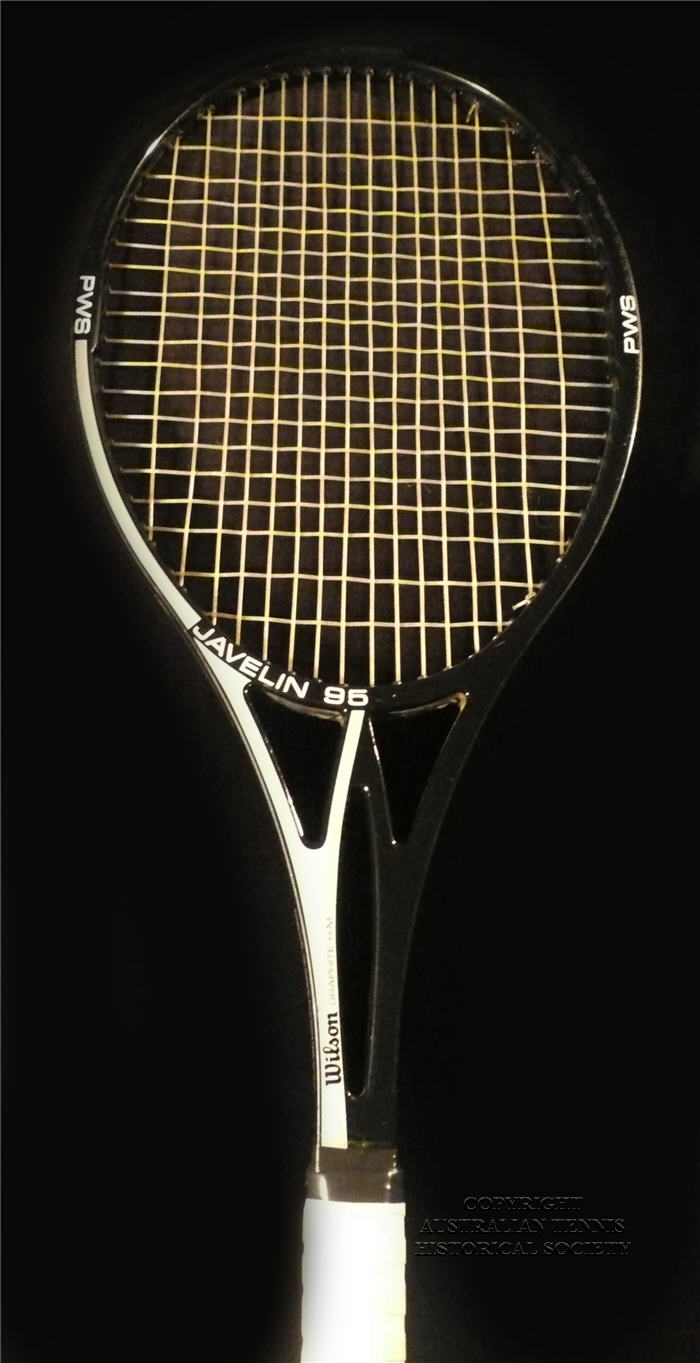 Wilson Javelin mid 1980′s
A very interesting twin throat design highly sought after by collectors.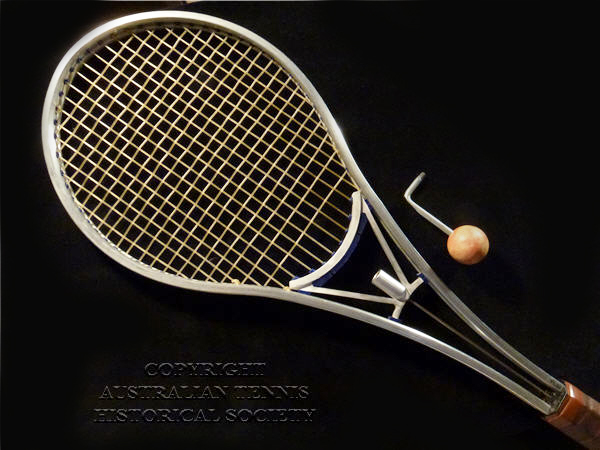 Acro Adjustable mid 1970′s (also s0ld under Hart name)
Two versions this one adjustable via throat piece which pulls the throat down the frame.
Later version moved tightening mechanism to butt cap as per below.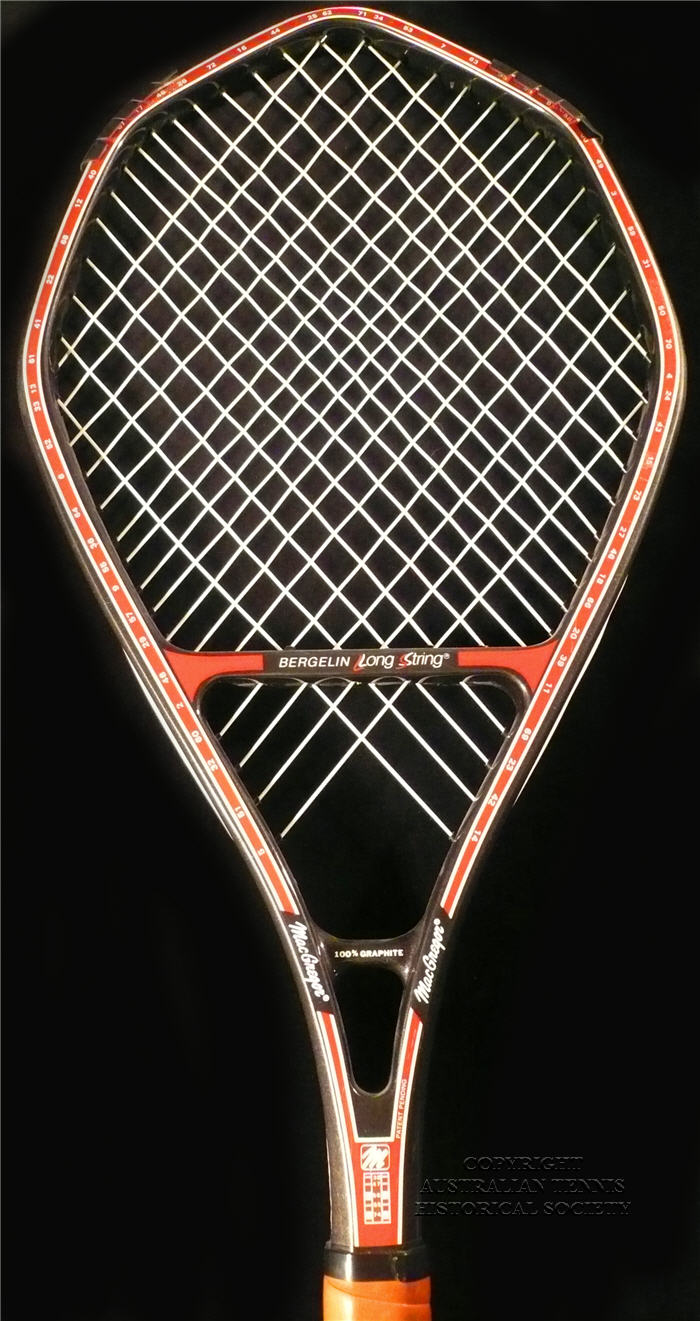 Macgregor Bergelin Longstring c 1985
German idea designed by Herwig Fisher (Protagon Sportproukte) and endorsed by Bjorn Borg's coach Lennart Bergelin. Sold in the USA under license as the MacGregor Bergelin Longstring. Owners can string themselves and then adjust tension via a tightening control system inside the handle. An allen key device connects into the butt cap allowing the owner to adjust tension at any point during a game. Racquet comes with a tension adjustment knob and stringing instructions.
After MacGregor went broke and lost the rights to sell the technology, Protagon went onto launch oval versions called Tension Master and Hi-Con.(page 293-295 Kuebler Book)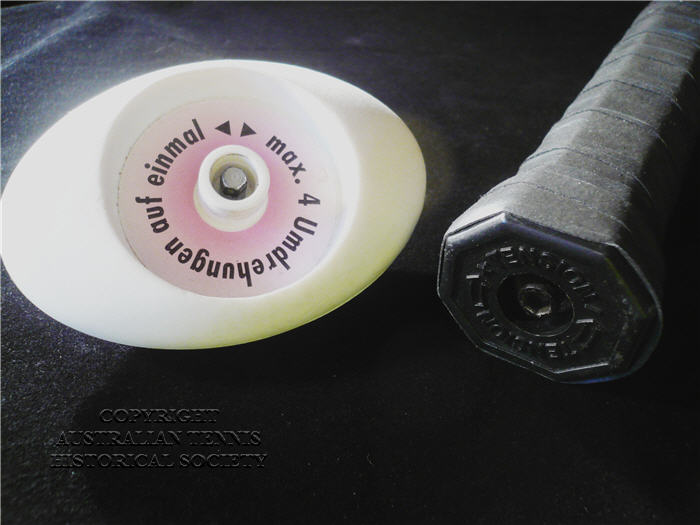 Protagon TM500 with tension adjustment.
The white knob has an allen key insert which is visible. The MacGregor design was similar.
Great diamond stringing also.
Rox Pro Space T1
Arms and fan stringing create an unusual combination.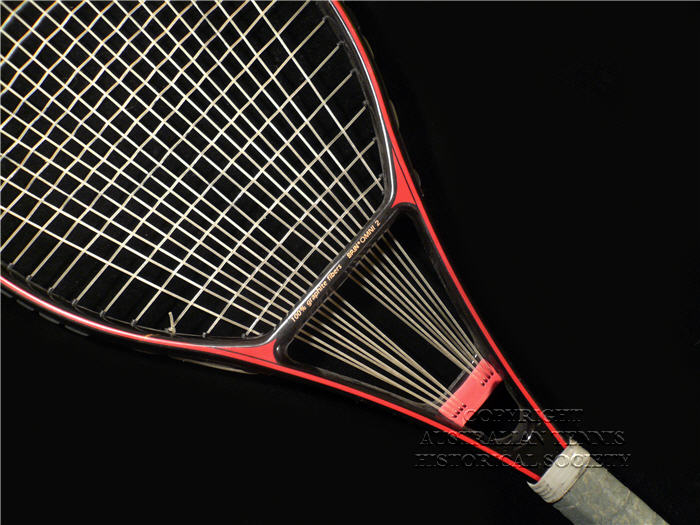 Spin Omni 2 (also G-300 USA & RoxPro Aust.) c 1987
Fancy stringing system with long vertical strings to improve sweet spot performance. Was not within ITF rules but may have received a positive ruling. Also produced a squash racquet with a similar design.
Sold in Australia by Lewis Sports.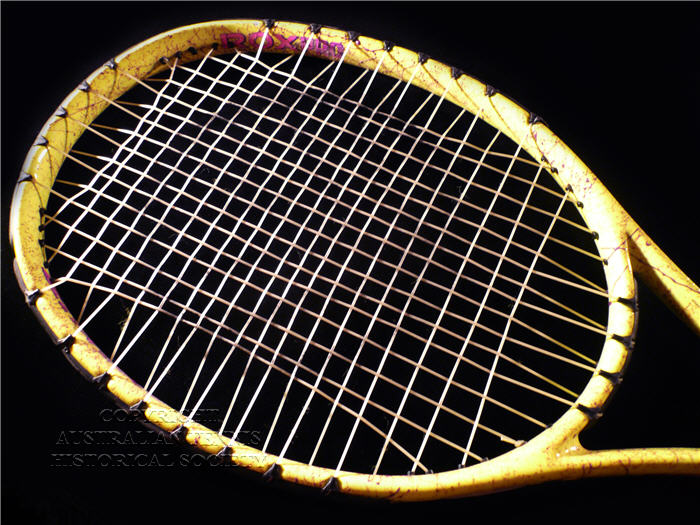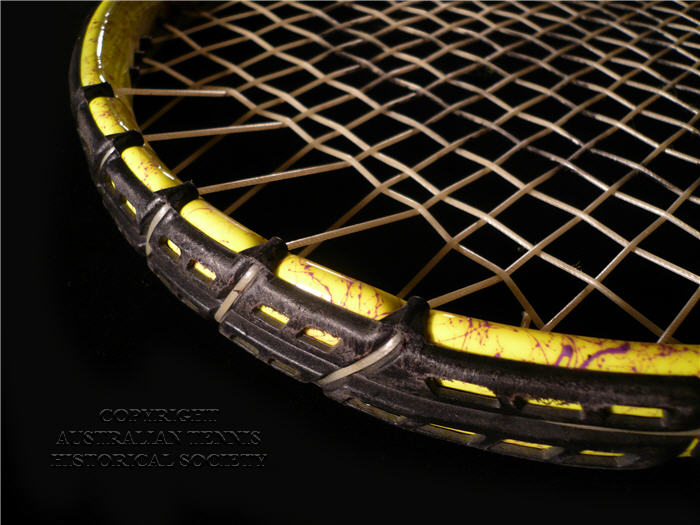 Rox Pro Delta 2000
(Also Estusa AmerPro American Pro Jimmy Connors model)
Loop Stringing around the frame not through holes. The added tenison and change to frame dyamics when striking a ball, keeps these strings super tight.
Not a bad idea!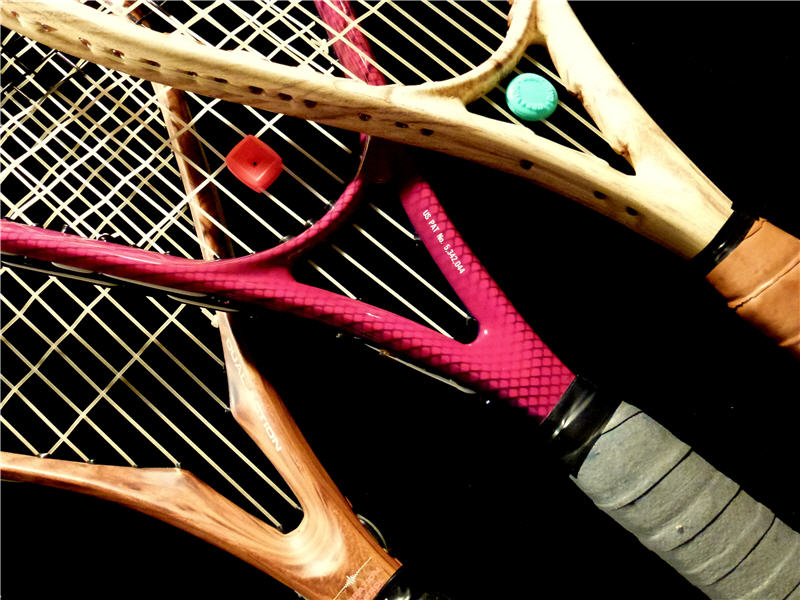 Swiss DEESSE (pronounced Dayus) Wizard Woody Graphite. (made in Korea)
There are 3 versions of this design under brands including ADVANCE SVS & ESQUIRE NT1 both sold in Asia.
The woody walnut burl type finish is really attractive. The whole concept was created by Australian, Barry Todd.
Seen Fin/Deesse story.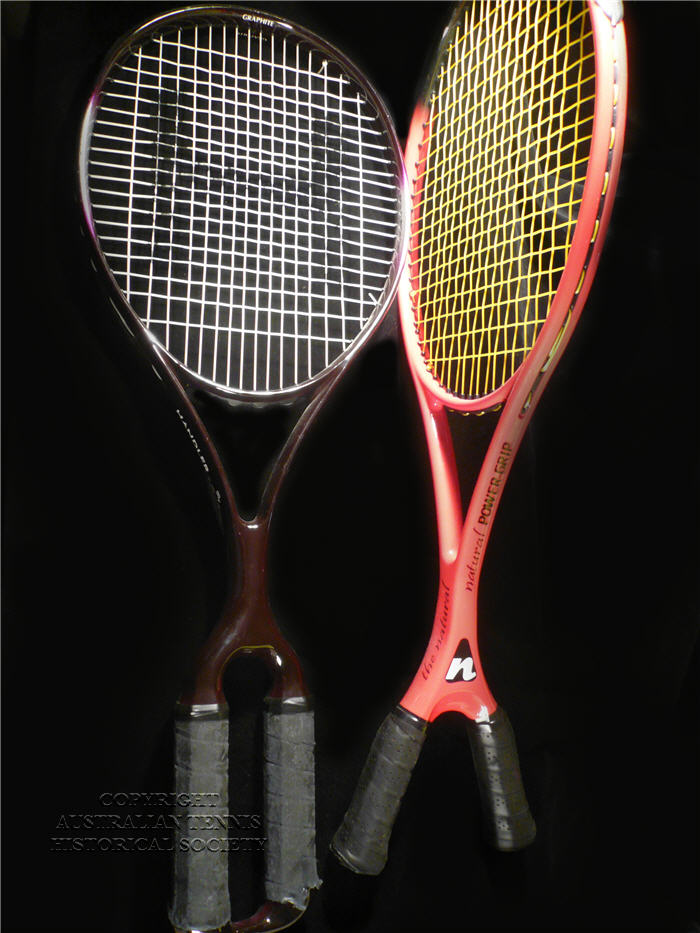 Double Handles:  The Handler c 1992 and The Natural (2007)
Two handled racquet to pick up on the latest teaching techniques for double handed players. Much harder to volley and serve due to single hand play being off centre so you might want be a solid baseline player that can run to shots.
This is just one of 3 different versions we have seen trying this concept.
In March 1995 from Tennis Magazine the male designer, Elie Ban-Kheir claimed to have sold about 2000.
The Natural takes a completely different angle along with an offer to customise your existing racquet if you wish.  Watching video of Brian Battistone serving with a volley ball style is recommended viewing.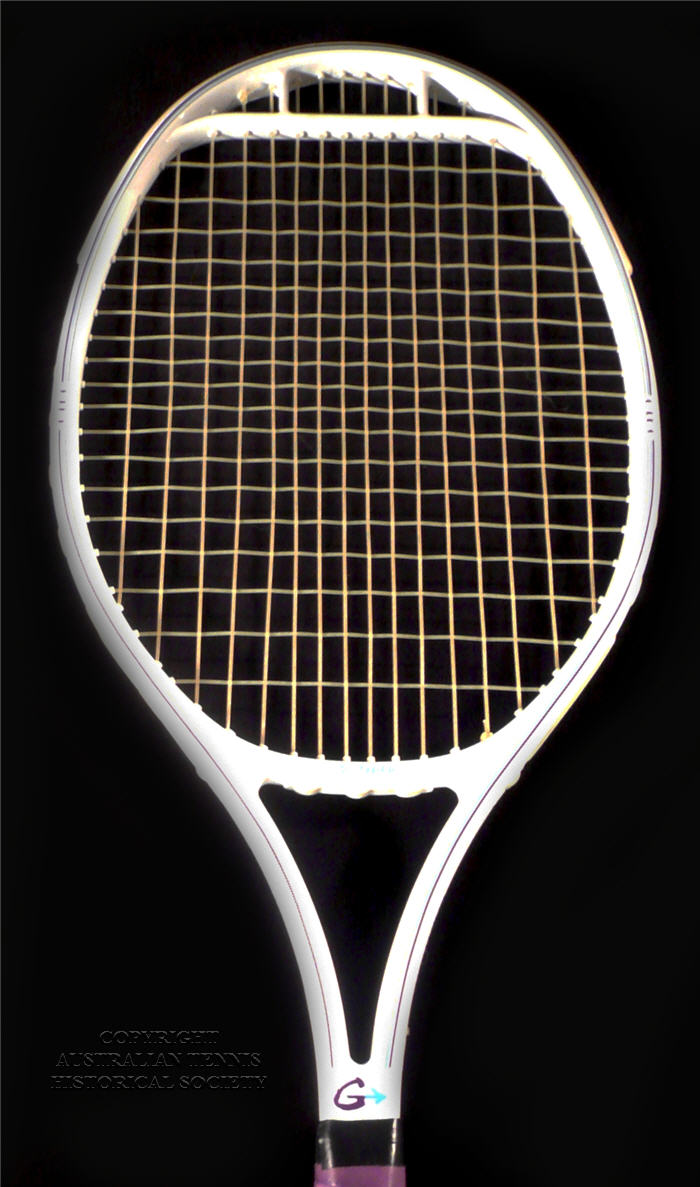 Gauthier G of G
Bridge design attempts to alter string tension at sweet spot. Very similar to the Spalding Powertech which has two bridges top and bottom. See below.
Gauthier are a recognised French brand, but little is known about this model.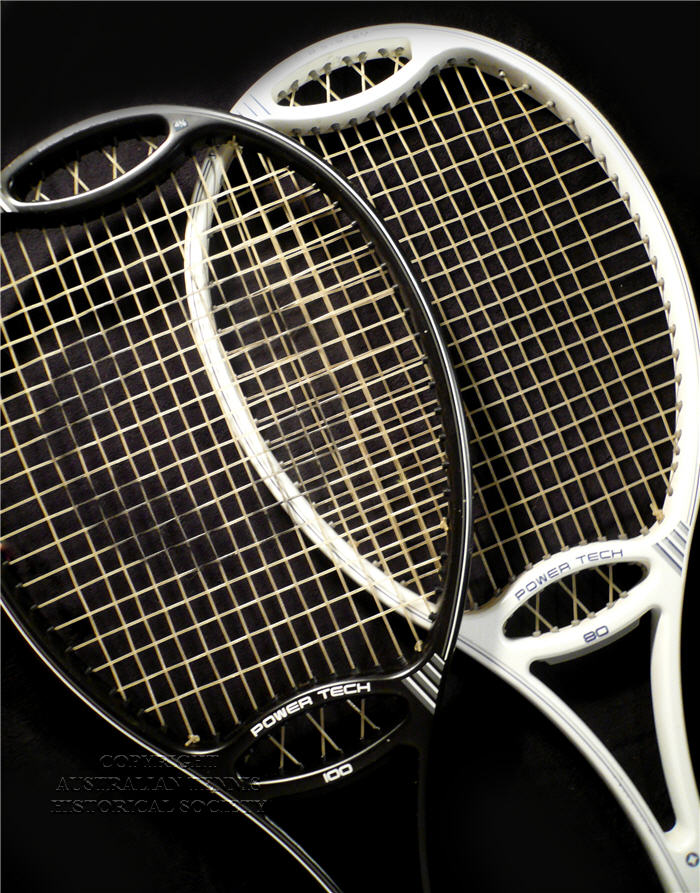 Spalding Powertech 80 & 100
Double Inverted Bridge.
Mid 1980′s made in Taiwan.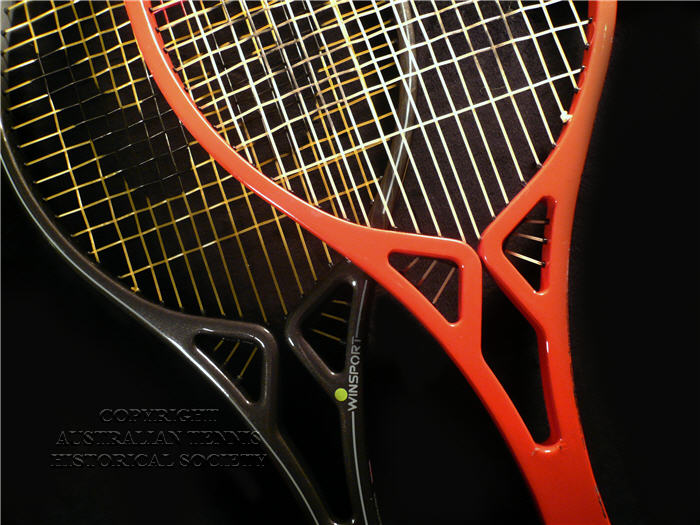 Winsport UK c 1985
Very unusual split throat design.
The Volkl Power Arm is another quite interesting throat treatment that will become collectable in the future.
Snauwaert Ergonom 1984 Belgium
Offset head to help players with a tendency to drop the racquet head to still keep the racquet in line with the flight of the ball.
There are a stack of these on ebay and since no-one bought them most are new. If you find a used one it will become a bigger collectors item. Or, I suppose you could buy a new one and try it out for a season.
The local tennis shop advises that being offset the string pattern which hits the ball as diagonal strings would, actually gives a serve that extra bit of top spin for a great kicker.
See the Neoxxline under modern unusual section.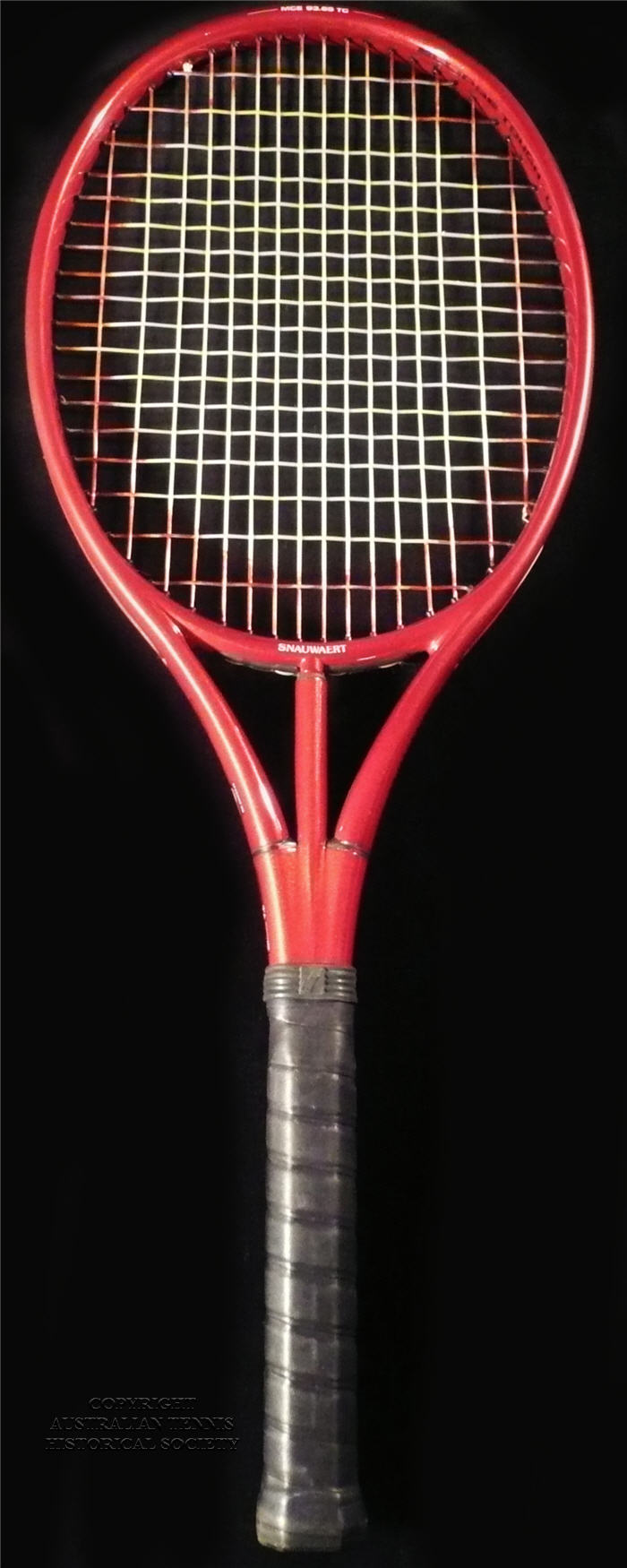 Snauwaert Ellipse early 1990′s
Tri shaft racquet like the Hazell Streamline.
Head can be removed at the central shaft point but loathe to try this since this one is brand new. The company warranty was void if dismantling occurred so they weren't designed to be interchangeable like the JENRO (modern unusual section)
Also of interest in this area are the French, Le Coq Sportif tri-shaft racquets made from 1987 and endorsed by pro player Yannick Noah