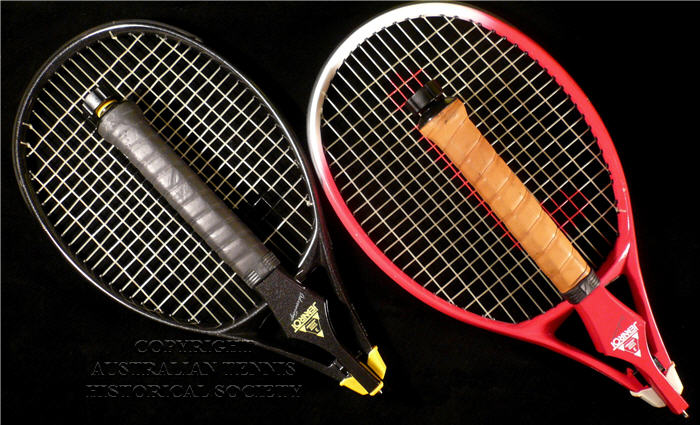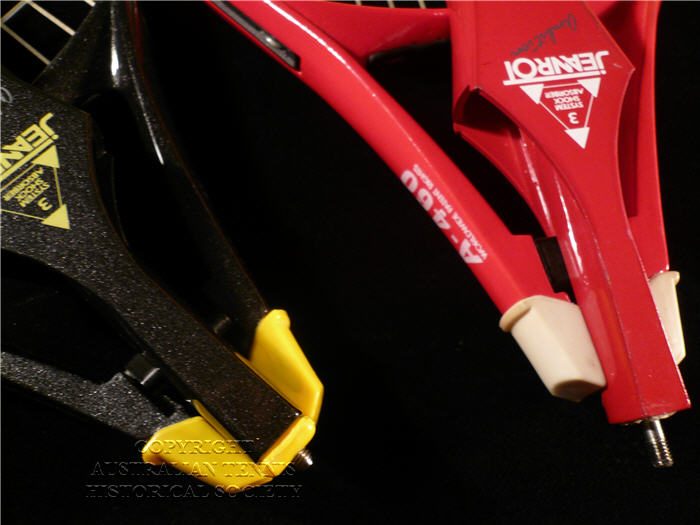 The Jeanrot Foldable  Racquet c 1985
A butt cap unwind system untightens the screw section in the throat allowing the racquet to pivot apart.
In 2007 a reincarnation emerged called the JENRO which came apart completely for compact packing.
This is shown in the Modern Unusual section.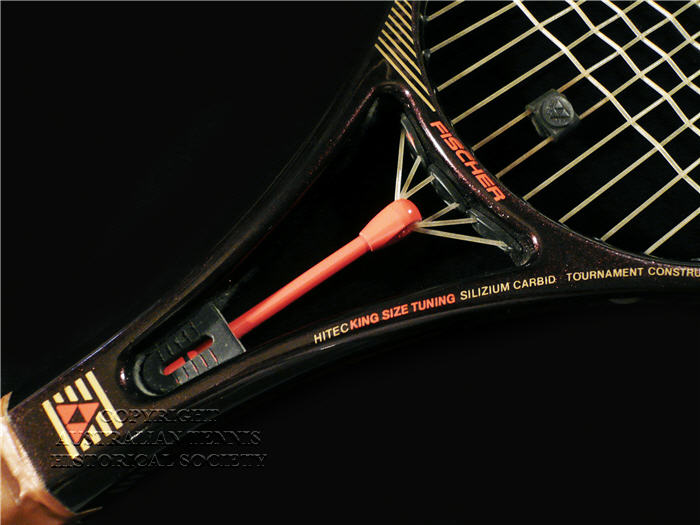 Fischer Superform Tuning c1985
Just like the 1928 Craven racquet above, the rod like device is tightened from the handle and the string tension is adjusted.
The red/deep purple version is the rarer of the two.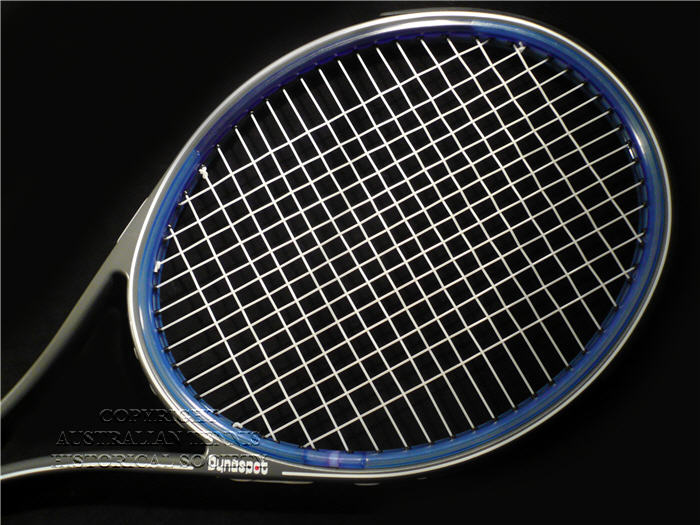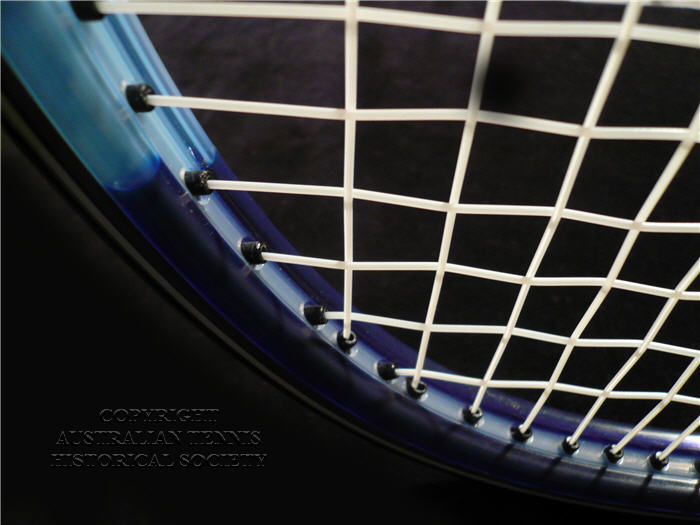 Dynaspot (USA)
c mid 1990′s
Fluid filled tube adjusts weight in the racquet head to counter offset hitting and vibration.
Banned under ITF rules.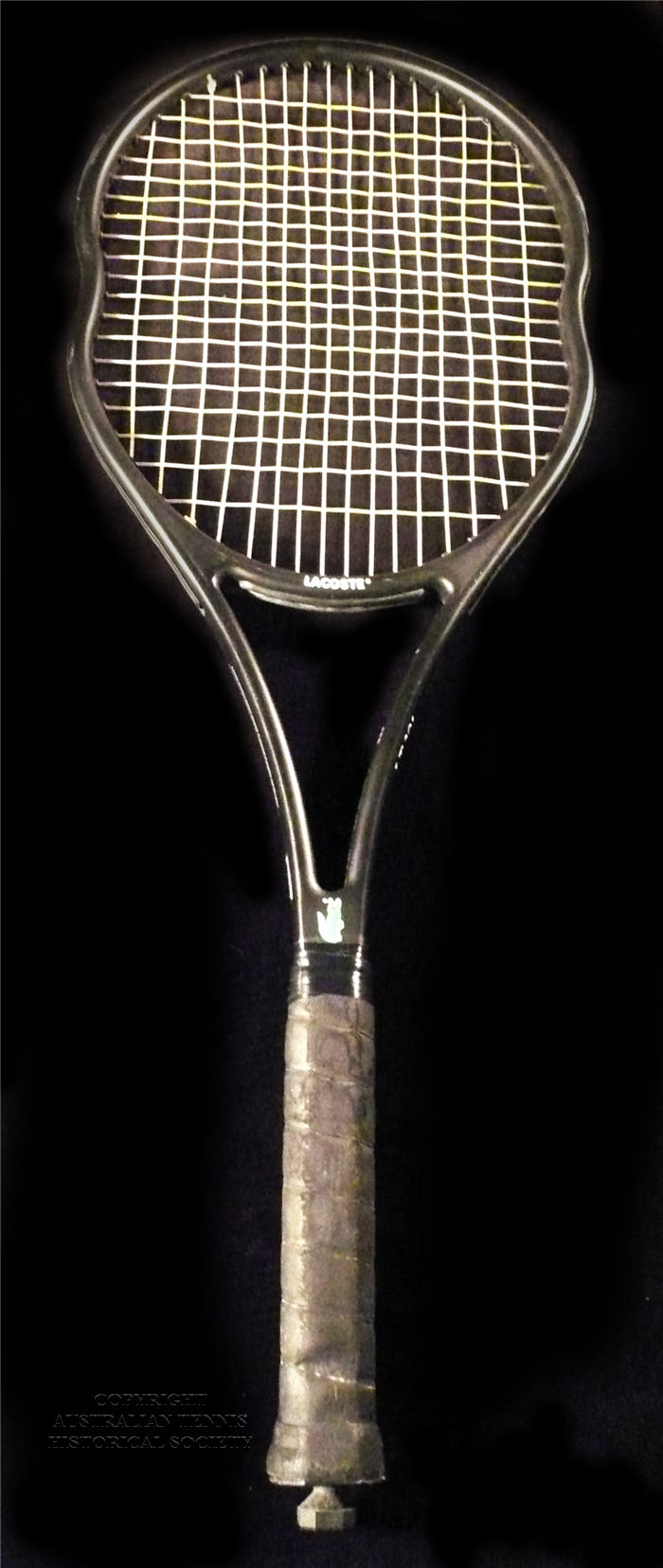 Lacoste Equijet mid 80′s
Used by Guy Forget.
No it isn't sun damaged! Another interesting Lacoste design which aims to change the sweet spot via altered string tensions. It has a unique Vibration system in the butt cap which carried through to the Wilson T5000 model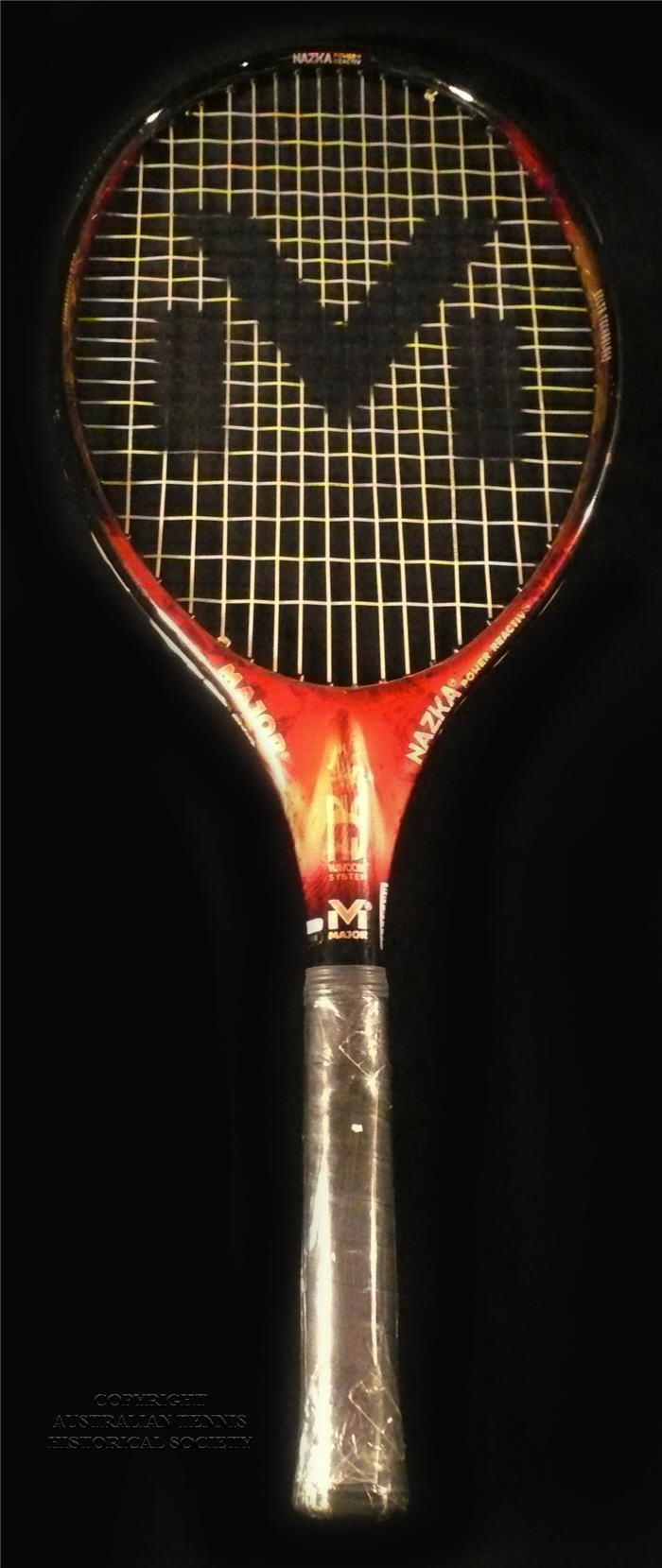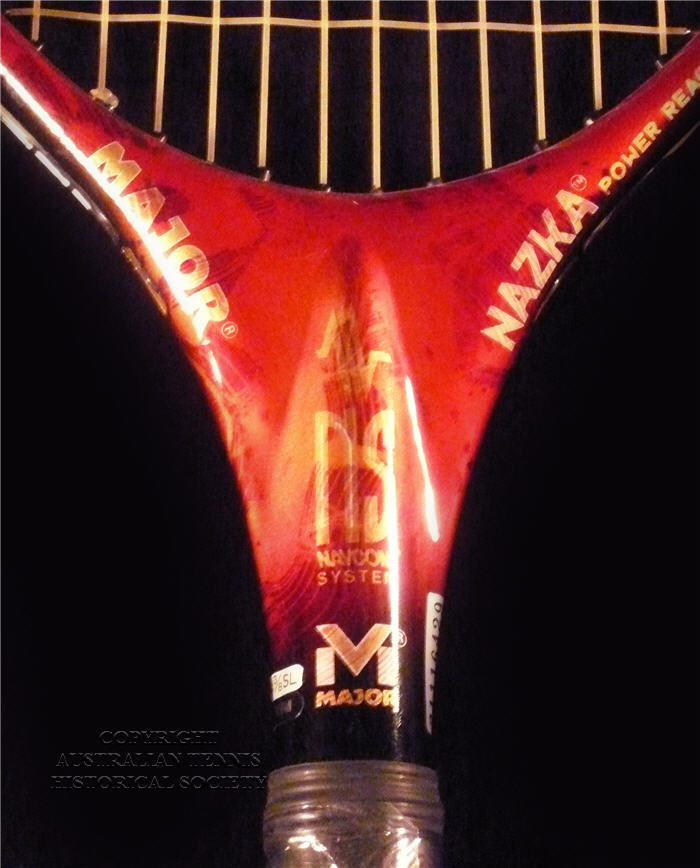 Major Nazka 1990′s
Retro design with vibration dampening system in the middle of the shaft. Graphics and shape are just great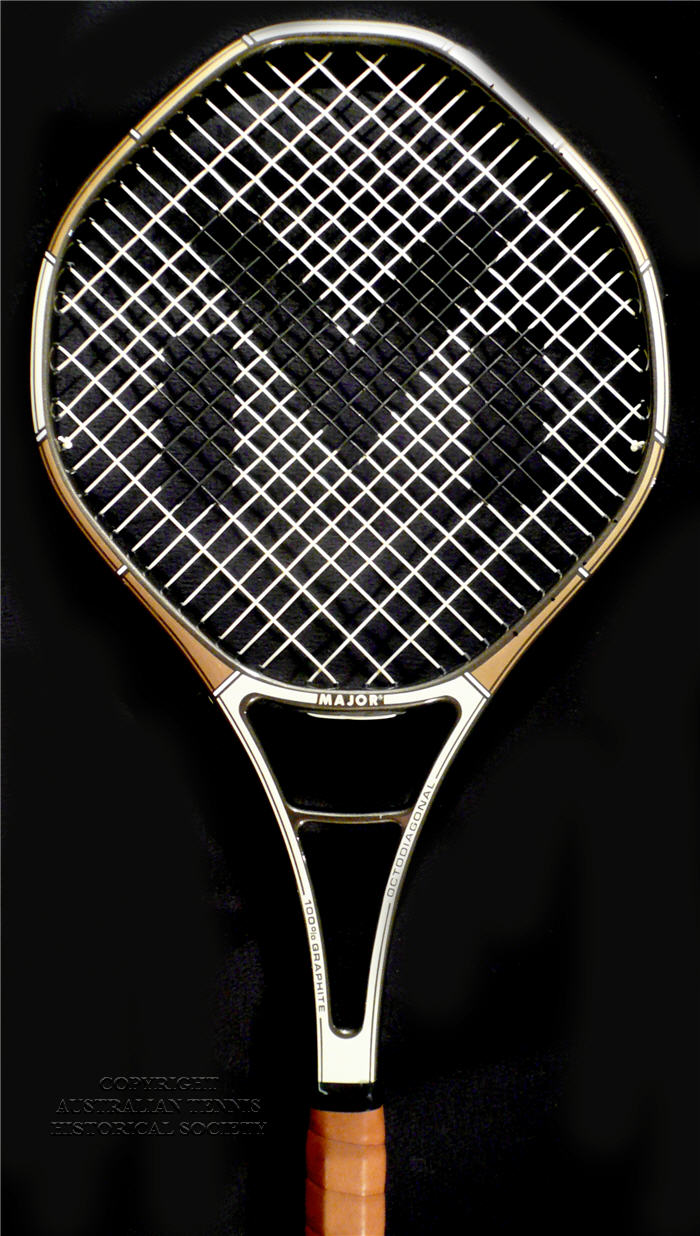 Major Octodiagonal
Terrific shape aka Macgregor Bergelin style.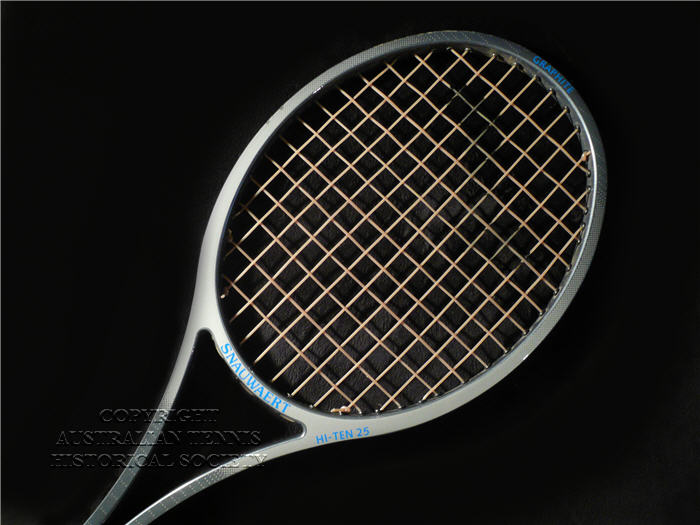 Snauwaert Hi Ten 25 (early 1990′s)
From a 3 range 25,30,50 using opne pattern and 1.7mm strings.
This one is a 12 main x 13 crosses. Other models  16 x 12 etc. as the heads get larger.
Mark Woodforde apparently enjoyed these racquets for the huge spin capabilities of the stringing pattern.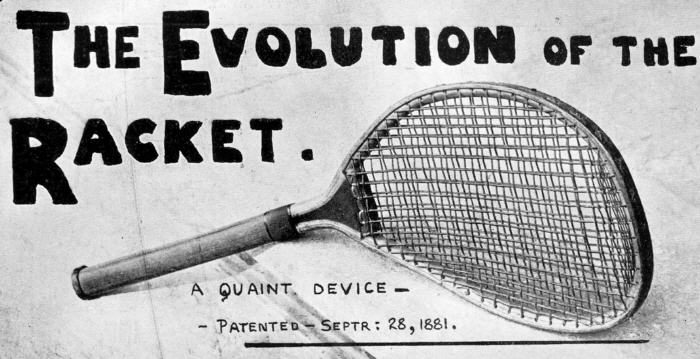 Blackburne Double String Late 1990′s
Racquet with two sets of strings about 2mm from the lip of the frame designed to reduce frame hits. The racquet warps when being strung due to the string pressures on one side and then reverts to shape as the second set is fitted.
The earliest evidence if a similar comes from 1881 as printed in the UK Lawn Tennis and Badminton Magazine in 1914.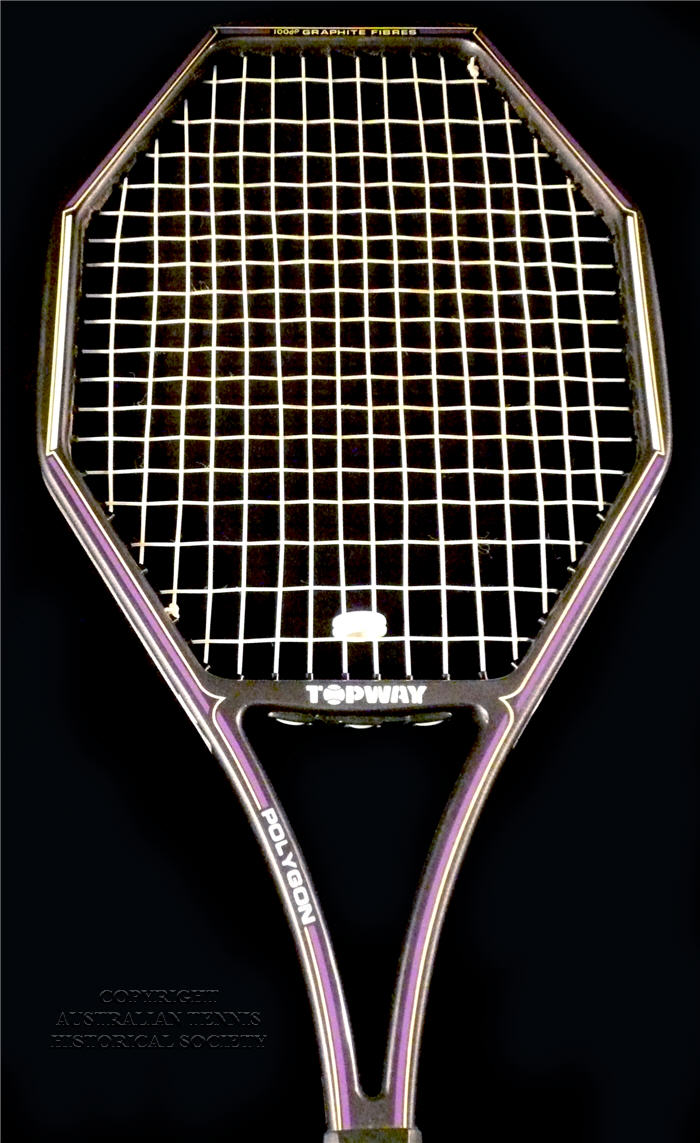 Topway Hexangonal
Very unusual shape made in Taiwan.
Dunlop Japan also marketed this design as their the Polygon model.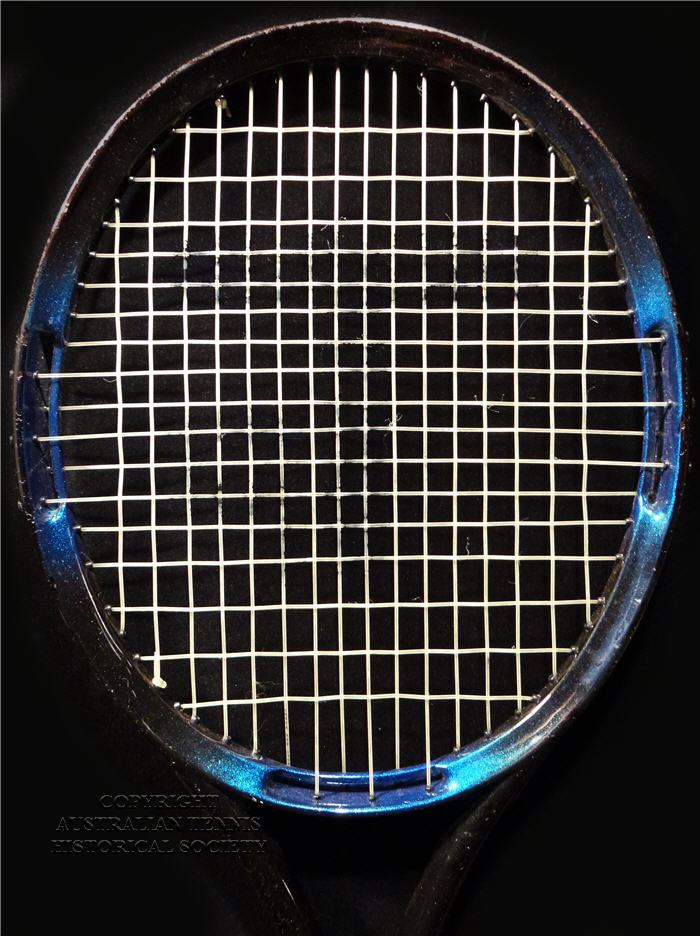 Tour Pro (nothing else known) great frame shape dividing the strings on all four sides.
Wilson Matrix internal stringing system along the lines of the Seamco / Seamless model from the mid 1970′s
The Kuebler Phillps Moore c 1980 in Germany
Named after South Australian player and journeyman, Barry Phillips Moore.
This sample has been strung using a stringing technique called 'spaghetti' stringing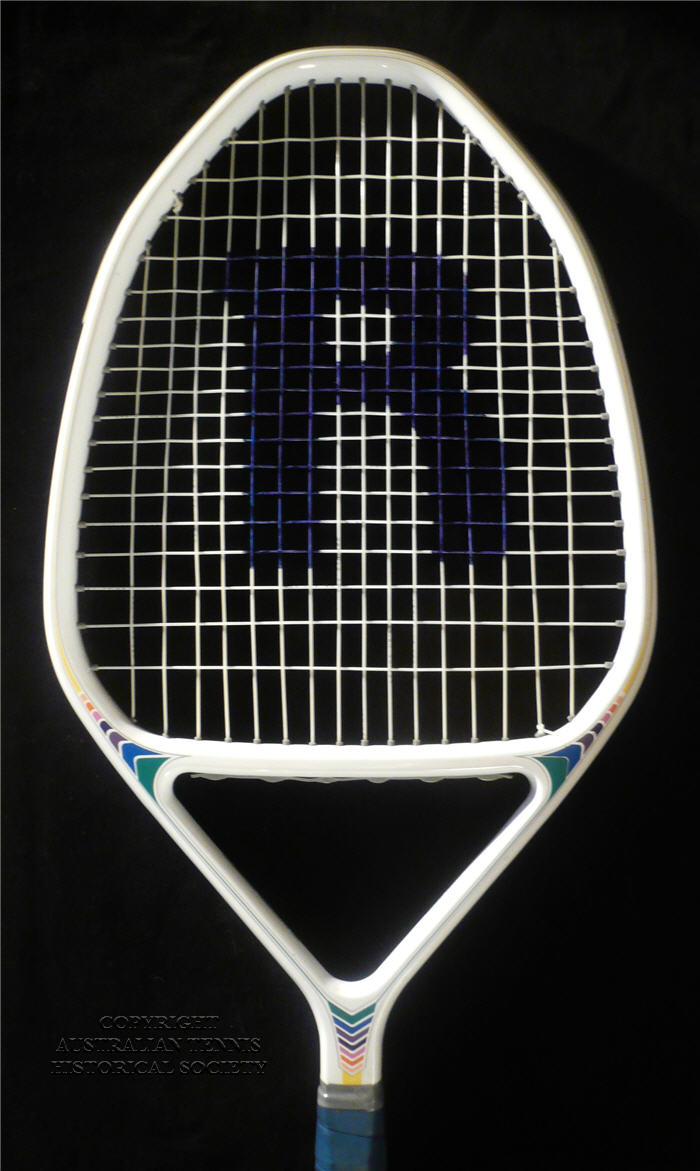 Rival AU 700
Ceramic Composition c1993
The premise behind the shape was that it represented an open hand and was designed to deliver greater feel and control plus bring the sweet spot closer to the bottom of the frame.
There were quite a few models:
AU 100, AU 300MS, AU 400, AU 500 from 1989-1993 and were sold mainly in the USA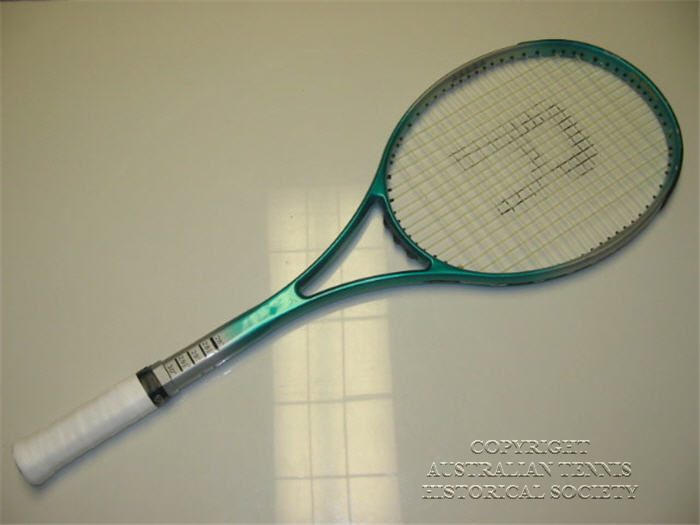 Rayco Ruler c 1980′s?
Adjustable racquet length from 28″ to 30″ via an in-handle extension. Just a screwdriver away from extra reach.
Very rare. Not sure how practical or what would happened if the screw broke, net players beware.
Apparently, this was a low cost Kmart style racquet
Adam Pro Turbo adjustable length c1989
Adam Gunther was the head designer at Volkl before joining Puma where he designed the Boris Becker PCS. After Puma exited the market, Adams created his own modified version of the PCS with a knob system.
The knob in the handle turns to change the length of the racquet and therefore swing weight. The two pics left show the variation.
It is a beautifully balanced racquet with an excellent sweet spot. Notice the wider head areas on the sides
Head Legend c mid 80′s with Slazenger Omega Long head shape models
The elongated head shape really is quite fascinating and totally unique compared with the 65 sq in oval shapes typically seen in the day.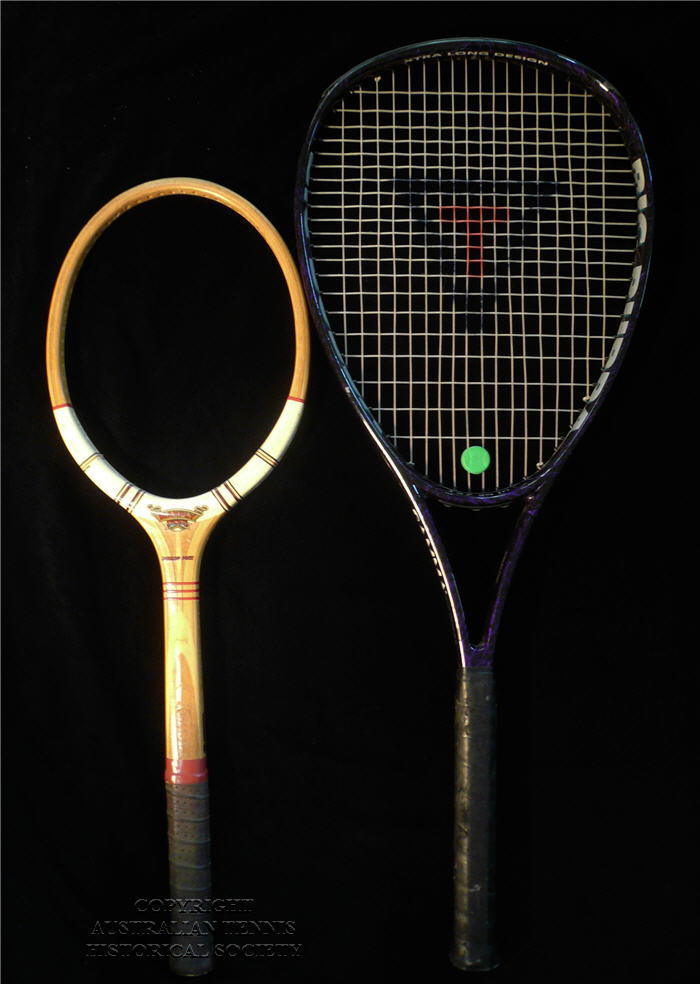 Gamma Big Bubba
32″ tall and 137sq.in head.
An amazing weapon which was banned in 1997 after being approved. Ultimately they simply chopped 4″ off to make it 28″.
Banned because it was thought that the game would end up being all serve and not much else. Our Aussie scud put these to a test against woodies.
Read the story under BLOG ARTICLES and scroll through a few others as well.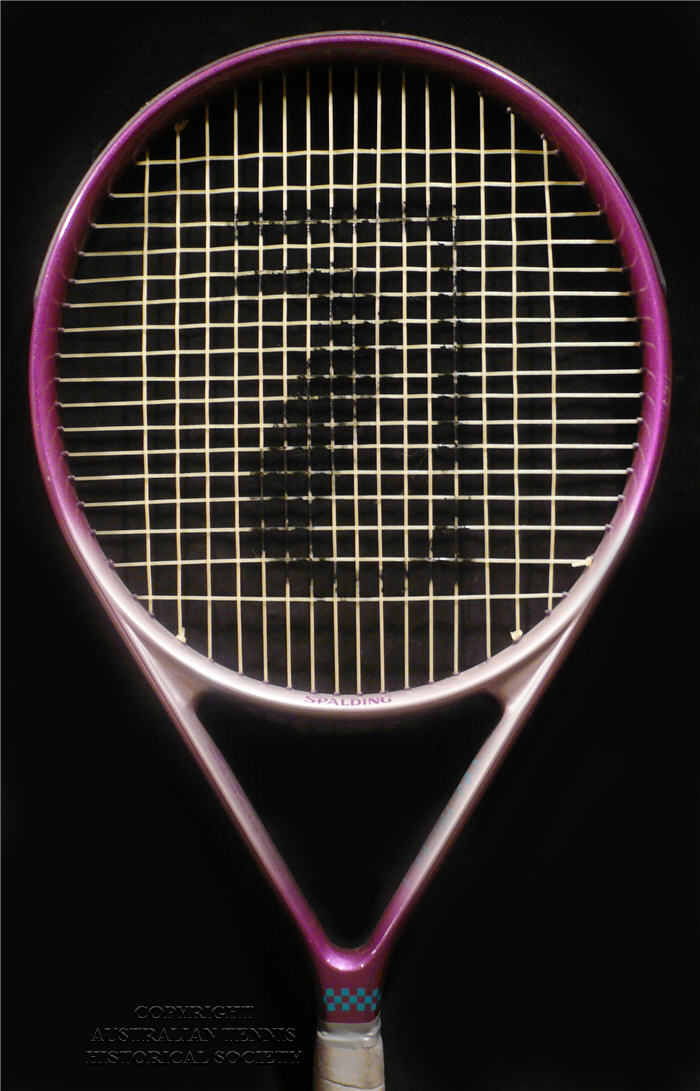 Spalding's Orbitech was a given a big push in the early 1990′s
This is the XL-105.
Sold in the USA for $190 so an OK mid price racquet for the social players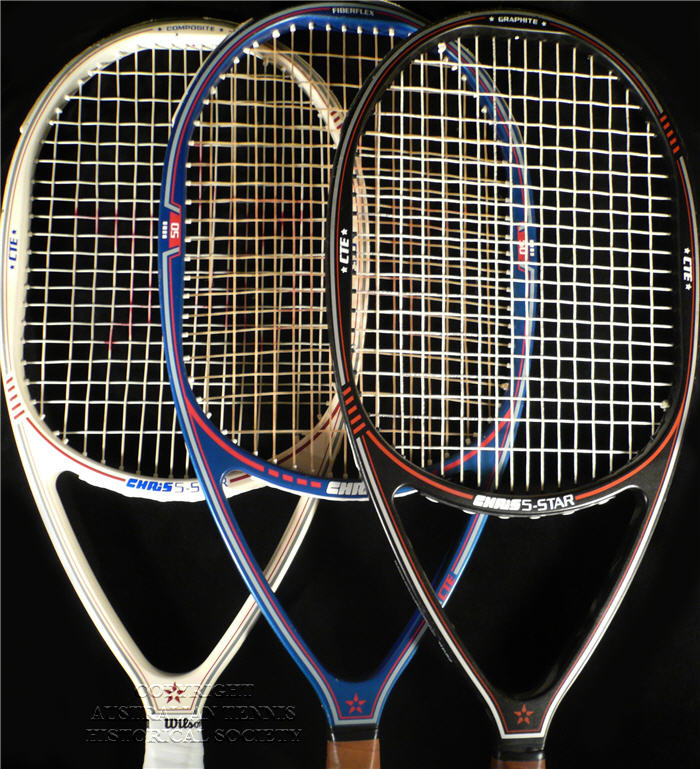 The Chris 5 Star USA mid 1980′s
Another wide bow racquet design.
Grey: Power G model 100% Graphite
White: Competition Composite
Blue: Avenger Fiberflex
Very well balanced and stable due to the wide bow and collectors still really enjoy playing with them even compared to current designs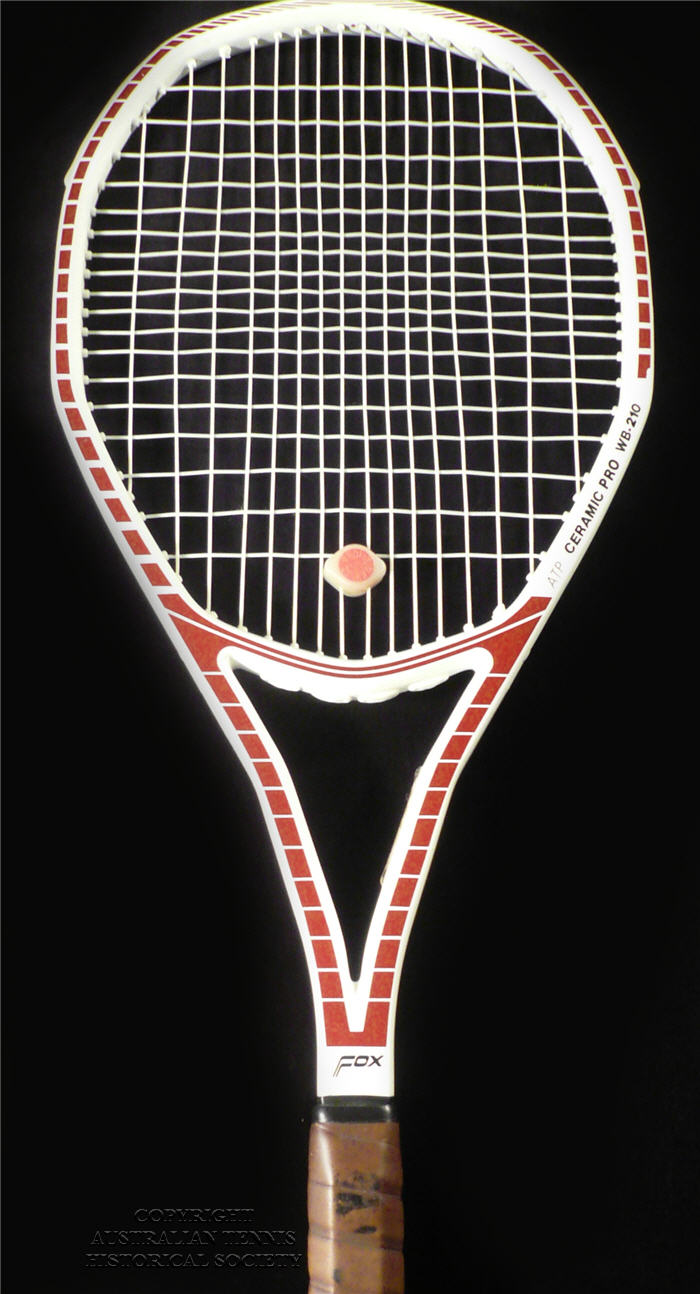 Fox Ceramic Pro WB-210 c 1985
Warren Bosworth was a highly regarded stringer to many professionals and was heavily involved in the design of these and many other Fox racquets. We recently found an Australian branded version of this racquet called CERAMIC PRO of which only 300 or so were made for promotional purposes.
This series are unusual due to their 10 sided shape.
Fox also produced a version model WB-215 traditional head shape long string model.
Emrik (Australia) Ace Drive Angular finish
Very rare multi angle model.
Apart from the SPIN racquet above, other makers have experimented with
long string designs.
Pictured is the Prince Triple Threat Ring (1300 power level) and the Wilson Radius with Power Strings Technology.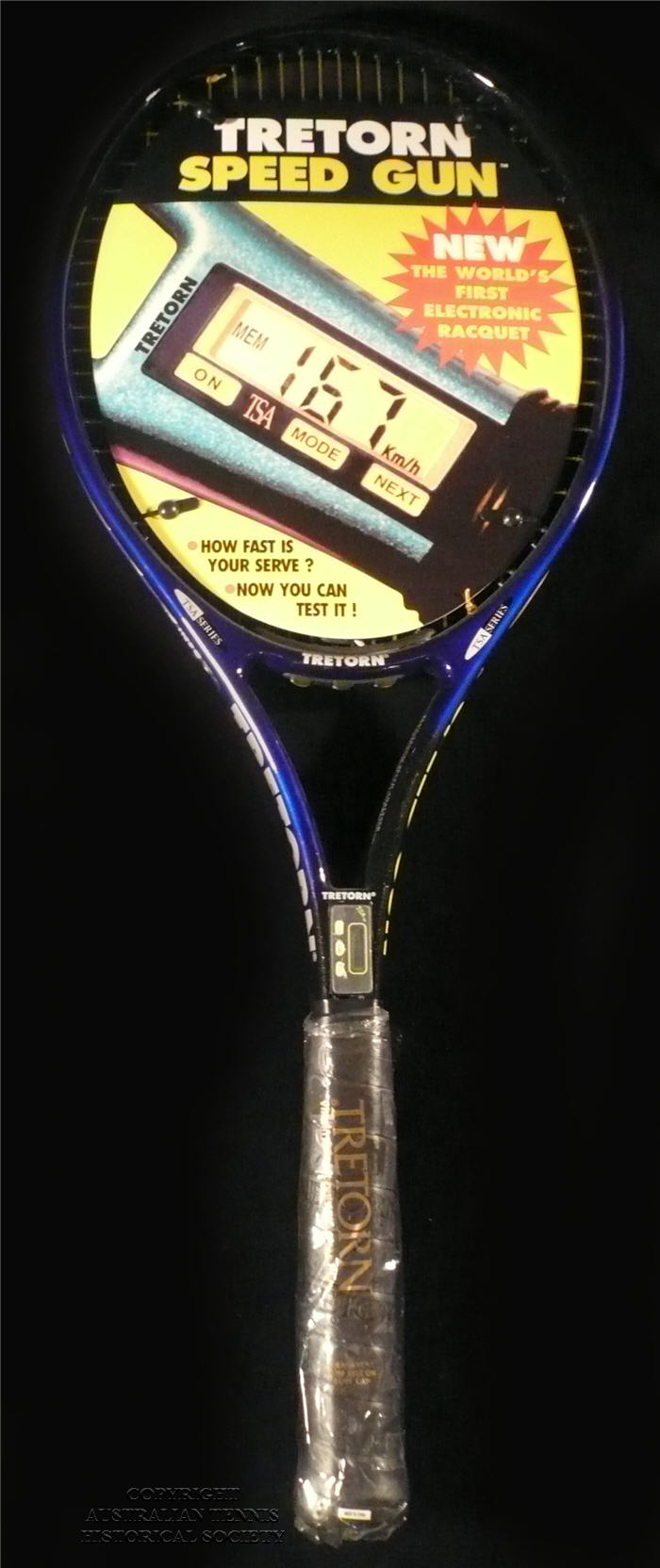 Tretorn Speedgun (Concept racquet) 2005
Computers meet tennis.
A string sensor picks up movement to determine shot speed to within +- 2.5kmh. Play a rally and see the last 10 shots on a screen built into the handle.
Only 1000 were made and they never achieved retail distribution. A rare find indeed and a great tennis brand name. Current ITF rules prevent information being relayed to a player during play.