As a consequence of World War 1 and despite the heavy loss of life, including many Australasian  tennis players such as Anthony Wilding, Arthur O'Hara Wood and Jack Addison to name only 3, tennis in the 1920′s got off to a slow start since many of the young up and comers were enlisted and had no opportunity to develop their game.
Many of  potential leading Australians were serving in the forces via the UK and the first post war Wimbledon tournament in 1919, postponed since 1914, became an ideal platform to launch the new Australian Tennis assault. Out of respect for the losses in the war, the USA was most gracious indeed by not sending major players to Wimbledon or the Davis Cup challenge rounds.
Gerald Patterson, Ron.V.Thomas and Pat O'Hara Wood all made it to the Wimbledon quarter finals and Patterson defeated UK champion Kingscote for the right to play Norman Brookes, the 1914 Australian title holder, in the challenge round. At half his age and Norman and not being in good health throughout the later stages of the war,  Patterson won the title without much effort.
In the men's doubles, seven out of the eight finalists were from Australasia. Brookes – Patterson were defeated by O'Hara Wood and Thomas and Rod Heath and Randolph Lycett made the final which the former won. Lycett won the mixed with US lady E.Ryan.  A great Australian result.
Significantly, Brookes and Patterson & co went onwards to the USA to play in the 1919 US national championships, defeating Tilden and Vincent Richards in the doubles final. In the singles, while all the Australians were knocked out in the fourth round, Patterson lost to eventual winner Johnston in 5 sets, who then went on to defeat Tilden in straight sets in the final.
Pat O'Hara Wood was a fine doubles player and with Ron Thomas won the Australian Doubles championship in 1919/1920 and the singles in 1920 & 1923.
Gerald Patterson was born in 1895 in Victoria and was the nephew of Dame Nellie Melba, Australia's then world famous opera singer. In 1911, aged 15 his talent saw him as the Senior Blue for tennis in Victoria and in 1912 he played in the Victorian championships against the visiting British Davis Cup team and beat A.E.Beamish.  He played fellow junior from NSW and soon rival, J.O.Anderson in the Public Schools Victorian Championships. He also played interstate tennis with her son George Armstrong. He was 6′ tall and modeled his game on the world champion Norman Brookes except his powerful serve and overhead compensated for his relatively weak backhand.  Norman Brookes in later years rued tremendously inspiring Patterson's backhand for if he had a stronger all round game it may well have changed tennis results throughout the 1920′s.
James Outram Anderson was born 1894 in NSW so the interstate rivalry was at the fore. He also enjoyed a major victory in 1912 over the strong champion player of the day, H.A.Parker.  J.O beat Patterson in that first Victorian schoolboys tournament in 3 sets.  James had five brothers, all with the middle name Outram and all were competent tennis players. An E.O.Anderson was on the 1913 Australasian Davis Cup selection committee.
Both lads almost won their state championships in 1913 beating notable players on the way and succumbing to slightly older more experienced players Rod Heath (first Australasian Singles  Champion 1905) and Pat O'Hara Wood. Patterson was 2-1 sets up and lead in the final set but lost to Heath and Pat O'Hara Wood defeated Anderson.  Anderson also beat British player P.G.Lowe in that year providing a strong comparative performance to Patterson. Clearly they were destined for greater things.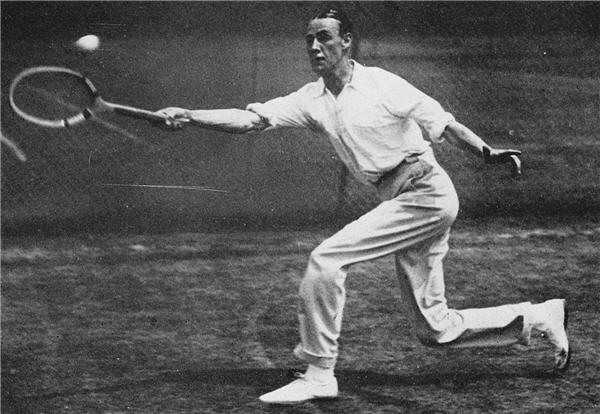 J.O.Anderson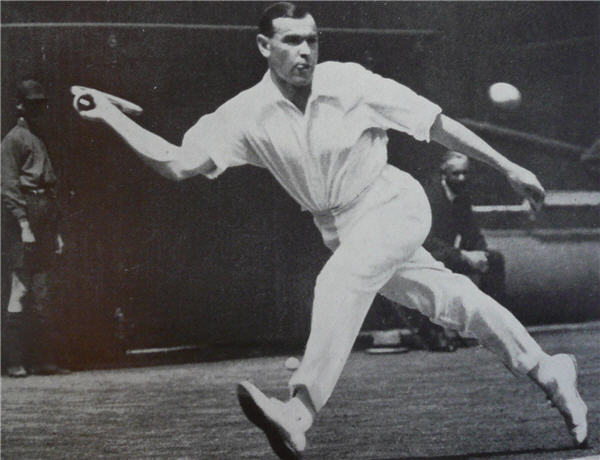 Gerald Patterson
The Davis cup team in 1919 comprised Brookes, R.V.Thomas and new timers Patterson and Anderson. As the cup was retained by Australia through the war, the British Isles sent a team to play in Sydney mid Jan 1920. Australasia won 4-1 with the only loss being Anderson by Kingscote.  Brookes played in the doubles with Patterson.
Over at Wimbledon in 1920, Patterson was defeated by Tilden in the Challenge round, but won the mixed playing with Suzanne Lenglen over Lycett and  Miss Ryan (USA-one of 5 consecutive finals together, 3 wins 2 losses both to Australian male opponents).
The 1920 Davis Cup was conducted in New Zealand as part of the relationship under the "Australasian" banner which shared Davis Cup play between Australian cities and New Zealand.  The team comprised Brookes, Patterson, RV Thomas and Rod Heath.  Brookes and Patterson played the singles and doubles against Tilden and Johnston and lost them all to the USA, scores 5-0 (rubbers). Although Brookes was in his early 40′s he actually provided more competition than Patterson and had he been 10 years younger may well have altered the outcome. Both Aussies took Tilden to 4 sets and while Johnston beat Patterson who won only 4 games, Brookes took Johnston to another tight 4 set match.
After New Zealand the teams came back to Australia for a Melbourne exhibition series against Victoria in mid January 1921. Tilden beat Hawkes 6-3,6-3, O'Hara Wood 8-6, 6-2 and Brookes 6-1,6-4.  Washburn, the USA 3rd player beat Patterson , but Patterson beat Johnston on day 3.  The Australians did win 2 out of the 3 doubles the highlight being Brookes and O'Hara Wood win over Tilden /Johnston 6-4, 7-5, 6-3.
The two teams then traveled to Sydney for a repeat match. The USA players won this 7-2 but again Brookes and O'Hara Wood won against Tilden and Johnston 6-3, 8-6, 4-6, 7-5.  In singles, Brookes took Tilden to three sets losing a close match regarded highly by the 3500 spectators, 4-6, 8-6, 5-7.
Tilden was really starting his career at this time and over the next 5 years would come dominate men's tennis to the point where he was labelled that best tennis player to have played the game, a badge that would last into the mid 1930′s.
The 1921 year saw the introduction of some new blood into the Davis Cup team.  Norman Peach, the oldest, was named as Captain and the team of "Colts" comprised Clarence Todd,  Jack Hawkes and J.O.Anderson.  While not expected to do as well as a team including Brookes, Patterson and O'Hara Woods, since these players were unavailable the youth policy was well received as a pathway to developing a stronger team to battle the USA.
The team defeated Canada as expected followed by wins over the British Isles and Denmark. Against Japan at Newport, the team lost 4-1 which was disappointing, however the Japanese team of Shimizu & Kumagae were renowned strong players.
A most surprising result was that J.O.Anderson and Clarence Todd won all four of their doubles matches.  Clarence who was a country NSW farmer only occasionally came to Sydney to play the metrop0litan tournaments only played in the one Davis Cup contest and in 1923 purchased a sheep farm and decided to devote more time to the business.  He was highly regarded player through the 1920′s and on his day would beat many of the top ranked players.
A highlight of the tour, other than Anderson making the semi finals of the US singles championship, came later in the month when at the East West Championships in Chicago,  Anderson met Tilden and in what the newspapers described as the best match seen in the USA, Anderson won a marathon 5 set tussle 3-6, 6-4, 6-2, 1-6, 19-17
Early in 1922 Patterson and Anderson were engaging in exhibition matches in preparation for the journey to England to Wimbledon and onto the Davis Cup challenge. Each was beating the other in what would be ding dong type of year.
Other members of the team were J.B Hawkes, R.C Wertheim and Pat O"Hara Wood, his first time in the team. The team on paper looked to be a strong one and it needed to be against ever improving overseas competition. At first both Patterson and Anderson looked doubtful for the tour but satisfactory arrangements and a fund was being established to help Anderson look after his business interests while away on tour.
Although favoured to win Wimbledon, Anderson was defeated by Patterson in the semi finals who went onto beat fellow Aussie at heart Randolph Lycett in the grand final in straight sets, in what was the first year that the All Comers and Challenge rounds were abolished.  Even previous year winners now had to battle through the draw as happens today.
The Davis Cup challenges started well with defeats over Belgium, Czechoslovakia, France and Spain.  In a scare, Anderson was out ill against a strong French team but Patterson and O'Hara Wood beat Gobert and Cochet 4-1 rubbers. Anderson also missed the Final round against Spain where again the score was 4-1 which set up a challenge against the USA.   Patterson and O'Hara wood were tough doubles competitors although they had lost the US Doubles title to Tilden and Richards and few weeks earlier.
The Challenge round saw Anderson and Patterson lose both their singles against Tilden and Johnston with a highlight being, once again, a 5 set thriller where Anderson was 2-1 sets up losing, 4-6, 7-5, 6-3, 4-6, 2-6.  In a reversal of the US Championships,  O'Hara Wood and Patterson defeated Tilden/Richards 6-4, 6-0, 6-3 in doubles. On their return, both Australians pointed to a collective weak and defensive backhand style as being the issue against stronger offensive backhands shown by both the Americans.
1922 ended with the Australian Championships final played at White City between Patterson and Anderson.  The previous two years the Championships were conducted in Adelaide and Perth and traveling often reduced the quality of the field. The NSW tournament was at full strength and the evenness of the players was borne out in the semi finals Patterson defeating Hawkes 8-6, 4-6, 7-5, 3-6, 10-8 and Anderson over Peach 1-6, 6-2, 6-2. 6-4.  The final score was Anderson defeating Patterson 6-0, 3-6, 3-6, 6-3, 6-2 although it was quoted that Patterson was playing with a sore wrist. The first set was over in 10 minutes before Patterson rallied.  In doubles, Hawkes and Patterson defeated Peach and Anderson and remarkably in the middle part of the match the latter lost 12 games straight, scores 8-10, 6-0, 6-0, 7-5.
Having won the Australian Championships, Anderson was to be included in the 1923 Davis Cup team.  Again Patterson and O'Hara Wood were not available, however, Anderson was keen to go with a special condition that funding a business manager substitute in his business would be necessary as he couldn't afford to leave and pay the salary of the manager for 5-7 months taken for the tour.  On the surface, this gained plenty of public sympathy, for in the 20′s not all players came from wealthy families where touring for expenses only was affordable.  Typically the issue of what defined an AMATEUR came to the attention of the International body, but since a definition was never really established much was overlooked and which as quoted from Wallis Myers, amateur must mean one thing in Australia and another thing here (UK).  However, at the end of the day, not sending a team would be a disappointment to the whole competition.
So the team of Anderson (captain), J.B Hawkes and newcomers Richard E  Schelsinger and Ian D McInnes was selected.  At 23, Schlesinger had come to the attention of selectors during a Sth Australia Victoria match at which he defeated R.V.Thomas and C.Stuart and at an MCC tournament he beat Wertheim, then Patterson and to0k eventual winner O'Hara Wood to a losing 5 sets in the final.  Ian McInnes only 21, had played well in the previous South Australian Championships beating R.V Thomas and then lost to Patterson in the final.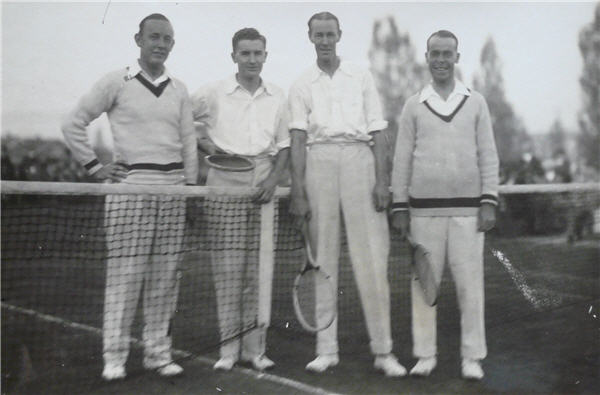 1923 Davis Cup Team:Jack Hawkes, Ian McInnes, J O Anderson & Richard Schlesinger
This was the first year that Australia played without association with New Zealand, primarily because  no New Zealand players were qualifying to make the combined team. The Davis Cup Team traveled direct to the USA for the American Zone playoffs bypassing the Wimbledon tournament.
With wins over Hawaii, Japan and France all rubbers being 4-1, Australia played the USA in the challenge round. Having been given a run in the preliminaries, the older players Hawkes and Anderson took on Tilden and Johnston.
Although losing 4-1 to the Americans, Anderson again proved his skill beating, for the first time in a Davis Cup round, William Johnston in 5 sets 4-6, 6-2, 2-6, 7-5, 6-2. Anderson lost to Tilden in 4, the doubles in 4 and Hawkes was beaten in straight sets comfortably in both singles.The doubles turned into the longest match in Davis Cup history with a win to Tilden/Williams over Anderson/Hawkes 17-15, 11-13, 2-6, 6-3, 6-2.
Hist0rically, it is of note that during this year, Tilden lost his middle finger above the knuckle on his playing hand as a result of an infection caused by a cut.  He spent much of the off season, relearning his grip and shots to minimise the impact.  While it was altering his game, Anderson seemed to think it forced Tilden to concentrate more and make even less mistakes.
In January 1924,  Richard Schlesinger proved a worthy finalist in the Australian Championships at the Albert Ground against Anderson by beating McInnes and Kalms. He lost in 5, 6-3, 6-4, 3-6, 5-7, 6-3.
No doubt, with some satisfaction Norman Brookes with Anderson defeated arguably the best doubles combination of Patterson/O'Hara Wood in straight sets 6-2, 6-4, 6-3.
Typically after the championships in January,  Anderson announced again he could not join the Davis Cup team. While a blow, since Wallis Myers had placed Anderson #3 on a World Ranking behind Tilden and Richards,  Patterson and O'Hara Wood made themselves available.  The final team included Fred Kalms and Richard Schlesinger, although neither played in any matches.  Australia defeated France in the interzone finals 3-2 with losses of both singles to Lacoste.  In the challenge round we lost 5-0 winning only one set in the doubles.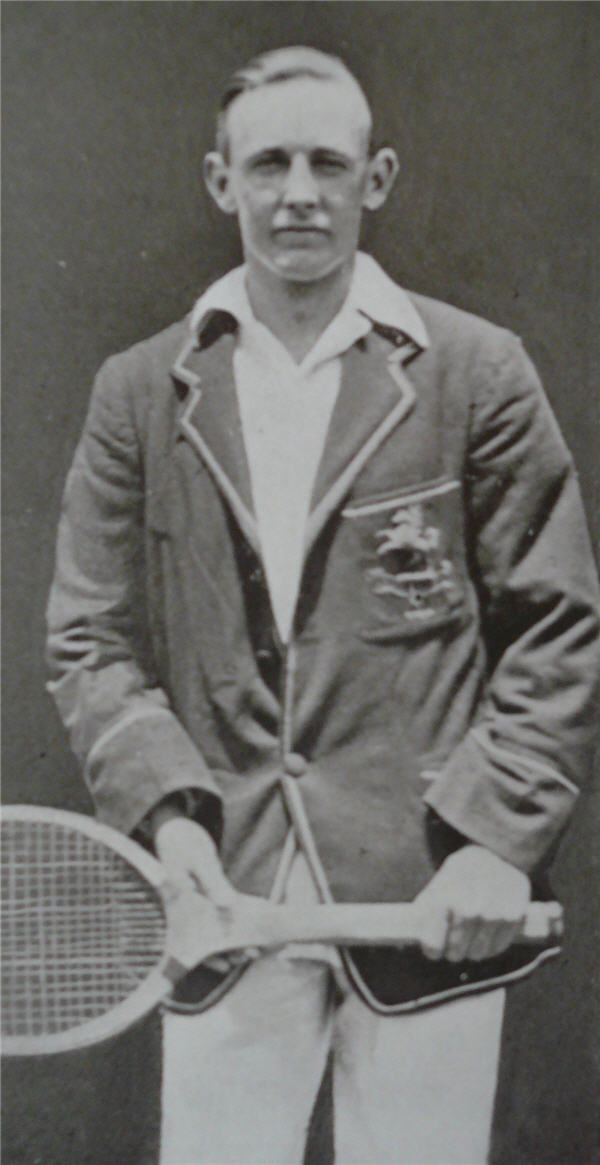 Jack Hawkes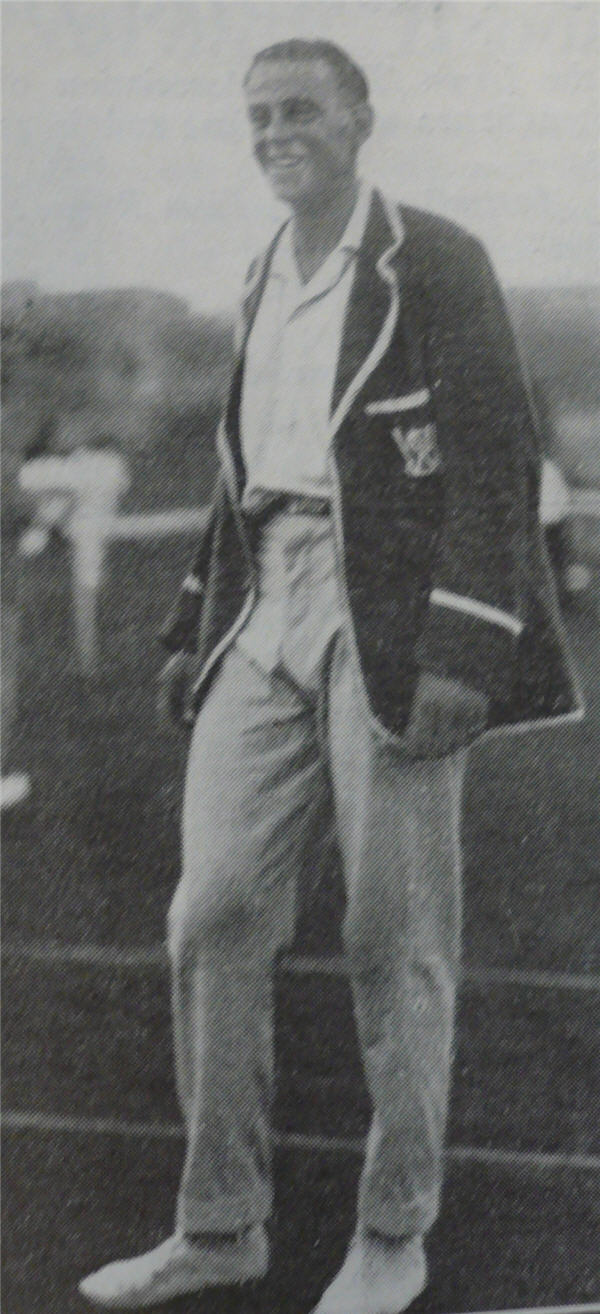 Fred Kalms
While Wimbledon didn't feature greatly on Australia's radar,  Norman Brookes provided a highlight.  Twenty years after having first played the tournament he came up against American Frank Hunter the 1923 runner up and seventeen years his junior.  The plucky, Aussie out to enjoy himself while on a holiday had one last sensational way to say goodbye.  Amazingly, he won in 5 sets, old school versus new stylists 3-6, 6-3, 6-04, 5-7, 6-3 Fifteen thousand and the Royal Box were most impressed.
In 1925, to win his 3rd Australian Championship, Anderson defeated Patterson 11-9, 2-6, 6-2, 6-3.  Patterson / O'Hara Wood won the doubles over Anderson and Kalms.  The Davis Cup team was probably the best obtainable with Patterson, Anderson and J.B.Hawkes.   O'Hara Wood was considered as a 4th but finances wouldn't permit his inclusion unless a public fund could raise 500 pounds.
Pat O'Hara Wood and Gerald Patterson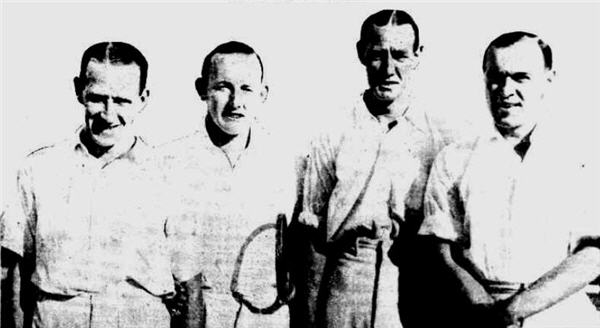 Pat O'Hara Wood, J.B Hawkes, JOA and Gerald Patterson
Traveling to the US via Wimbledon, Anderson made the semi finals, ominously in the company of three Frenchmen. He  lost to the eventual winner Lacoste in straight sets. In the US titles Anderson was beaten by Johnston in the 3rd round.
Australia played France in the Inter Zone final and lost 3-1.  It was close. Patterson beat Lacoste 6-3, 6-2, 6-2 and while Anderson lost to Borotra the doubles was down to the wire as Patterson and Hawkes lost in 5 sets 6-4, 3-6, 6-4, 1-6, 10-8.  It was in this match that a hard hit Patterson smash hit Borotra on the side of the head knocking him virtually unconscious.  France was beaten by  the USA 0-5 in the Challenge Round.
Not making the Challenge round had some financial implications.  Where profits were often expected by the ALTA arising from shared gate receipts, this tour lost 1000 pounds.  Patterson announced his retirement from Davis Cup play, presumably as he was now working for and would become the Managing Director of the newly constructed Spalding factory in Sunshine, Victoria.
J.B Hawkes won the 1926 Australian Championships beating Anderson in the semi finals and Jim Willard in the final in 3 low scoring sets.  Notably, this was the first championships for Jack Crawford and Harry Hopman. Second seed Patterson was bundled out by Queenslander Edgar Moon.  Still, the old guard held ground in the doubles with Hawkes/ Patterson defeating Anderson and O'Hara Woods.
Anderson decided to turn professional and began to coach and from 1923 already had a deal with Slazenger to market tennis racquets bearing his signature.
There was c0nsiderable pondering about sending a Davis Cup team in 1926 for without Patterson and Anderson it was felt the next leading men were not up to International standard and the ALTA didn't want another financial loss.
This was a logical arrangement so that the aspiring newcomers could learn and practice with Australia's best.
No Davis Cup team was sent overseas in 1926.
With plenty of gray areas surrounding the definition of amateur,  Spalding managing director, Patterson could play in the 1927 Australian Championships and Anderson couldn't.  Patterson won the singles over Jack Hawkes in 5 sets and the doubles with Hawkes over Ian McInnes and Pat O'Hara Wood.
In 1927, again Australia passed the opportunity to send  Davis Cup team abroad.
As a professional the NSW Tennis Association entered an arrangement with Anderson to play exhibition games with amateurs like Jack Crawford and others.   They agreed on fixed incomes for Anderson based on whether the gate receipts were above or below 300 pounds.
Under some pressure, Anderson sent the LTAA a letter advising that he wished to revoke his professional status and resume playing as an amateur again.  In early 1928 they advised him he could return to being amateur only after a strict probation period whereby he relinquished his contract with Slazenger.
He seemed to ignore these conditions and continued on as a professional.
In 1928, The Frenchman known as the "musketeers" visited Australia and Jean Borotra took off the singles title against Ron Cummings and with Brugnon won the doubles over Jim Willard and Gar Moon.
The old guard were now out of the picture and there was a void of talent in comparison to the emerging overseas teams.
Australia sent a Davis Cup team abroad to help bring along some young players.  Patterson was selected with Hopman and Crawford. We played Italy in the European Zone in hope to challenge France who defeated the USA.  Unusually, we lost 4-1 and were out of the cup in round one.   While not unexpected at least Crawford and Hopman were being exposed to International Tennis.
Hawkes and Patterson were runners up in the 1928 Wimbledon doubles beating Tilden and Hunter in a tough 5 set   semi.   Cochet and Brugnon were to strong and won in 3.  No Australians made the quarter finals in the singles, although Jack Crawford and Daphne Akhurst came runners up in the mixed event.    Daphne was one of Australia's multiple Australian champions also on tour with a ladies team. See the separate story on Women's team events.
As in 1928,  another foreign team turned up to test out the locals in 1929. This time it was the English including Ian Collins, Bunny Austin, E Higgs and Colin Gregory.
By no means a strong team the Australians capitulated to virtual unknown Colin Gregory who defeated Richard Schlesinger in 4 sets.  Collins and Gregory made the Doubles final, but at least Crawford and Hopman won albeit in 5 sets 6-1, 6-8, 4-6, 6-1, 6-3 coming from 2-1 sets down.
Anderson continued on as  a professional and played Crawford alot under the deal with NSW tennis whereby Crawford remained an amateur and the association profited from gate receipts.  In addition, he started to play his own pro exhibition matches with ex competitor Les Baker who also turned pro. in support of Anderson and they planned tours of New Zealand and the USA.  He also left Slazenger for Alexander and then in the early 1930′s moved to Chesterfield Racquets. Pat O'Hara Wood also had signature racquets produced by Bancroft in the mid 1920′s and Jim Willard found his way to Alexander with some endorsements in the 1930′s.
Given the financial loss in 1928 and without Anderson, no Davis Cup team was sent overseas in 1929.
Anderson remained professional and Pat O'Hara Wood soon joined him.
The valiant attempts by Patterson, Anderson and their contemporaries to preform on the world stage was indeed admirable.   In Tilden and Johnston, the USA enjoyed a powerful combination that ruled world tennis for much of the first half of the 1920′s.  Towards the end, the French musketeers came to the fore.
Our Australians in this era were dominated more by the players who started junior tennis before the war and seemingly had more skill than many others who started post war.  While the scoreboard doesn't shine with major successes in the Davis Cup or even Wimbled0n,  our players were certainly up there in the top ranks, particularly in Doubles. It is a pity that Anderson, Patterson, O'Hara Wood, Lycett, Hawkes and other top players like Todd, Kalms, McInnes, Jim Willard etc are not so well known.  They deserve to be  having given exemplary service to Australian tennis at home around the state and country tournaments and particularly on the 6 month plus tours away from business incomes and families.