Hi tennis enthusiasts,
These last few months have been very interesting and exciting.
We recently decided to form a group of tennis enthusiasts to help promote the history and help foster programmes to expose tennis history to the public.  The group Tennis Heritage Australia has two groups, one in Melbourne and a very new group in Sydney.
As a tennis collector, you shouldn't be without a book by Jeanne Cherry called Tennis Antiques and Collectibles.
Recently Jeanne was in Australia and it was great to catch up with her over lunch at Royal South Yarra. Her book contains so many wonderful pictures of tennis equipment and other paraphernalia that you can't help but start looking for a multitude of interesting bits and pieces.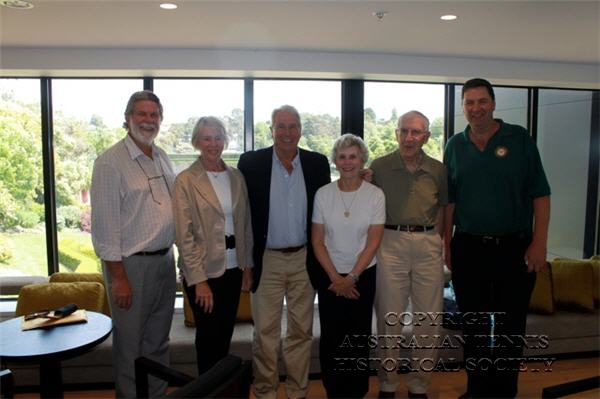 Jeanne & Jim Cherry 4th & 5th from left
The following week a few of us met with Steve Wood, CEO, Tennis Australia to introduce ourselves and learn of TA's interest in expanding its commitment to promoting tennis history as part of its Grand Slam status and pending museum planned in future development plans at Melbourne Park.
On November 24th our THA meeting in Melbourne was held at the MCC (MCG) and our  host David Studham, head librarian took us on a fascinating tour of the extensive library,  archive room and  sports museum.  The facility and content of the MCC library is first class, even on tennis, since the MCC was responsible for the development of tennis and local competitions from 1879.  The tennis collection comprises a range of very early newspapers, magazines and books, some very rare indeed.
The group comprised Geoff Pollard, 5 published authors, 2 official club archivists, a museum curator and the MCC Head Librarian. Special guests included the grandson of Sir Norman Brookes who have just assisted with the publication of a new book by Richard Naughton about the life of Norman Brookes and his tennis career in the 1900′s when he became the first international player to win Wimbledon (all three titles 1907) the Davis Cup in 1907 and subsequent highlights. A very interesting group of collectors across a multitude of interests.
At the MCC a great day had by all
On the collecting side of things here are some interesting items.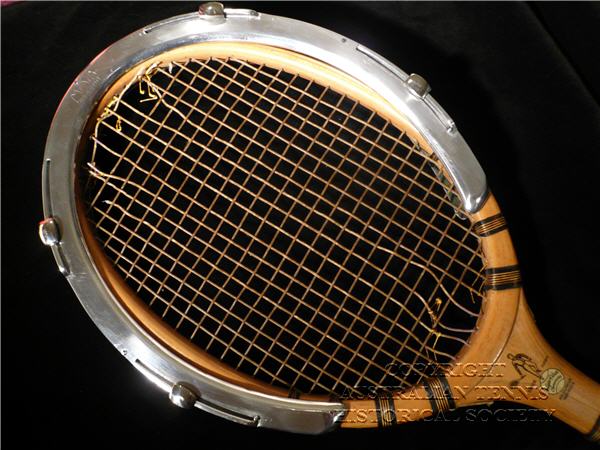 This is an aluminium MAG tennis press. The racquet is a very nice Wright & Ditson model called WIMBLEDON.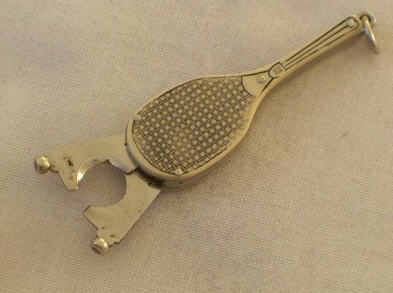 A cigar cutter in the shape of a tennis racquet.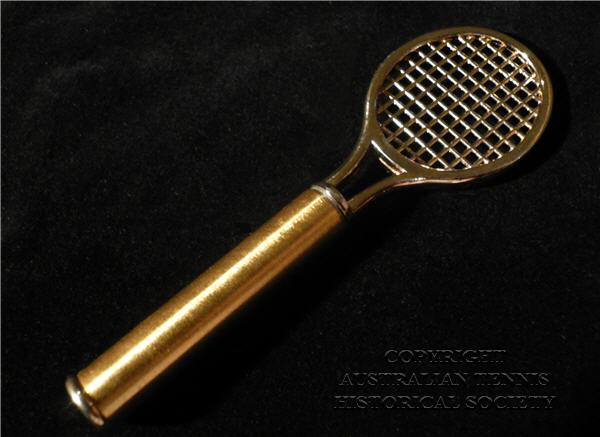 Really cool cigarette lighter about 11cm long.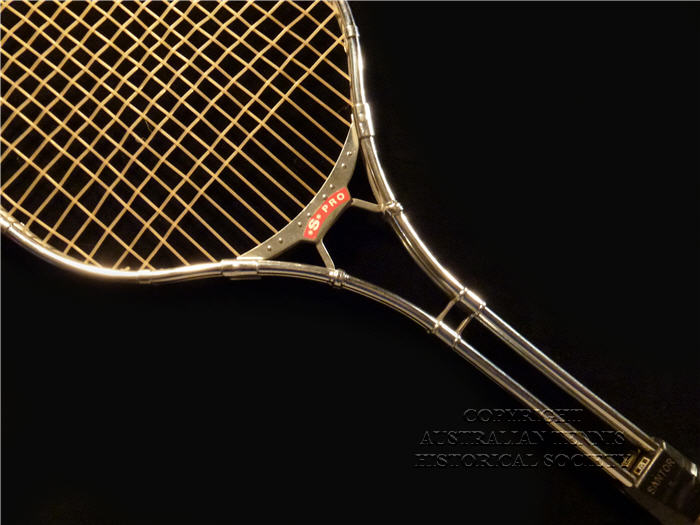 A Santor S PRO racquet ( learning more but looks very nice)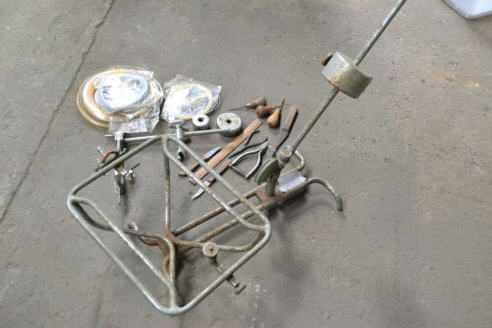 Early drop weight stringing system designed in Australia in the 1950′s.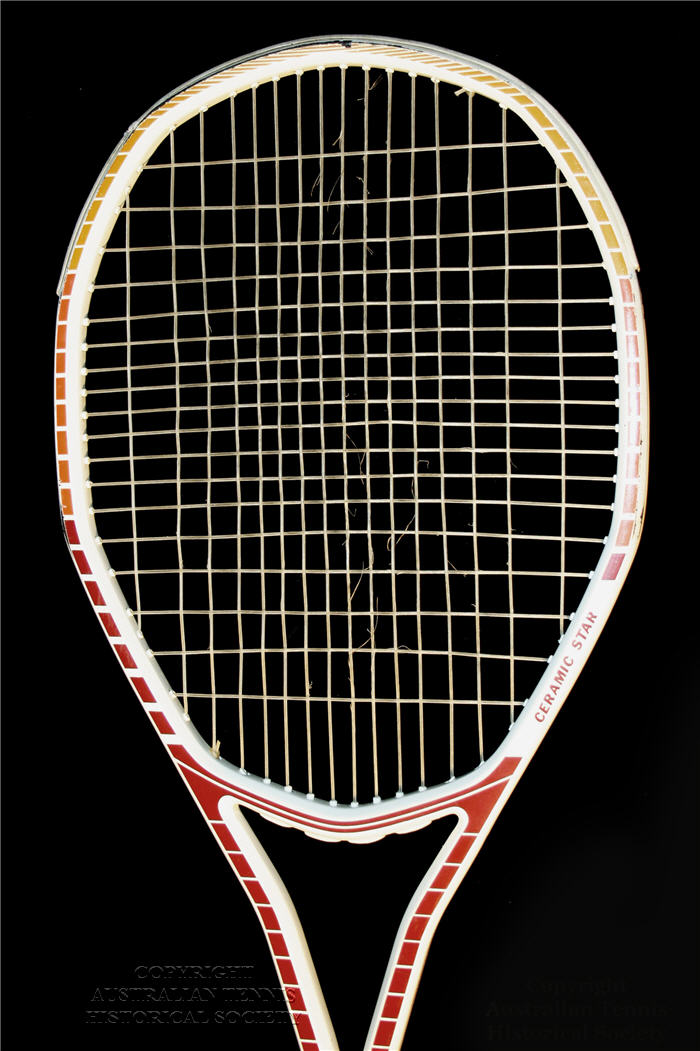 A Sfida 10 sided racquet which copies from the FOX WB 210. Only 300 or so made as expensive promotional racquets so rare as.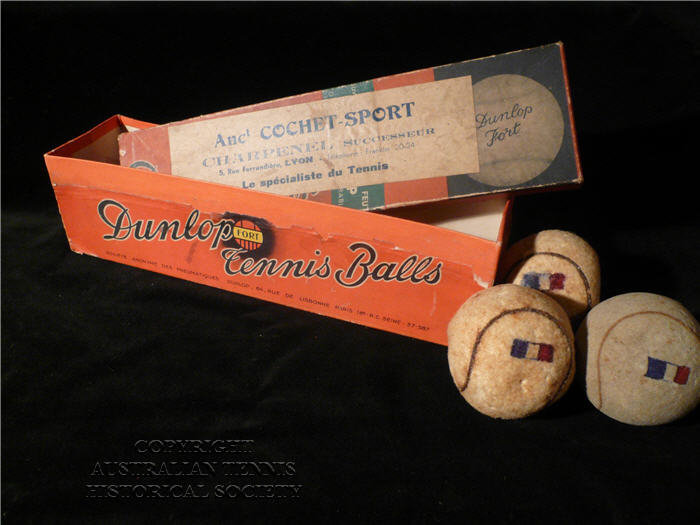 Some 1939 Dunlop Tennis Balls sold in France from Cochets sports store, which we predict will be the great French champions business at this time.
Ok that's it for the moment.
Stay in touch with us on FACEBOOK……….AUSTRALIAN TENNIS HISTORY
Thanks for your ongoing interest and support…….The Team