As the transition from wood to graphite racquets took place in the late 1970′s, the established Australian Industry comprising Slazenger, Dunlop, Spalding and Oliver seemed to underestimate the potential of these new space age materials.
Metal racquets while novel were often the cause of tennis elbow and so wooden racquets got a reprieve.  The first graphite racquets were very expensive and so the wood racquets seemingly once again had another reprieve.  This was not to last long.
In Australia, in 1978, Russel Emerick Ekas had left university with an  entrepreneurial desire and while owning his own squash centre, identified a niche market in the Squash Racquets segment and commenced to import the first  EMRIK squash racquets.
Given the size of the squash market in terms of numbers of centres, Emrik forged an impressive name for itself and through running competitions such as the "EMRIK GOLD CUP" became a well regarded brand with a visibility vastly beyond the company's actual size.
Searching for volume growth and with excellent relationships within the overseas racquet manufacturers, Emrik launched itself into the Tennis market in the early 1981. No local manufacturing was involved. All product was made in Taiwan and Russell often travelled there to oversee quality control.
In somewhat of a marketing coup, three key Australian Tennis personalities were sponsored. Kim Warwick, Evonne Goolagong Cawley, then a new mum and aspiring junior Wally Masur.  Kim was the number one man in Australia, Evonne  won Wimbledon in 1980, creating history as being the first mother to win the tournament since the WW1 era, so signing her to the brand was great marketing and g00d timing. Evonne had played with Dunlop for over 20 years however given that Emrik was  an Australian owned company and liked their new mid size racquets she chose to move to Emrik on a five year six figure deal.  Her racquet of choice was the Stratus which was a wood, fibreglass composite. Wally, although an up and coming junior at the time, went onto play Davis Cup Tennis for Australia and also became a household name.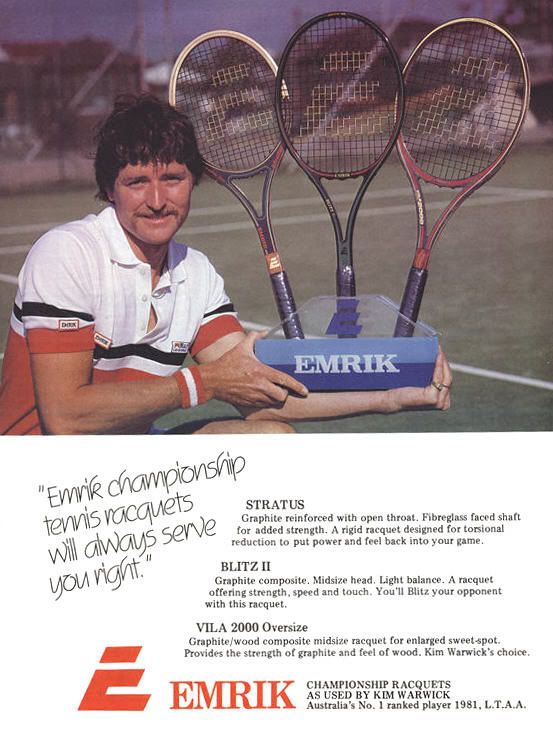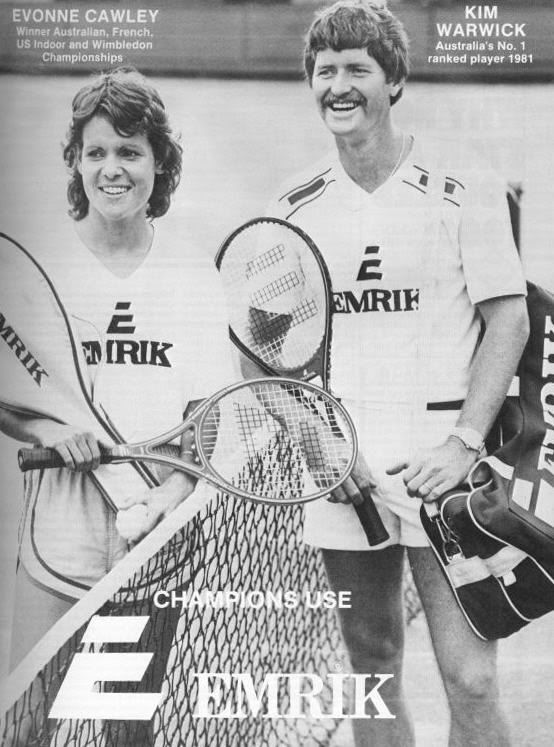 Emrik adopted an approach to build market share using a similar strategy as past companies, by establishing a core group of branded product supported by other custom lines introduced specifically for various retail groups. The company readily adopted the emerging technologies and Russell claims that Emrik was the first company to bring graphite racquets into Australia.
The main factories producing Emrik product was Kunan and Pro Kennex however other companies were used as well.
In its heyday, Emrik sold to 2000 accounts, sold over 1 million racquets and had a market share for graphite racquets of 33%.   It was effectively the market leader in this segment and they also offered wood fibreglass models.
The company also continued to adopt new material technology and didn't hesitate launching the first ceramic products and other composite graphite variants.
Over time the main brands such as Wilson, Prince and Yonex using global marketing and international player endorsements clawed back their market share and Emrik was sold to the Real Corporation in 1986-87 and as a name and product range survives today. In Canada, the APOLLO EMRIK name is marketing both squash and tennis products.
Emrik products come up in thrift shops all the time so you will find many nice examples.
Are they collectible?  The answer is yes, but not in the same way that Slazenger or Dunlop racquets of the 1950′s and 1960′s are given the connections with Australia's leading world champions of that era.  Nevertheless, the quality of many of the models is very good and some of the designs are quite unusual.  The potential downside is the sheer number of models and the frequency you might  find them.
The real story here is that Emrik caught the big tennis companies sleeping and had a major influence within Australia during the period when graphite racquets were evolving into the material of preference.