Local interclub competitions were conducted, certainly in 1880 in Melbourne, for we have just enjoyed seeing a trophy awarded to one of Victoria's early champion players, Francis Highett.  This was the Geelong Recreation Club, Lawn Tennis Challenge Cup.  It was a bi annual tournament and another MCC member won it firstly and then Francis one the second in October 1880 and again in 1881 (first half).  After winning the Geelong tournament, a few weeks later in November he won the second Victorian Championships, which unlike the first was widely promoted to attract players from surrounding colonies.  Arguably, this constitutes a more legitimate Victorian Championship despite the records stating otherwise.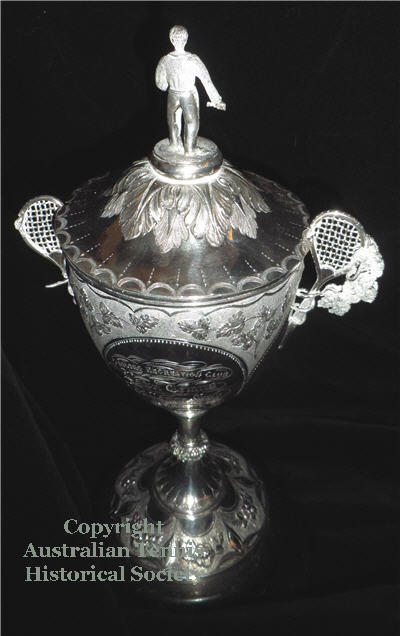 Encouraged to find out more about Francis, we stumbled onto some family papers in the state library for W. Riddell who was the secretary at the MCC during this time.
To my astonishment, included in his papers were a considerable plethora of significant tennis history documentation.  This included the letter from C Cropper the secretary of the NSW Cricket Club inviting a Victorian team to Sydney to play the first Intercolonial tennis tournament in 1885.  They even considered an All Comers Open Championship ( aka National Titles 20 years prior to this occurring in 1905).  While this letter is "gold", the files also contained the original programmes for this first event and subsequent years. Naturally, not even knowing that such printed matter existed this is a truly amazing find.
One should note that Intercolonial team events were not new, as Cropper and Riddell had discussed the matter on an earlier cricket contest.  Yet given tennis was still in its infancy, this was significant progress and the crowd reaction and numbers in the thousands proved the game was very popular.
The front page of a 3 page letter from Cropper to Riddell inviting the first
Victorian tennis team to NSW in 1885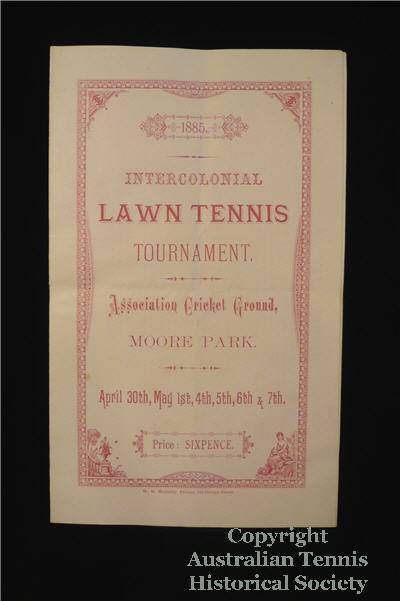 The first major tennis tournament in 1885 which pitted the best of NSW against
the best in Victoria plus an array of other ladies, veterans and handicap
events, including the first NSW State Championships.
See more under the main EVENTS heading EARLY TOURNAMENTS.