The tennis theme can be found across many product categories and of course autographs are highly sought after. There are so many items with tennis themes and here are some examples.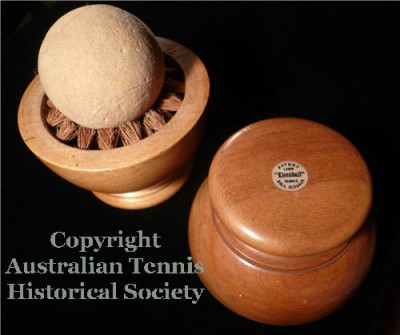 Wonderful Tennis Ball cleaner called "Kleenball" c 1905. Two identical halves twist together around the ball to remove dirt.
Another larger model includes cavities carrying white chalk to bring the whiteness back.
The balls were smaller then and modern balls don't fit.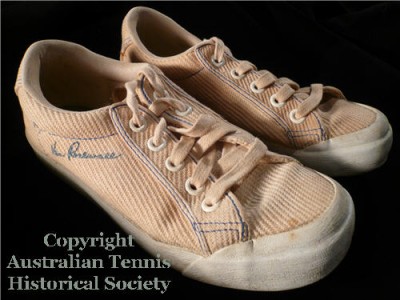 Circa 1960′s or maybe 1970′s, Ken Rosewall signature tennis shoes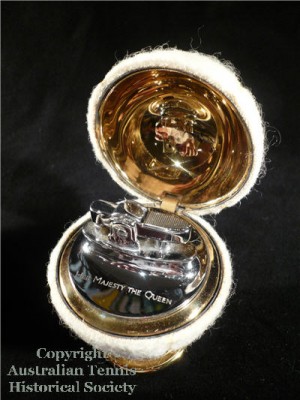 In 1957, Queen Elizabeth attended Wimbledon for the first time as patron and to commemorate this historic occasion the AELTC produced and presented only 12, or at most 19 to the organising committee members and lawn tennis association representatives. The ball as you can see is very real and true to size.  A beautiful memento engraved with the message
"To mark the visit of her Majesty the Queen". Very rare and one is held by the Wimbledon Museum.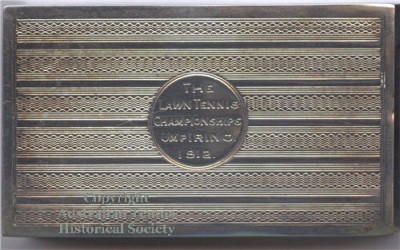 Tennis cigarette cases were a popular item also as trophies and awards. This example was awarded to an umpire at Wimbledon in 1912.  A great year with Anthony Wilding winning his 3rd of 4 Singles Titles in a row.
Other examples of umpire awards are these letter opener and tape measure (Wimbledon 1904 & 1914)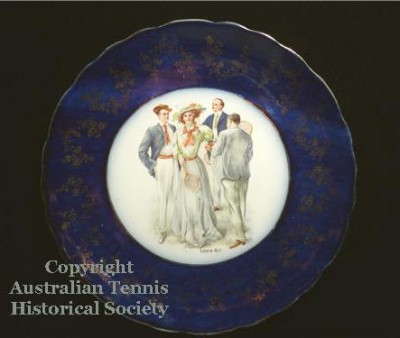 This wonderful plate was made in the UK circa 1891-1907 by Wood & Son. The design shows a young lass with three gents with the tag line "Love All"  which undoubtedly carries the double entendre.  A lovely piece depicting the fashion of the day.
A very nice 1900′s tennis bowl with an Australian theme.
One of 4000 made by Royal Worcester to celebrate Wimbledon.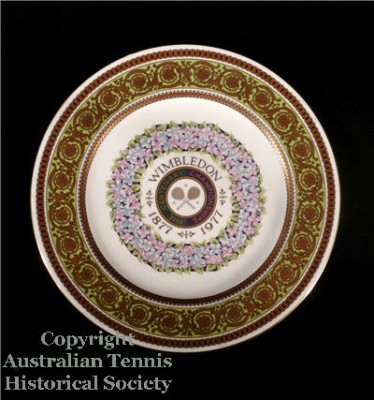 Only 1977 100 Years of Wimbledon plates were made by Spode.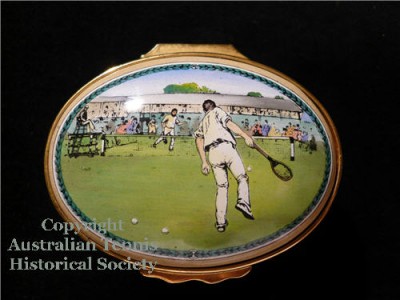 A quite tiny 40mm copper trinket by Halcyon Enamels, this practice has been undertaken since the 1740′s. The collector piece honours the 100 years of the Lawn Tennis Association of Great Britain 1888-1988. A very famous tennis image used on a variety of different items over the years.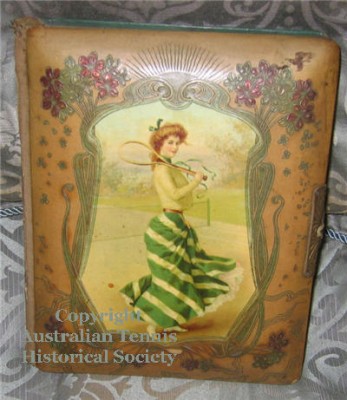 This photo album is quite lovely due to the vibrant colours and if you were looking at storing old tennis photos or postcards you can't really go past this.
Some famous Autographs which come up regularly. Obviously many are genuine but you are generally buying on a leap of faith so just don't go buying one for hundreds of dollars. Signatures on photos are more desirable than normal unless, like some below, they are together marking an important occasion.
Quite a nice Davis Cup Challenge paddle racquet from 1962, played in Brisbane between Australia and Mexico (5-0). Here we have Neale Fraser, Ken Fletcher, Rod Laver, Roy Emerson, Cliff Sproule and key Mexican players and 3 year US Open Doubles grand finalists, Rafael Osuna and Antonio Palafox with the third member of the squad, veteran Mario Llamas. The final signature belongs to the Mexican Davis Cup Captain, Francisco "Pancho" Contreras. This was Rod Laver's Grand Slam year and in the next weeks he became a professional which precluded him from the Davis Cup team until 1973. The page above comes from the same 1962 event at the Davis Cup Dinner where some other famous players attended.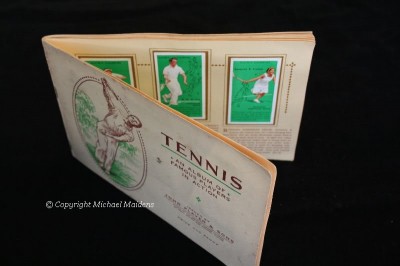 Cigarette Cards & other cards.
These cards were collected from cigarette packs from the early 1900′s to late 30′s. Of course other cards have been produced since, but these sets include some of the great players in the 1920′s and 1930′s.These are John Player cards c 1938. Australians are well represented.  Joan Hartigan, Jack Crawford, Adrian Quist, Harry Hopman,Viv McGrath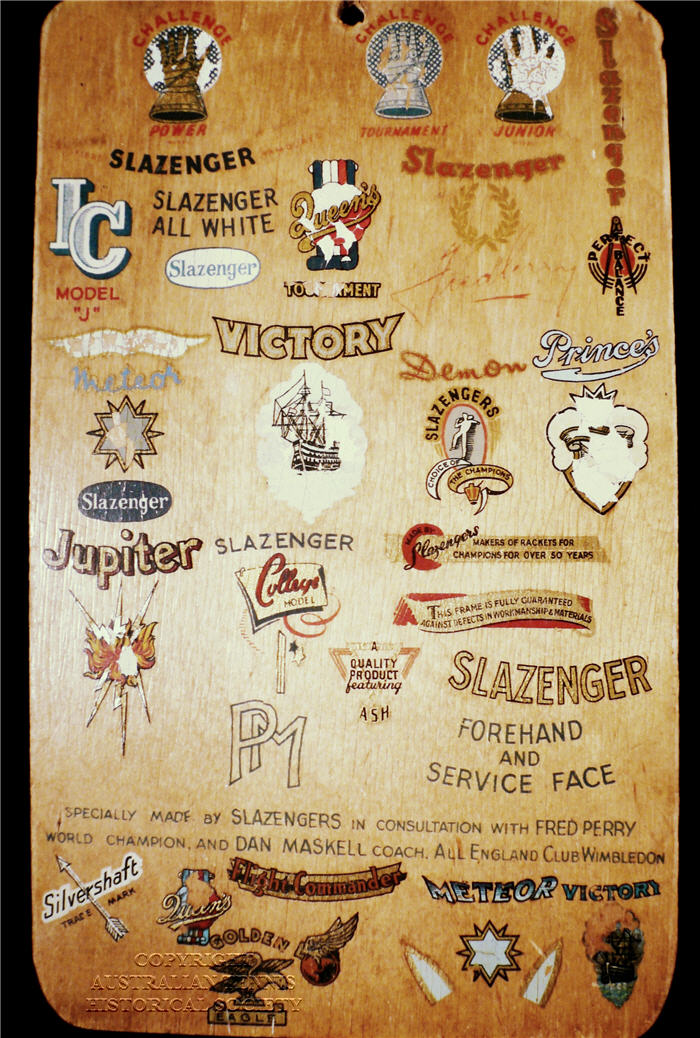 This is a piece of factory memorabilia ex Slazenger UK. Somewhere on the production line hanging on a nail this decal display board probably reminded workers of the selections required. On the reverse are Cricket bat decals.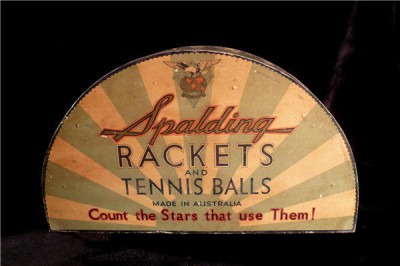 Tennis Racquet & Ball Store Displays and Selling Aids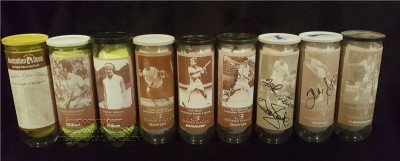 The tennis ball tubes commemorate some famous player inclusion into the Australian Tennis Hall of Fame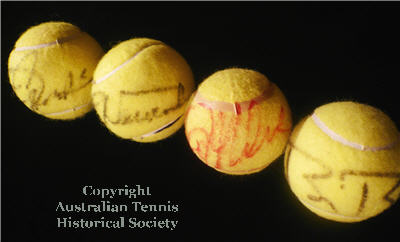 Signed Tennis balls are a little more interesting than pieces of paper on display  L to R Connors, Newcombe, McEnroe, Borg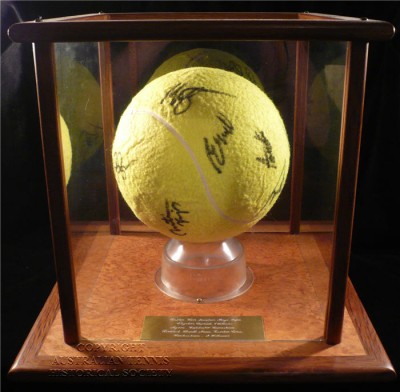 Signed large tennis ball in a lovely display.
Vintage tennis balls are even more valuable with well preserved boxes & wrappings.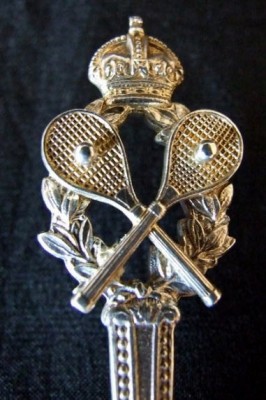 This very intricate teaspoon design comes from the USA c1890′s.  It is sterling silver and if you look at the tennis set and racquet it seems to be the Wingfield style launched in 1874.  Simply a lovely piece rarely seen.A good luck tennis broach featuring the old style racquets and net shapes age circa 1920′s.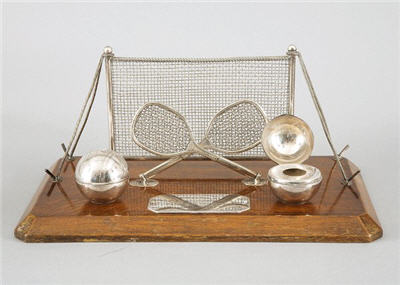 A quite stunning desk tidy.  Similar styled dinner gongs also exist. This sold for UK 400 pounds.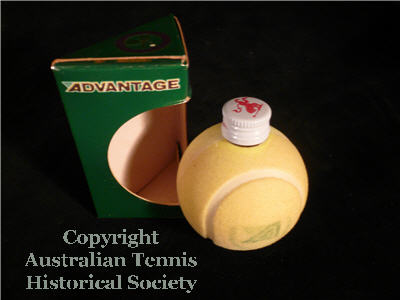 This small bottle of scotch is a novelty product circa 1980′s. The ball is smaller than a real tennis ball but has a felt finish. It is a plastic cover that clips over a small glass bottle and was part of a series which included a golf ball.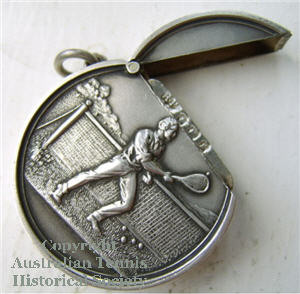 This fob style vesta carried matches. On the piece is also an area to strike the match. You can see the the loops which might attach the item to a fob chain. Both were made of silver, with hall marks.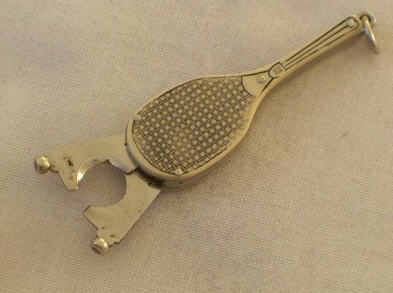 This is a cigar cutter approx 2″ long and was used on a fob similar to a watch.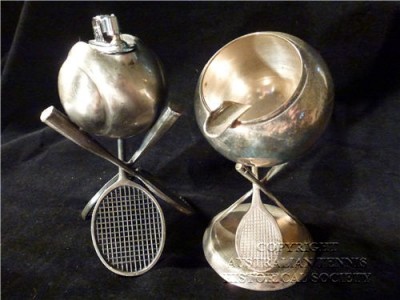 Above, is a tennis themed cigarette lighter and ash tray.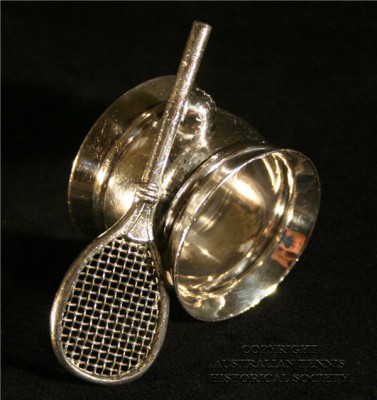 A very nice tennis themed napkin holder. No makers mark so estimates of age are circa 1910. They are silver plate and well made.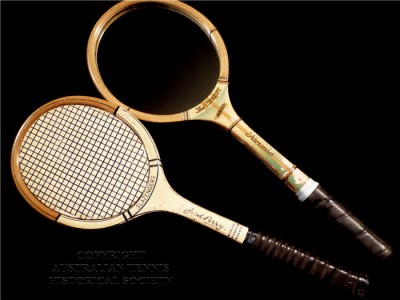 This is a 12″ Slazenger Fred Perry brush in the shape of a racquet. Note that around the mid 1930′s Alexander also produced a mirror in these proportions. There was enormous rivalry between Slazenger and Alexander at this time. The Fred Perry all white model was created in Australia to create some public impact when he pulled it from his tennis bag for the very first time.