The following items are for sale.
Please email theteam@tennishistory.com.au if you would like to buy one or more. Or, contact the authors directly as per information supplied.
Payment can be made via PAYPAL and freight will be worked out subject to buyer destination.
International Buyers welcome also.
NEW BOOK RELEASE DECEMBER 2011
PLEASE NOTE OTHER NEW BOOK RELEASES ARE LISTED BELOW
Long overdue, we are pleased to introduce a new book about Australian Tennis Legend, Norman Brookes.
Norman was the first to contest a Davis Cup contest in 1905.
The first to win the event in 1907 with some excellent support from Tony Wilding.
Won all three Wimbledon events in 1907 ……..and then the growth in tennis in Australia is spiked.
Called the "Wizard" for his aggressive spin serving and game strategy this is an important story to historians and those interested in a great man both as player and administrator and Davis Cup team selector.
TO ORDER PLEASE VISIT www.thewizardbook.com
PRICE $39.95 INC  P&H
NEW BOOK RELEASE OCTOBER 2011
Our supporters  may be interested in a book  recently published, called "Tennis in Sydney's Eastern Suburbs: From the Beginning to the Present".
The book is most comprehensive: 193 pages with 134 illustrations and retails for just $20 excluding any postage.
The book, which covers both hardcourt and grasscourt tennis, has chapters on the significance of tennis in Sydney's Eastern Suburbs to the history of tennis in NSW and Australia; the formation of the major tennis clubs and associations within Eastern Suburbs; the clubs, courts, competitions and tournaments in Eastern Suburbs; a detailed profile of fifty of Eastern Suburbs best players (six Davis Cup; four # 1 in Australia and 26 in Australia's top ten); a profile of the significant coaches; the social side of tennis and finally a tribute to the officials in Eastern Suburbs.
To order please email cjmaron at optusnet.com.au  please change at to @ when emailing him.
PRICE $20.00 PLUS P&H
NEW ALEXANDER TENNIS RACKETS

BOOK 2011 (Australian Maker)

We are pleased to announce the launch of a new Australian Book about the history of one of our pre-eminent racquet makers from Tasmania called the Alexander Patent Racket Company c1925-1961.
This company not only changed the way racquets were made but through the genius of management combined with the leading Davis Cup players in the 1930′s changed the shape and decorative style of tennis racquets around the world.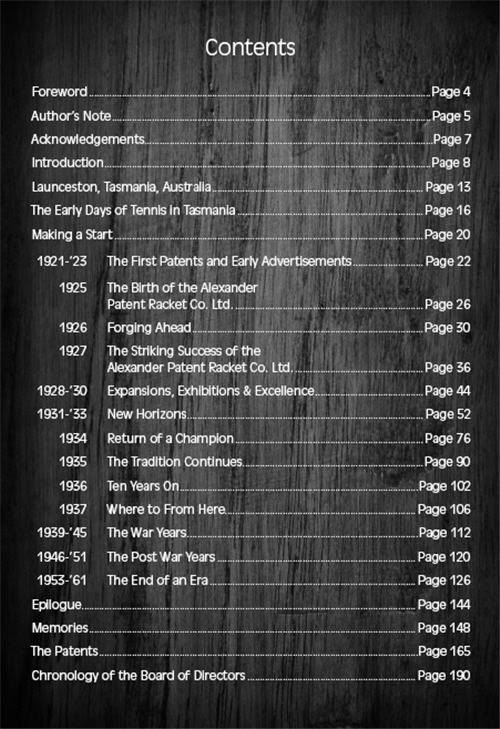 To order please email Author, Gus Green via  prossergreen@vision.net.au
Books are $45 plus postage c $11 Australia wide
NEW BOOK- NANCYE WYNNE BOLTON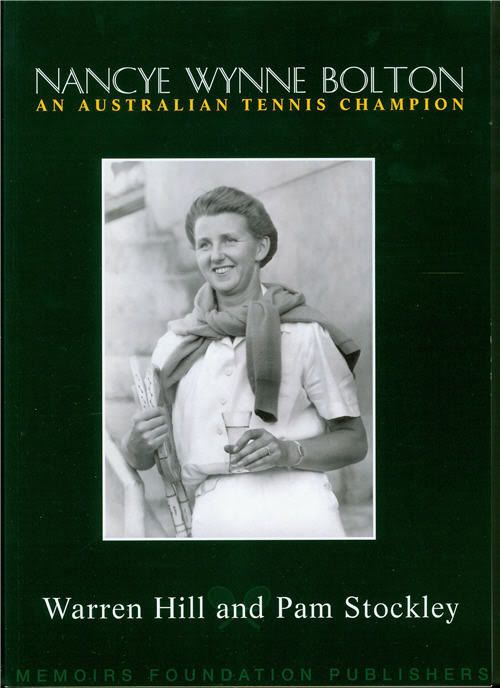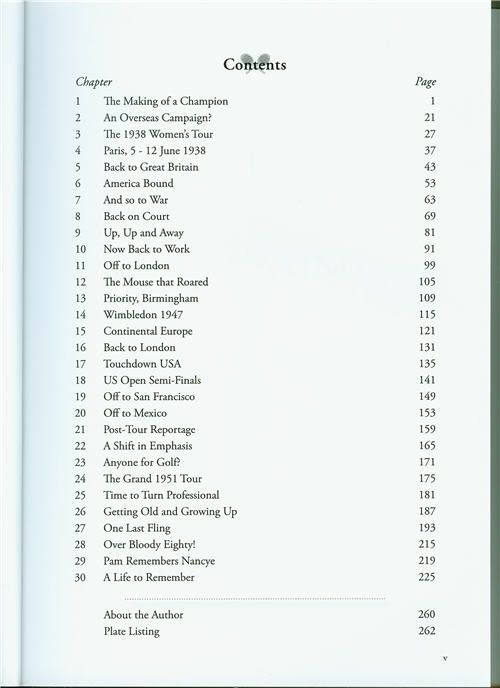 Written by Pam Stockley, Nancye's daughter and friend Warren Hill, this book of 260 pages includes well reseached information about women's tennis at the time mixed with a comprehensive diary Nanyce kept on her 1947 tour which makes fascinating reading.  Truly LIMITED EDITION only 400 books printed and 196 remaining.
Nancye Wynne Bolton $50 plus freight

Call Pam Stockley 03 9872 5486  email pstockle at bigpond.net.au (substitute at with@)

---
---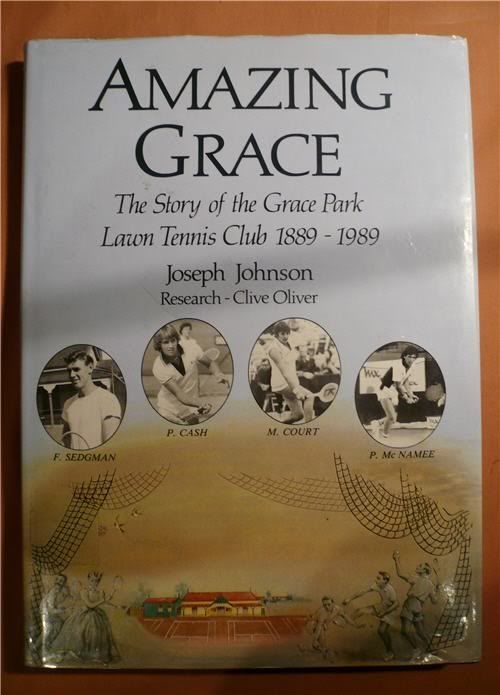 Amazing Grace is has been well reseached and provides an excellent history of tennis in Victoria and of course the Club.
1989
Amazing Grace Price $15 plus freight

---
Well written in for the ABC this book focuses only the Wimbledon champions. The author is the nephew of Jack Crawford and a handy tennis player as well, so his knowledge and friendship with many in the book ensures a good series of stories
Australia's Wimbledon Champions Price $15 plus freight

---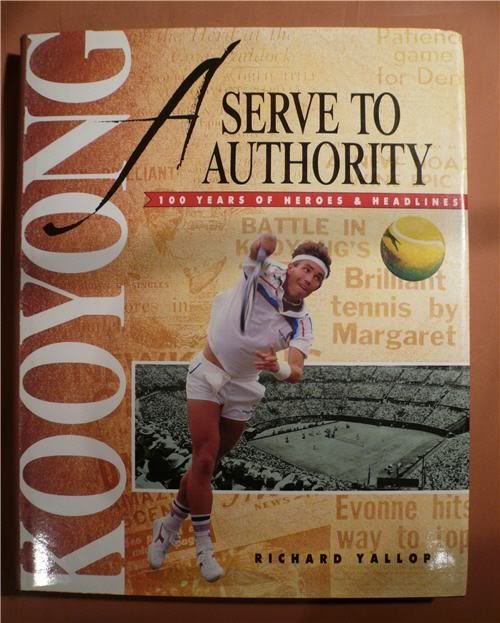 1992  Home of many famous players and events including the Australian Open and numerous Davis Cup encounters, this book provides an excellent array of stories about the development of tennis and some of the famous matches played on the renowned centre court.
A Serve to Authority Price $15 plus freight

---
1980.  Edition 1 came out in 1963 and then was followed by second versions and impressions.
This book features sections written by players in their day across all subjects. Players include, Dinny Pails, Frank Sedgman, Jack Crawford, Evonne Goolagong, Merv Rose, Mal Anderson, Lew Hoad, Margaret Court, Viv McGrath, Roy Emerson, John Newcombe, Adrian Quist & Rod Laver.
Lawn Tennis The Australian Way Price $10 plus freight

---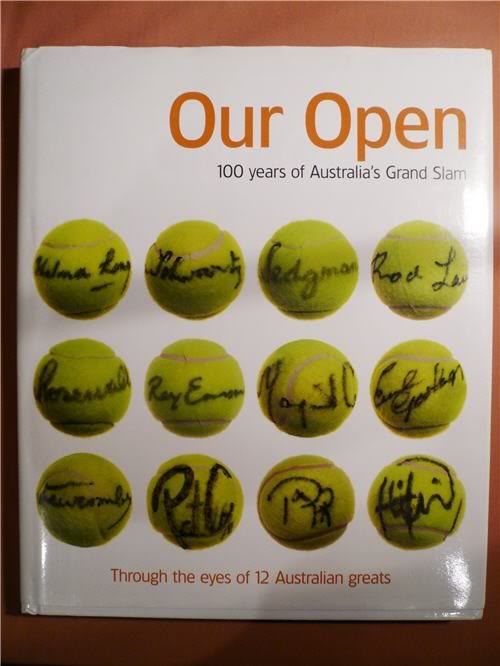 2004.  A fascinating presentation of the History of the Australian Open from players as far back as the 1940′s.
Includes results by event, so this book provides an excellent resource for scores and matches played from 1905.
Our Open Price $20 plus freight

---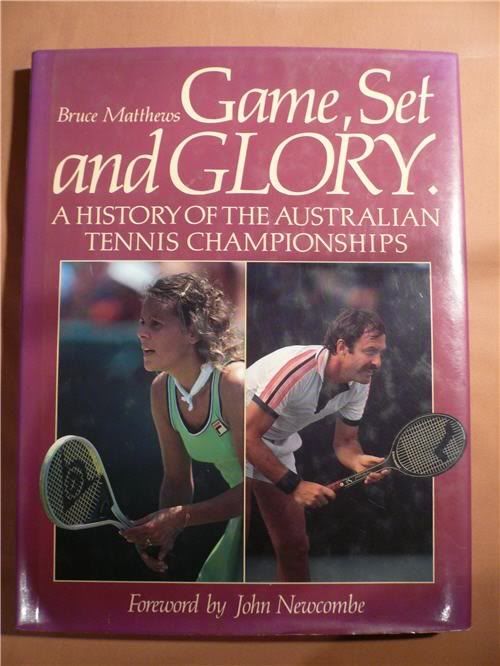 A longer term historical look at tennis from the 1905 Australasian Championships through to the professional era up to 1984
Game Set and Glory Price $10 plus freight(3 available)
---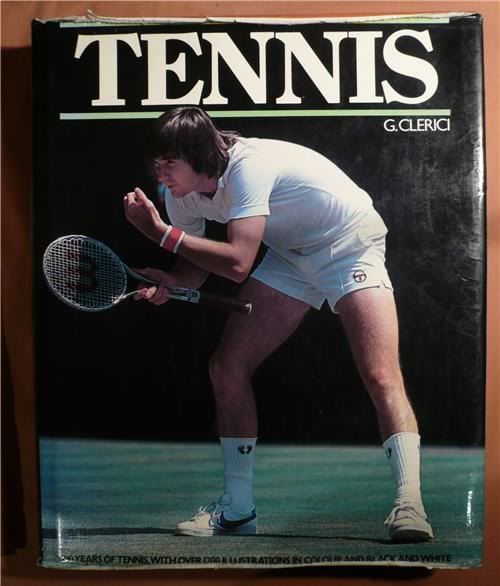 1976.  A mammoth 335 page history of tennis from the mid 1500′s when other racquet sports were played all the way to the Open era.  This book covers tennis development around the world, players through the decades and the major tourmanent events.
Tennis by CLERICI Price $45 plus freight