From the arrival of tennis in the late 1870′s tennis became the social game and courts began to spring up everywhere at bowls clubs, churches, stand alone tennis clubs were formed and home courts became very popular.The tennis boom globally saw the expansion of equipment suppliers and after reading Siegfried Kuebler's Book of Tennis Rackets, in which there hundreds of racquet makers listed, very little is known about the Australian industry.
Up to the mid 1920′s most racquets were being imported from England and the USA, but tennis' popularity reached levels which justified local production of racquets and balls. While there were some boutique racket makers such as A.H.Moore in NSW who promoted his range in the late 1890′s,  the first high volume and successful local maker may well be South Australian firm Stevens & Rowe.  J.T.Stevens was the former head stringer at UK tennis firm F.A.Davis while  E.T Rowe was a local champion player. Based on newspaper articles they produced around a 1000 racquets per year over the 1914 -1924 period  and distributed them around the country. We lose touch with them in the mid 1930′s and possibly they had a connection with Oliver owing to use of the Bluebird name on an E.T.Rowe model in our possession which went onto become an Oliver brand as well.
The racquet below was in all probability made in Australia and sold to a Company in France called Orion. Notice that it is a very early flat top and has a kangaroo graphic. Fellow collectors date this from around 1910, although being a 7 ply design it may be mid 1920′s.
The objective of this site is to try and source photos of and list as many models as possible which can be done from old ads, catalogues and even old receipts that people may have at home.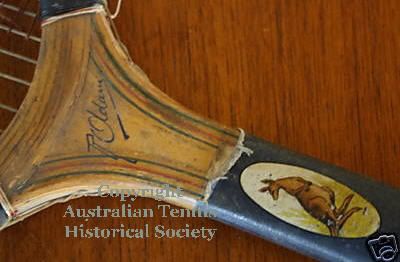 The racquet above was in all probability made in Australia and sold to a Company in France called Orion. Notice that it is a very early flat top and has a kangaroo graphic. Fellow collectors date this from around 1910, although being a 7 ply design it may be mid 1920′s.
One thing you will notice about the Australian racquets is that many are wonderfully presented with colourful decals or patina often over the frame, throat and shaft. Compared to other countries in the 1920′s-1940′s period, the local racquet industry was experiencing hot competition where customer presentation was concerned and this level of finish, in our view is unique to Australia, with all manufacturers presenting outstanding graphical finishes.
Certainly the Australian racquet industry was creating a booming export market in the 1930′s and both the UK and USA were complaining about the inroads Australian makers were having on sales.
Another really interesting aspect to early wood racquets is the collectibility of photo decal and signature racquets. Many players were endorsed by sporting goods companies from the very early days and while you will find many from the 50′s featuring Frank Sedgman, Lew Hoad, Ken Rosewall, Margaret Court, Evonne Goolagong, Rod Laver and John Newcombe on Australian made racquets and many Australians found there way onto USA sold racquets thanks to companies such as Chemold and Rawlings which included other Aussies such as Owen Davidson and Tony Roche.  Very rare,  are the early 20′s & 30′s and 40′s racquets featuring Australian players such as James O. Anderson (photo decal and signature), Gerald Patterson, Pat O'Hara Wood (signature), Jim Willard, Dinny Pails and Nancye Bolton (photodecal)
Also alive and well in the 1930′s was inventiveness.  The Empire Racquet company in Sydney created an adjustable balance system inside the racquet handle which featured a wind up device. So did Alexander's with a model called the "Airstream". Also around the same time Harry Webeck invented a mercury tube system inside the racquet which permitted the weight of the racquet to change during the motion of a shot. Slazenger adopted the patent and introduced models with this feature.
Racquet making trends were also being driven from Australia.  More colourful graphics required new skills in air brushing, bindings  and decal making, the semi flat top re emerged thanks to Jack Crawford trying it one day and then using a new model of it to win Wimbledon in 1933.
Towards the end of 1938,  the industry created a pricing cartel under a banner called the ARMA (Australian Racket Manufacturers Association)  which permitted fixed prices based on a 5 star quality programme.
Below is a list of known small and large companies that produced tennis sporting goods in Australia, some photos of various vintage tennis racquets made here and a brand listing from a 1939 Melbourne Sports Depot retail catalogue which is a wonderful record of brands and individual model names.
While we are aware that tradesmen and even some companies made racquets in the late 1880′s to 1900′s we have little any reference at this time, hence the Kangaroo racquet may well be one of the earliest made in Australia.
Here is a list of companies which have come to light from all sources including tennis magazines and newspapers from the era.
Tasmania Racquet Company (pre Alexanders Patent Racquet Company) TAS
A.H.Moore – Sydney NSW (they seemed to sponsor top players of the day in the mid 1890′s)
A.B.Stewart – The Queensland Sports Depot 1891-2 (made, repaired racquets according to ads)
Francis J. Flavell – South Australia (suspect small scale)

The main companies in Australia that produced wood racquets from the 1920′s onwards were:
Alexanders – Tasmania (1921 from a merge between two companies,factory 1926)
Brewers – Victoria (c1928)
Chesterfield – New South Wales (c1923)

Dunlop (late 1930′s)  Created after Baker & McPherson acquired Empire and in turn was acquired by Dunlop
Hedley's- Victoria (c 1924)
Oliver – Sth Australia (c 1930′s)

Slazenger NSW (c 1928) In the early 1960′s Dunlop and Slazenger merged

Spalding – Victoria (c1925)

Other smaller Australian companies producing locally or which began to market Australian designed racquets produced offshore are listed below. More information and photos are required given the obscurity and short life span some of these Companies. The other factor is whether some of these locally produced wood racquets were actually produced in-house or sub contracted to larger firms for manufacture.
ARCO (Australian Racquet Company) SA – (First stainless steel racquet made in Australia in 1970′s.)
Australian Racket Company (pre-dating ARCO) Other details unknown circa 1930′s-1940′s

Baker & McPherson – New South Wales (Ovalo brand 1920′s)

Campbell's – Qld
Claude Wood & Co -New South Wales (Seawood Brand 1920′s)
Eastway Brothers – New South Wales (R.E.E Special Racquet, 1920′s)

Empire Racquet Company -New South Wales (late 1920′s 1930′s adjustable weight racquets)

Emrik (c late 1970′s)
Fin- Australian owned Taiwanese made (c early 1980′s)

L.W.Dodge & Co -New South Wales (1920′s)

Master Racquets- QLD (First Aluminium extrusion racquets mid 1970′s)
Moon Racquet Company (VIC mid 1930′s)

Olympic Racquet Company (Petersham NSW)
Speedwood Racquet Company (NSW )
Spider Web – Victoria (mid 1930′s-1971 maybe not as long for racquet making)
Star Shot Tennis Company (Laverton, VIC unsure if racquets made)

Stellar- imported from various countries (VIC)

Stevens & Rowe (SA) Claim production started in 1914 and concluded around 1933

Tasker Sporting Goods ( acquired Victorian Racquet Company 1971) – Victoria
(started late 1940′s by ex Hedleys staff- brands Champion & Southern Star)
Walbow Racquet Company (1930′s) Alfred St Mascot, Sydney

We intend developing sections for each company over time and would appreciate any contributions to the list above and information about the racquets produced, brand names etc.
Learn more under the individual racquet manufacturers headings.
Known Australasian player models with signature or photo decal made and, or sold in Australia.
Anthony Wilding & Sidney N. Doust (signature models Ayres UK 1905-1915)
Pat O'Hara Wood Bancroft and Spalding signature models
J.O.Anderson Slazenger, Alexander, Chesterfield and own brand signature & photo decal models (Alexander photo decal 1932)
Gerald Patterson Slazenger signature model
Jim Willard Alexander Signature model
Aubrey Willard had a named racquet by Chesterfield
Dinny Pails Hedley Photodecal
Nancye Wynne Bolton Spalding photo decal
Frank Sedgman Oliver signature, Dunlop Photodecal, Oliver 1970′s, Master QLD signature
Lew Hoad Dunlop photo decal
Ken Rosewall Slazenger signature and photo decal
Ashley Cooper Spalding signature
Mal Anderson Oliver and Spalding signature
Fred Stolle Spalding signature
Margaret Court Slazenger photo decal
Evonne Goolagong Dunlop photodecal & signature, Emrik
Allan Kendall Slazenger signature ( nephew of Jack Crawford)
Russell Hedge Photodecal coaching model
John Hillebrand Photodecal coaching model
Rod Laver Dunlop Photodecal and signature models
John Newcombe Slazenger Photodecal and signature models
Tony Roche Dunlop signature model
John Alexander had a Spalding named model but a Sfida signature model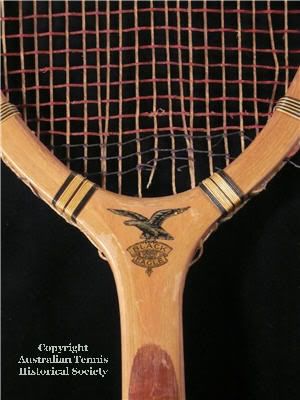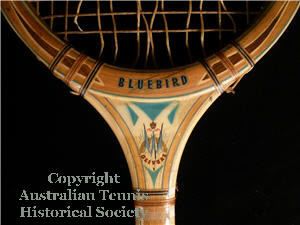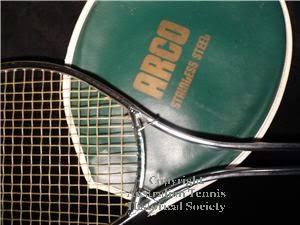 Harry Webeck invented a racquet which contained a mercury tube system that changed the weight distrubution during shot making.Subsequently banned but was tested and patent purchased by Slazenger.They did produce and market the racquet as the "FLOATING POWER" and below all the other pics is an ad in which it appears from 1934.
Subsequently, we found a racquet of a similar design was produced in the mid 1880′s and was called "The Mercury"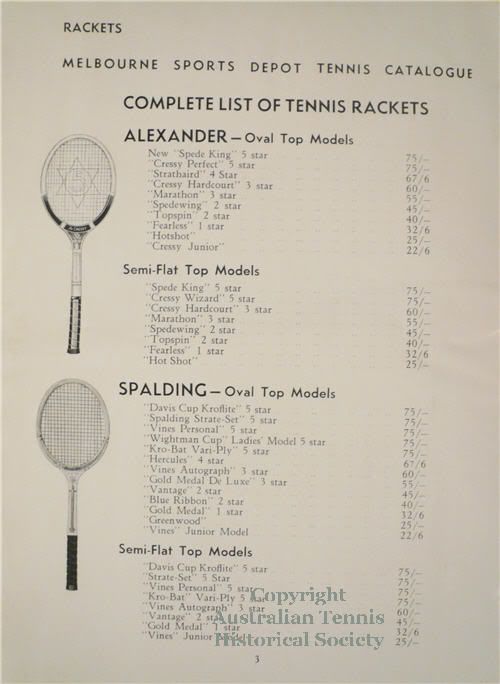 Stellar Taiwan Made as used by Pat Cash.  Dunlop UK Lew Hoad .
Australian Made Slazenger Challenge XII  with Qld Master Aluminium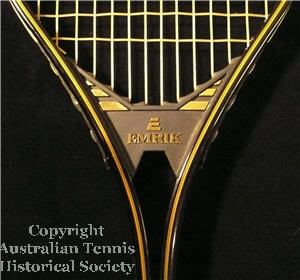 Asian Made Emrik and Fin with unique vibration dampening system
Australian Made Dunlop Volley Aluminium with imported John Alexander Sfida.
The Victorian Racquet Company evolved from the Tasker (Ex Hedley staff) business.  The primary business was in squash racquets as the ash wood racquets were being phased out due to the wood virtually no longer being available and as the alternate metal materials were arriving from the mainstream makers.
A very obscure, Australian Racket Company model called Renown.  Very little known about this brand.