Within the history of tennis in Australia many simply start with Norman Brookes remarkable win at the All England Championships and Davis cup wins in 1907 or his earlier visit in 1905 to attempt to win the Davis Cup for the first time.
However, Australian tennis history can claim some connection with a remarkable man named Wilberforce Eaves, who not only had an excellent tennis record in the UK where he lived much of his middle aged life, but he also traveled extensively to Australia and had a significant impact on the way tennis developed and was played here in the years leading up to Norman Brookes successes in the UK. In fact he had a huge impact on the playing style of Norman Brookes.
Born on 10th December 1867, in St Kilda, Melbourne, the same suburb as Brookes and Randolph Lycett, he was 10 years older than Brookes.  His parents William and Eunice and older brother William returned to England c1881 where they appeared on the British census. Wilberforce was then 14.  No doubt, English schooling and local social activities introduced him to tennis  and after becoming a Doctor at University College and a member of the Royal College of Physicians, must have been quite proficient since he played in his first Wimbledon tournament aged 23 in 1890, where he was beaten in the second round.
Tragically, also, in 1890 his father William senior, passed away and his mother then decided to return to Australia with both boys, given her family had grown up in the Colac region of Victoria.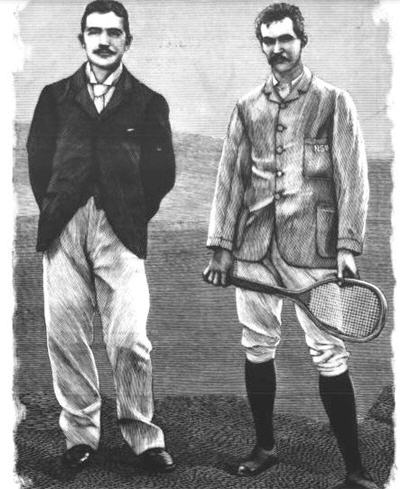 This wonderful line drawing of Eaves (left) and Dudley Webb comes from the Sydney Mail 1891.
Over the course of 1891, he played competitive tennis here with some of Australia's best players who competed in the Intercolonial competitions for Victoria. His inclusion in the Victorian intercolonial side raised eyebrows since he just arrived from the UK but when it was confirmed that he was born in Victoria he was immediately accepted. A significant win for Wilberforce was the Buckley Cup which also carried with it the title of the Victorian Grass Championships and he also won the doubles with Alexander Chomley.  In the keenly challenged NSW championships, he partnered with Victorian champion Ben Green to win the doubles and in the much anticipated singles final defeated (ex Victorian) Dudley Webb, breaking what was Webbs only loss between 1890-1894. He really had proved himself against the best of the locals.
In what was his first influence on the game here, Wilberforce had demonstrated the need for the server in doubles to come to the net and volley instead of playing a baseline game. This method of play with increased focus on effective volleying became a prevalent difference between Victorian and NSW styles and probably helped our overall doubles tactics and techniques which has been a hall mark of Australian doubles tennis since.  He also suggested that if the states could conduct their tournaments in close date proximity then some of the best English "cracks" may well make the trip out, but not for one tournament.  He also stressed that proper covered lawn tennis should always be used, as in NSW not the uncovered ball as used in Victoria, where he stated the game could hardly be called tennis.
After 6 months his desire to get back to England and Europe where tennis championships were flourishing, saw him enter the 1892 Queens covered tournament doubles event as a member of the renowned Hyde Park Tennis club. From there he entered Wimbledon for a second time where he improved his performance to a 3rd round defeat.
During the next ten years, his feats in tennis were quite extraordinary.  However, because he never won a "major event" and  typically the runners up tend to disappear unfairly into obscurity very little has been published about him.  There is little doubt that many Australian tennis fans will know little of or anything about Wilberforce Eaves.
To summarise his results:
Queens Covered court tournament
Singles runnerup 1895, Winner 1896,1897,1899  Doubles winner with C.H.Martin 1895, 1896
Irish Championships
Won 1897
Scottish Championships
Won 1901
Wales Championships
Won 1895
Wimbledon Championships
1895 Runner up in 5 sets to Wilfred Baddeley (who's book Lawn Tennis contains these results) There was only a few key points in this match 4-6, 2-6, 8-6, 6-2, 6-3 and he was leading two sets to love.
1896 All comers final, defeated by Mahony who was the eventual champion.
1897 All comers final beaten (retired) against Reg. Doherty the eventual winner over Mahony and major champion of the UK for many years with his brother Laurie Doherty.
1899 and 1905 Winner of the All England Plate which was a secondary singles event open to those players who were defeated in rounds one and two. As such this may well be considered the first major Wimbledon tournament won by an Australian. The event was conducted up into the 1970′s at least for both men and women.
French Covered Court Championships
Over in France Wilberforce won the French Covered Court Championships in 1892, 1893 and 1894 and like many of the other top rank English players traveled the area widely and no doubt this early experience gained by Wilberforce rubbed off on players like NZ Anthony Wilding, Norman Brookes and other leading Australian players who traveled extensively throughout Europe/UK in the early 1900′s.
US Open Championships
In 1897,  Wilberforce represented the UK in a four man tour to the United States in an attempt to encourage greater visitations of players between the two nations which, if you like, was a key forerunner to the decision to commence the Davis Cup in 1900.
While there, he entered the US Open Championships and in an unfortunate repeat performance at Wimbledon 1895, lost the grand final in 5 sets 4-6, 8-6,6-3,2-6,6-2 to Robert Wrenn.
In 1902, Wilberforce returned to Australia to visit family and participate in the local tennis scene. Once again he joined the Victorian Intercolonial team and it was here that he most likely met the up and coming Norman Brookes along with Rodney Heath, Alf Dunlop and others. Norman Brookes had won the Victorian Championships and the big test for Australian tennis,  compared to overseas standards, was going to be the NSW championships. It was here that Brookes and Eaves met in the final and Eaves won in a tight come back match of 5 sets (again)  12-14, 4-6, 6-4, 6-4, 6-3.  It was a turning point in Brookes career because he realised that he needed to change his game from being somewhat erratic basher at the baseline to one, like Eaves who used a net rushing strategy, or as Brookes summed up " It's time I used my head as well as my racquet".
In addition, this was also the point at which Wilberforce educated the Australians and Brookes in particular, in the art of the American Twist serve which Brookes was later to become renowned as the "wizard" given the amazing spin and placement he could get on the served tennis ball. It would also appear that Eaves did coach Brookes and no doubt had an impact on his preparedness for the 1905-1907 contests.
Back in the UK, Wilberforce clearly, and in hindsight, accurately marked the Australians as future contenders in the Davis Cup and at Wimbledon in a tennis newspaper article published in 1903.   In fact the first Davis Cup team to play in the UK may well have been Wilberforce and Brookes because Eaves had invited Brookes over to create an Australian team in 1904.  This didn't eventuate, but in 1905  Brookes did travel to the UK and with Wilding (NZ) and Dunlop (not Eaves) playing in the Davis Cup Australasia Team.  Eaves along with B.Murphy and H.A.Parker did however made up the Australasian International team, combined with the Davis Cup team members to  play in the first of a series of test matches against an English side.
The friendship with the Australians and in particular Brookes can only be measured by the fact that Wilberforce was the best man at Norman Brookes wedding and frequently visited Australia to catch up with his mates. In 1913, Wilberforce even played with Brookes in the Australian Open Golf Championships at Royal Melbourne.
Throughout the early 1900′s Wilberforce continued to play at major tournaments. In the year that Brookes won his first Wimbledon title (1907) Wilberforce lost in the semi finals to English champion A.W.Gore 9-7, 7-5, 6-2 who then went onto play and lose to Brookes in the final (no challenge round). So with a few games either way Wilberforce may well have been playing his mate Norman for the title adding to the three previous times when he was ever so close.  His last Wimbledon was in 1911 which meant that he was a regular there from 1890-1911, a sensational period remembering he was 40 in 1907 and 10 years older than Brookes.
While often considered an Englishmen in much of the tennis literature owing to the fact that he returned there to study and did spend much of his life living there, this was commonplace in those days for many Australians with English backgrounds to do. He represented the UK on various occasions including his bronze medal in the 1908 Olympics and the UK representative teams he joined that played in South Africa, Ireland and the USA. He was also intending to play for the UK in a side planned for a (non-eventual) trip to Australia, such was his desire to bring top players out to build player exposure to the top ranks.
Yet, he also joined teams under the Australasian banner at tournaments in the UK and Europe.
What a great tennis career and given his birth here and local family and sporting connections,  his deeds to assist Australian tennis players when he played here and when abroad permits this writer to claim Wilberforce Eaves to be a very important and largely unrecognised person within Australia's Tennis history.
He died in England in 1920 aged 52.
The top photo comes from the Wallis Myer book Tennis at Home & Abroad, the second from P.A.Vailes Modern Lawn Tennis and the article from the Sydney Morning Herald Feb 20th 1920.

Also of interest within this era, is another Australian playing a part in the development of tennis. I include it here because Robert Scott, while not a champion per se, did play at around the same time as Eaves and would no doubt have played against each other at some tournaments in the 1890′s.
This article was kindly researched by tennis book collector/ historian, Keith Jenkins,who uncovered the story due to the mention of an Australian player named Robert B Scott in a book and from there considerable research effort by Keith brought the following story to light.
Robert was born at Geelong, Victoria, Australia, 11 Feb. 1868. He was the son of Thomas King Scott of Kenley, Melbourne, and Emmeline Fincham Baldock. The family owned properties in  Buninyong, Victoria, and Walgett, NSW and on the death of Thomas the probate on his will was some 20,369 pounds, which was a huge amount in those days.
Being obviously from a very wealthy family, Robert was educated at Toorak and Scotch Colleges, attending Scotch from 1876 -1882 [where he also won the Bible Prize in 1880] and then attended Ormond College, Melbourne.
In relation to tennis, Robert was already playing at a top grade in Australia before leaving for the UK.  An R.B.Scott was playing doubles with his brother in an Adelaide tournament at aged 15 and is recorded as playing for Victoria in 1890 in an early Interstate carnival event. While not quite in the top rank, he was a competent all round player.
As many Australian lads did, he traveled back to the UK to further his education and entered Trinity College at Cambridge on 7 Oct. 1892. He graduated with a BA in 1895, but he is not listed among the students who took honours. He is also listed as having studied at Edinburgh.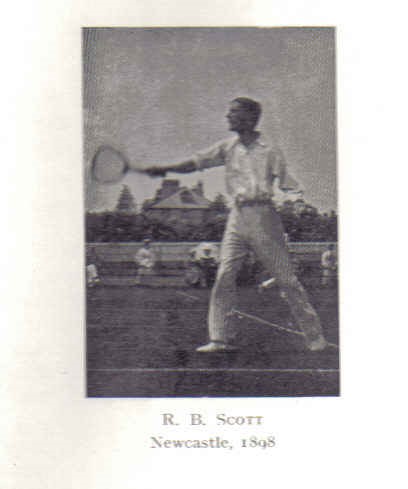 At Trinity, there is an early record of an R.B.Scott playing for the second tennis team (Grasshoppers) in 1893 and then going on to play for the first team in the Varsity match. In the 1893 Varsity Match he beat W.V.Doherty 6-4, 7-5, beat J.W.Steadman 6-2, 4-6, 10-8 and lost to A.D.Kelly 2-6,4-6.
He also won two out of three doubles rubbers playing with H.V.Fedden (also of Trinity). They lost to Doherty and Kelly 13-15, 1-6, beat Hinde and Steadman 6-2,6-4 and beat Pritchard and Mears 6-2, 6-4.
While at Cambridge University, R.B. Scott was Hon. Secretary of CULTC (Lawn tennis club)  and in 1894-1895 R.B.Scott was President of CULTC. In the following years, R.F. Doherty was President in (1896) and H.L. Doherty in 1897. Both of these gents after the Renshaw brothers, virtually dominated tennis for a decade and in the process with a huge public following stimulated ongoing interest and growth in Wimbledon and the first Davis Cup matches.
As to Robert Scott's involvement with these champions, in reading the book, "Fifty Years of Lawn Tennis in Scotland" edited by A.Wallace MacGregor in 1927, Scott is first mentioned as an "Australian player" in the 1892 Scottish Championships. Then MacGregor tells of the 1895 Champs where he played with "RB Scott, then President of Cambridge, one of the finest doubles players I have ever been privileged to partner, and one to whose enthusiasm and advice at Cambridge much of the Dohertys' devotion to the game was ascribable".
Apart from a huge enthusiasm for the game, Robert played at Wimbledon (at the same time as Eaves) in 1894 losing in the second round to Harry Barlow 11-9, 4-6, 2-6, 4-6. In 1896 he lost in the first round against top player Charles Allen 6-3, 0-6, 4-6, 6-1, 4-6 and then teamed with H.L.Doherty to lose in the 3rd round against the Allen brothers 6-3, 1-6, 1-6, 2-6.
In the Scottish Championships of 1897, Scott and his partner, R. Hamblin Smith were beaten by the Doherty brothers in the semi finals, losing 1-6, 13-15, 0-6.
Robert was licensed by the Presbyterian Church of Edinburgh May 1899; assistant at St Cuthbert's, Edinburgh, North Berwick, and to garrison chaplain, Edinburgh; ordained minister at Humbie, 18 Jan. 1905 and was transferred to Rhu 9 Nov. 1922 and died there 7 May 1924.
To assist relatives in contacting us with additional information,  our Robert Scott married on 31 Aug.1904 an Alexa Evelyn MacLeod, born 21 Feb. 1872 died 18 Mar. 1937.  She was the daughter of Rev. John Macleod, D.D., minister of Govan.
Children of RB & Alexa – Mary Alexa Baldock, born 12 Aug. 1908; Celia Helen Baldock, born 9 July 1911.
We only have the one photo and any new information would be gratefully received.
References:
"Fifty Years of Lawn Tennis in Scotland" edited by A.Wallace MacGregor. 1927 [photo]
Cambridge University Lawn Tennis Club – contact Nick Jenkins [no relation!!]
Jonathan Smith – Trinity College Archivist, Cambridge University.
Scottish Ministers – Humbie p.377
"The MacLeods-the Genealogy of a Clan" by Rev. Dr. Donald MacLeod/Alick Morrison 1970, p.33
"Wimbledon Championships" by John Barrett
"50 Years of Wimbledon" by A. Wallis Myers p.37, p.92.
Dr. Jim Mitchell – Scotch College Archivist
The Argus – 4 Jan. 1868 [List of old colonists]
The Argus – 17 Dec. 1880 [Scotch College prize]
The Argus – 27 Aug. 1889 [TK Scott - death notice]
The Sydney Morning Herald 27 Aug. 1889 [TK Scott - death notice]
The Argus – 8 Nov. 1889 [TK Scott - probate]
The Argus – 3 April 1890 [Ormond College concert]
Sydney Morning Herald – 13 Nov. 1890. [Intercolonial Tennis results]
The Argus – 2 Sept. 1904 [Wedding notice]