The arrival of the new game of tennis saw the formation of clubs and from late 1876 onwards inter-club and other competitions soon followed.
In Victoria, the MCC was already managing cricket and numerous other club activities for Melbourne's wealthier families and with the benefit of cash resources and management expertise became one of Tennis' key driving forces in that state. In mid July 1879, they laid their first asphalt court within the grounds of the current MCG and by early 1880 had conducted their first 16 man competition which carried with it Victoria's first Championship winner being Mr A.F. Robinson over H.M.Strachan 2 sets to one. (this was noted as the 1879 championship although held in 1880)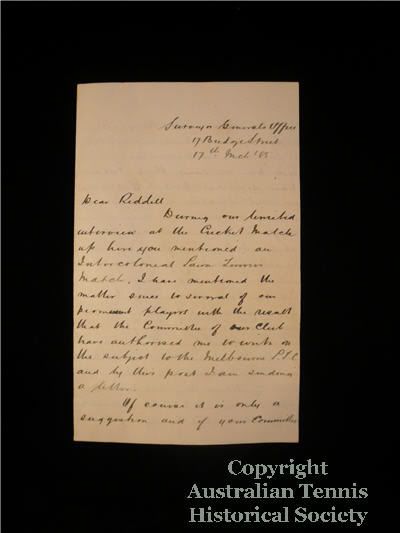 Given the high level of interest in that event, the MCC quickly decided to organise the first Intercolonial competition to be held on lawn courts set up on the cricket ground. Event timing coincided with the Horticultural Show in November 1880, at which many potential intercolonial visitors might be in attendance and the rules simply stated that any doubles combination must be from the same colony or country.  To the singles winner, F.J.Highett, came a trophy with a hefty value of 10 pound 10 shillings and the runner up R.P. Arnold a mounted silver racquet. The doubles was won by A.F. Robinson and C.Trench. The doubles draw included two Englishmen H.Callender and H.Allison making the tournament one of the earliest "internationally" represented tennis events. Also, consider that all the states were in effect different colonies (countries), at least until federation in 1901, so you could also argue that even by being Intercolonial, tennis between Victoria and New South Wales was equivalent to tennis being conducted between France and Germany.
By way of comparison, the first Wimbledon was conducted in England in July 1877 and the first USA National Championships were conducted in 1881, so the pathway of competitive tennis was commencing on a fairly even footing across the key tennis playing Nations. It was not until 1905 that Australia truly adopted a National Championship.
In Victoria, again through efforts of the MCC, pennant tennis began in 1884 and by 1887 the growth in the number of clubs and participation in competition tennis necessitated the creation of numerous grades or levels. Woman's pennant began in 1894.
In 1885, the Lawn Tennis Club of Sydney invited the MCC to an Intercolonial match to be played on the Sydney Cricket Ground. The letter above t is the original sent by C.Cropper(NSW) to W. Riddell (VIC) and makes mention that Riddell raised this with Cropper on an earlier Cricket tour.  Amazingly, Cropper also suggests conducting an Open Championship of Australia alternating between the two cities. This did not eventuate until 1905.  The 1885 event was an outstanding success and Victoria issued a return invitation in October that year, but NSW declined due to the hosts choice of asphalt courts using uncovered balls, whereas New South Wales were playing on grass courts with covered balls, hence the advantage was always with the home team.
Also above is a photo of the actual 1885 programme of events.
Intercolonial tennis involved matches between neighbouring states NSW v  (VIC,QLD)  Vic v (NSW,SA) and became the breeding ground for our first champions and up and coming players like Norman Brookes, Horace Rice, Rodney Heath and Alf Dunlop.
These contests became the premiere events with some thousands attending the matches which were conducted over several days of continuous play.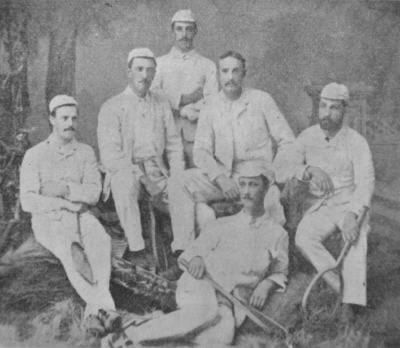 The first Intercolonial tennis teams Victoria v NSW played at Sydney Cricket Ground  May 1885
Victoria: D Webb, F Highett, L White, W Coldham
Colville, W Riddell, R Martin
NSW  Back R Fitzgerald (Standing)
H Merewether, C Cropper, W Salmon. J King
Front- C Smith
The newspapers of the day provided a couple of wonderful illustrations depicting the events held on the NSW Association (Sydney Oval) Grounds. The wealthy were the prime source of both players and spectators.
Dress codes were immaculate and the tournaments were conducted in May and November, alternating between Melbourne and Sydney.  Queensland was added to the NSW fixture and South Australia to Victoria's.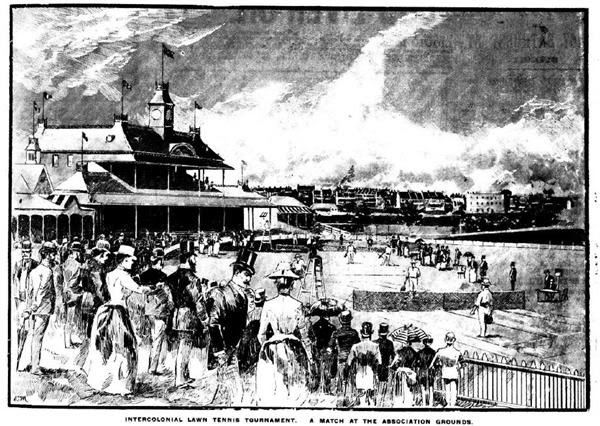 Below are some very rare original photos. They were copied from original glass plate positives
taken of the 1890 NSW v VICTORIA Intercolonial challenge played on the Sydney Cricket Ground. The Gentleman (by himself)  is Dudley Webb who won many NSW Championships from 1888, 1892, 1893 & 1894.  He competed firstly for Victoria's intercolonial teams and them upon moving to NSW played for them from 1887-1898. The glass plates belonged to Dudley Webb's family.
As you can see, the crowds were highly supportive and please also note the fashions on and off the court.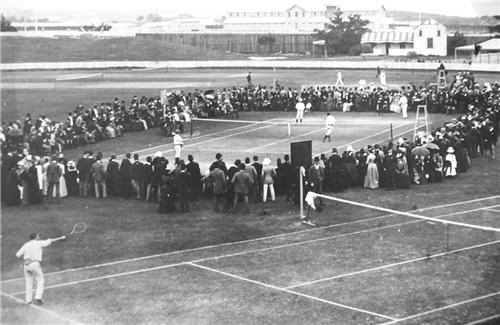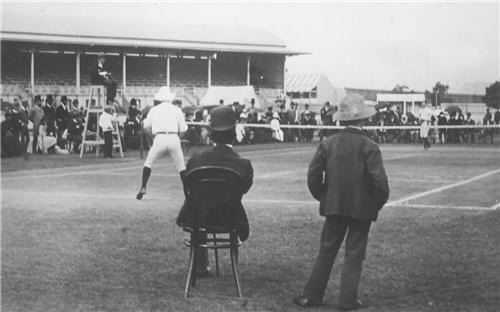 Dudley Webb NSW Champion and Intercolonial Representative
In addition to the 1885 letter above we also found a collection of other Inter-colonial memorabilia
located in the State Library of Victoria.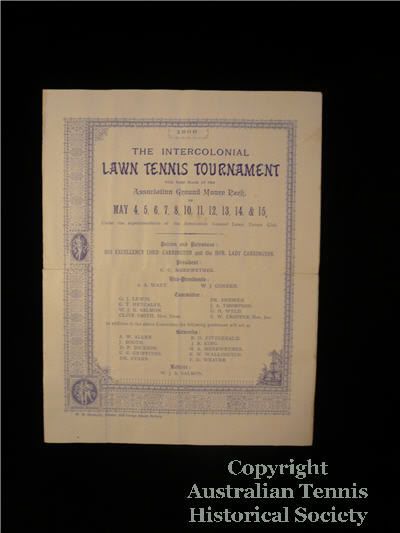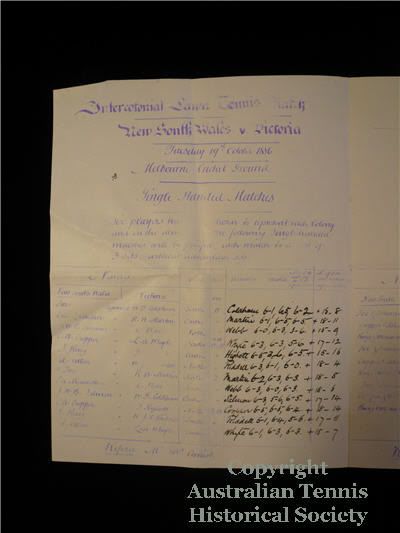 The Intercolonial Tournament programme and some of the results 1886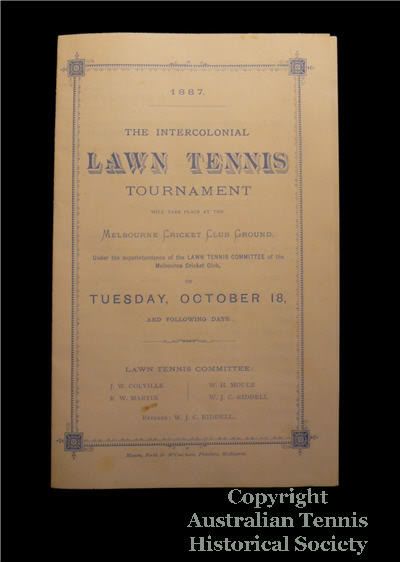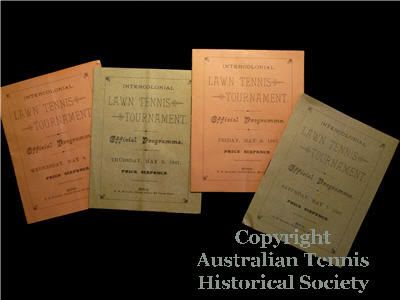 The Intercolonial Tournament Programme & daily events offical programme 1887
Apart from the Intercolonial tournaments, the state tournaments were also very popular as were some prestigious club events.
This table shows the first recorded years by state and event as indicated in the book "Lawn Tennis in Australasia" By Austral (R.F.Kidston Journalist and Intercolonial player for NSW)
Location
Men's Singles
Men's Doubles
Ladies Singles
Ladies Doubles
Mixed Doubles
Victoria
1880*
1880
1884
1884
1884
New South Wales
1885
1885
1885
1886
1885
South Aust.
1890
1890
1892
1893
1894
Queensland
1889
1892
1892
1898
1892
West Australia
1895
1896
1897
1900
1902
Tasmania
1893
1893
1893
1901
New Zealand
1886
1886
1886
1886
1899
Buckley Tournament
Autumn Champs.
1888
1888
MAJOR CLUB TOURNAMENTS
South Yarra
1897
Grace Park
1902
Strathfield NSW Metropolitan
1892
1892
1892
1911
Geelong (VIC)
1891
* two events played in the one year.
In 1880, interclub events featuring the MCC teams (Melbourne) took place.  The Geelong Recreation Club held its inaugural bi annual Lawn Tennis Challenge Cup in Geelong around April and this was won by MCC player, W Officer. In October,  MCC player F Highett won from the locals followed by an impressive win in the widely promoted Victorian Championships.  Highett won the Geelong tournament again in 1881 and this trophy, below, is owned by the Highett family who we thank for sharing this remarkably early piece of Australian Tennis History. On a close inspection of the  tournament sheets, above, you will find Francis Highett listed as part of the first 1885 Victorian team to challenge NSW.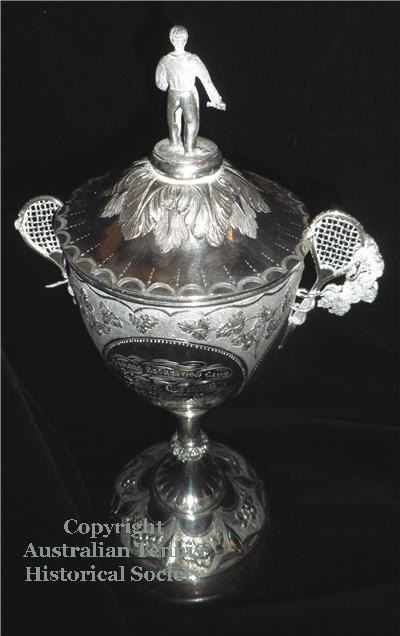 Retruning to Dudley Webb, apart from winning the NSW Championships numerous times, he won this amazing trophy in 1893 and 1894 at the Strathfield Metropolitan Championships. Edward Dewhurst won this in 1895 before heading to the USA where he won some very prestigious tennis events.
What an amazingly beautiful trophy, created by Elkington & Co. 1892.  We have left the picture as large as we can to help define the ornate work within the 3D design, approx. 300mm in diameter.  It has been acquired by Tennis Australia.