Born in Melbourne in 1927 , Frank Sedgman was introduced to tennis through his parents association with the Blackburn Tennis Club. Playing in the popular schoolboy holiday tournaments which included Elsternwick, Glen Iris and Kooyong he learnt of Harry Hopman, who conducted coaching lessons at Kooyong. At his mothers insistence, at aged 14 Frank plucked up the courage to ring Harry and explain, quite brazenly, that he could beat most of the kids in Harry's current clinic and wanted to join his coaching squad. With that much front, Harry permitted Frank to join and so began their amazing relationship.
Frank's first job, like Harry's at the Herald, was in the newspaper business and he worked for the Argus. Tennis coaching was scheduled every Thursday and the Argus structured his work hours so he could attend the lessons.
The 1945 Victorian Junior Championships was Frank's first major win and in the seniors event he was beaten by Adrian Quist in the 2nd round. These performances led to his selection in the Linton Cup where he played interstate matches that helped him into Australia's National Rankings as equal #10.
In 1946 he helped secure Victoria's Linton Cup win and also won the Australian Junior Championships. One of his stand out performances that year was beating ex Wimbledon champion Jack Crawford (#7) in the first round of the NSW Championships in a tough 5 setter. In the NSW v's VIC Mars Buckley test he lost to Geoff Brown and beat Gilchrist and so he was proving to himself and selectors that he could mix it with many of the then current Davis Cup players plus the Australian population were seeing the rising talents of a new young player.
Jumping to 1948, Frank won his first major in the West Australian Championships beating Colin Long in the singles final and with Colin also won the doubles. Frank was now the number 4 ranked Australian player behind Adrian Quist, John Bromwich and Bill Sidwell but didn't make the 1948 Davis Cup Team, even though Bromwich withdrew because of his fear of flying, whereas the pre-war tours involved travel by sea. Instead, Bromwich planned to set sail for Wimbledon and it was felt that Frank should also go as Bromwich's partner but couldn't afford to fund the trip privately. Possibly with just a slight influence from Harry, the Herald ran a publicly promoted 10 day fund raising campaign which enabled Frank to go, only after the LTAA stepped in to control the fund and provided him with appropriate accreditation.
Just as well. Frank and John won the 1948 Wimbledon Doubles and Frank came runner up in the mixed finals playing with Doris Hart. Frank was also runner up in the French playing with Harry Hopman as a precursor to Wimbledon. Back then, players didn't relate to the French Open as they do today as part of the Grand Slam and it was treated more as a warm up tournament. In fact, Frank holds the view that Doubles was very much an Australian strength mainly because many other countries focused on singles. Growing up at tennis clubs here usually meant playing plenty of club doubles and the record books stand testament to Australia's longtime dominance of doubles events.
The other really important event in 1948, again through Harry's stewardship, was the sponsoring of Frank to play in the USA. This was forthcoming from successful Australian Industrialist, Fred Small who lived and worked in New York. This was all about gaining experience and Frank lived near the LA Tennis Club which was a focal development point for American tennis and he played regularly with elite players including Kramer, Riggs, Budge Patty and Falkenburg. He recalls the courts to be cement and very fast and it was here that he honed his serve volley and power game.
1949 was one of Frank's mixed performance years. Despite winning his first Australian Championship and making the Davis Cup team, he also played with Colin Long once more in the doubles to be defeated by the powerful doubles combination of Quist and Bromwich. Over at Wimbledon, he and Bromwich didn't back up their 1948 win and in fact missed the finals. Even more demoralizing was that Frank had a match point against Ted Schroeder in a singles match and blew a second serve by running around to his forehand and hit one high for an easy put away volley. Schroeder recovered to win the match in 5 sets and then proceeded to win the championship. The USA then cleaned up Australia in the Davis Cup Challenge Round 4-1 with only the doubles win. Frank lost both singles to Schroeder and Gonzales.
Having won the 1950 Australian Open for the second time, he was now the #1 seed at Wimbledon. During the lead up trip he slipped on a sand box used on snow covered roads and injured his wrist which meant he missed playing all the warm up tournaments and literally only just made it to the opening round when his wrist started to feel better. In a great effort, he made the finals and on the way Frank recalled a remarkable match against A. Larson with the first two sets being lost in appalling, late evening wet weather conditions. It was so slippery that Frank actually decided to play in his socks. Harry Hopman sought out the referee for a postponement until the next day. Luckily, Frank came back to win the next three sets. The trend continued in the Semi's against Drobny where, once again, from two sets down Frank fought back to win. In the grand final, Frank lost to Budge Patty in four sets. For both Frank and Budge it was tough singles match mainly because they played each other in a previous marathon 4 ½ hour doubles (with Ken McGregor) match in which the second set went 31/29 in over 2 ½ hours. This was lost in 4 sets. Frank explained that back then each set was allocated 6 new balls only and not the current 9 game rotation. Consequently, the balls became a total disaster to the point that from a serve they just shot through off the grass and so with a huge favour to the server the balls actually helped perpetuate the score.
The 1950 Davis Cup team was now captained by Harry Hopman and some younger players were promoted to join Bromwich. This was the first season for Merv Rose and Ken McGregor and the last for Bromwich who even agreed to fly to the USA in order to participate in his suspected last Cup Challenge. The Inter Zone final was a close 3-2 win over Sweden in pretty appalling wet conditions, aka, Frank played and lost to Bergelin again resorting to playing in socks in very slippery conditions. Bromwich lost to Bergelin also, but luckily they both won their singles matches against Johansson and the doubles. Norman Brookes and Harry threatened Frank that if he didn't win the reverse singles he was on the next plane home. The Challenge Round was a great opportunity for McGregor to shine in singles and with one loss only, Australia captured the Davis Cup 4-1 against the USA. Frank played well beating Schroeder and T.P.Brown in singles and with Bromwich beat Schroeder and Mulloy in doubles. Whilst in the USA Bromwich and Frank won the US Doubles over Bill Talbert and Gardnar Mulloy.
If 1950 was good, 1951 was totally exceptional.Frank teamed up with Ken McGregor once more and won the first Men's Doubles Grand Slam and was only the Australian Mixed Doubles final short of a Grand Slam in that event as well.He also won his first US Open singles over Vic Seixas which became his third major singles title. This was the first time an Australian player had won the event and only the fifth time for an overseas player.
The Davis Cup Challenge round in Sydney saw a controversial decision to play Rose ahead of McGregor against the USA. Although Rose had good form leading into the round, Frank always felt that McGregor was the more match fit player. The strategy back fired and with Rose losing the two singles rubbers. Sedgman won all three of his matches to secure the cup once more, but only just.
Frank was clearly established as one of the top players in 1952 and he won his second US Open Singles title and his first Wimbledon Singles title, three mixed tournaments except the Australian Open again and won three doubles events with Ken. The last "Slam" final of the USA doubles was played against Aussie Merv Rose and Vic Seixas (US). McGregor had pulled a stomach muscle and had difficulty serving so the match went to 5 sets which they lost. A win here would have meant their 8th consecutive Grand Slam doubles win in a row. Harry Hopman was so furious at Rose for siding with an American and ruining the party, that he didn't speak to him for two months. Australian Tennis officials declared, as reported in the press, that Rose was not to play with Seixas in the 1953 US Doubles again, in preference for Aussie Clive Wilderspin. Such was the power play of officials versus players back then in trying to engineer partnerships that would assist in aiding Australia to win the Davis Cup which meant crowds and income ahead of individual tournament performances.
The 1952 Davis Cup in Adelaide was a pretty straightforward affair with good wins over Seixas and Trabert 4-1, but then every win over the Americans is good for national pride but also the cup stays in Australia for the next revenue generating year.
This third successive Davis Cup win marked the end of Frank's amateur career. Everything changed in 1953 when he announced to the World that he was becoming a professional with the Jack Kramer Troupe and Ken McGregor joined also.
On reviewing Franks' overall amateur performance some very unique and interesting stats appear.
Frank is the only male to have played and made the finals of every Grand Slam Event (singles. doubles and mixed). Over the three years 1950-1952 he won 11 of the 12 titles. He won a triple crown twice (singles, doubles and mixed at the US '51 and Wimbledon '52) and played in 3 consecutive winning Australian Davis Cup Team 1950 -1952, plus, the prestigious achievement of winning the Doubles Grand Slam in 1951.
Turning professional was a fairly logical progression. This was hardly surprising. Back in 1950 Frank was quoted as saying he would consider becoming a professional at some point, so everyone new it was on the cards. In 1952 to keep him amateur for the Davis Cup, Frank Packer (Consolidated Press) provided a 5000 pound wedding gift to Frank's new wife Jean and Slazenger paid for them both to travel Europe to play exhibition matches as well as the main tournaments. Naturally this blatant payment and "sporting goods employment" contracts created plenty of ill-will from the Americans yet even though the LTAA politically managed the situation, these backhand deals that many players were receiving highlighted the need for Tennis to move into an "Open" era, which still did not occur until 1967.
Kramer was a legendary tennis player.He had won Wimbledon, US championships and Davis Cup Challenge rounds in 1946 and 1947.Kramer turned pro in 1948 and set about delivering a quality road show to not only delight the fans but to create incomes for himself and other pro players. Frank had promised Kramer that he would join after the 1952 Davis Cup Tie.
The transition was rapid. On the 7th January 1953 Frank debuted against Kramer in Los Angeles in front of a 4000 plus crowd and won 3/6, 6/4. 6/4. The press were ecstatic at the win and although many felt sure Kramer had finally found a formidable opponent, Bill Tilden commented that Frank "was the fastest man he had ever seen on a court….", however he believed "Kramer's shots were better, but he suffers from a lack of high calibre competition". And, indeed Frank did lead the "head to head" results early on but Kramer came back and eventually won the tour 54-41. Frank believes Kramer is the best player he has played against due to his skill and very tactical approach to the game. Gonzales had an amazing serve and power game but the ground shots weren't as good as Kramer's.
Professional tennis was grueling. Constant travel, new rooms every night and often low cost, self drive transportation between events. If today's elite players don't think they owe Jack for persevering to create an open professional stage, improve pay and conditions that allow a contemporary first class lifestyle to be derived from tennis they certainly need to. The venues could be ice skating rinks or velodromes. The court was usually a portable, taut canvas sewn in panels. The seams did create some odd bounces and while it was different Frank felt he became quite quickly accustomed to its playability. The photo right shows Pancho Gonzales, Tony Trabert, Frank and Rex Hartwig in 1955.
When quizzed about the intensity of Pro tennis, Frank said that his game went to a totally new level. Every game, although an exhibition, was played to maximum intensity. Kramer, Segura, Gonzales and even the 'past his prime' Don Budge never held back. Winning meant money and pride so to win the tour series, tournaments or head to head contests was a top priority. On the subject of amateur best players versus the pro's, the pro's standard was way above the amateur standard and of course had the era been Open the inscriptions on the Grand Slam trophies throughout this period would have been very different.
Frank nominates his best ever tennis performance was against Pancho Gonzales in the November 22nd 1953 Open Championship at Wembley UK. He blasted Gonzales off the court in a crowd stunning 49 minute display 6/1, 6/2, 6/2 to become the unofficial World Champion.
In late 1954, Frank organised a tour to Australia independently from Kramer who was taking a break after an exhausting 18 months on the road not just playing but organising two World tours. Local Australian cycling promoter, Ted Waterford managed the tour for Gonzales, Segura, Frank and Ken McGregor.
Over the next decade Frank participated in many overseas and Australian Professional tours and many top Australian players were being lured Ian Ayre, Rex Hartwig, Ken Rosewell, Lew Hoad, Ashley Cooper, Merv Rose and Mal Anderson all became Kramer Pros. The 1959 Australian Kramer tour was banned from any official LTAA venues so they played at some very obscure venues and then in 1961 the LTAA did approve play at key venues after satisfactory financial arrangements were negotiated.
In a European tour, in 1964/65, Frank played a series of Australian Professional tournaments against Gonzales, Laver and Rosewall which were pretty much his last premier pro level tennis matches. Below is a fun shot from 1963 with a few pro's Sugura, Gonzales, Hoad, Rosewall, Merv Rose, Kramer and Cooper lighting up Frank's cigar.
Thanks to the Open era, a truce between the pro's and administrators saw Frank return to club tennis, playing A grade pennant for Grace Park from 1970-1978, where it is reported he did not lose a singles match.  He rejoined the 1970 Australian Open and played against the 1968 amateur winner Bill Bowrey but missed a sitter volley on his match point to eventually lose in 5 sets 6/2, 1/6, 6/3, 4/6, 7/5. He went onto play the Australian Open until 1976 aged 48 which is a sensational effort.
We discussed the ramifications for turning professional. The power struggle between administrators and players was always brewing particularly as independently wealthy or privileged players (aka Sir Norman Brookes) were being replaced by average kids coming from the country and average suburbia. These players needed to earn a living while devoting their time to practice and overseas touring. Controlling players and money making events like the Davis Cup was the ultimate objective of the LTAA, yet by the 1960's crowd numbers at the Cup and major tournaments were being impacted by the large number of players turning pro and the obvious lack of star quality in the amateurs.
While a pro, Frank's membership at Kooyong was cancelled, he couldn't play pennant or participate in any LTAA event. Looking back, the players knew what they were in for if they did turn professional, but it was a very dismal way to treat Championship winners and Davis Cup Champions. Frank ended up playing championship squash because he wasn't allowed to play in LTAA sanctioned tennis. events anywhere.
Thankfully the open era is allowing players and tennis associations to share the revenues from a game which still excites the population via record crowds, strong media and the degree of interest in local player support. The Australian Open today is attracting crowds who flock to see the best players at one of the best venues.
In relation to racquets used, Frank started tennis with a Dunlop Maxply, then was earning 8 pounds a week from Spalding until the 1949 Australian Championships. After this Oliver paid him 20 pounds per week and Frank won the US and Wimbledon titles with the famous Oliver "BlueBird". As a pro he used Wilson in the USA and Dunlop produced a signature /photo decal racquet in the mid 1950′s . In the mid 70's Frank went back to Oliver and also endorsed a small Queensland racquet maker called Master. Over in New Zealand there was a signature range from Feltex.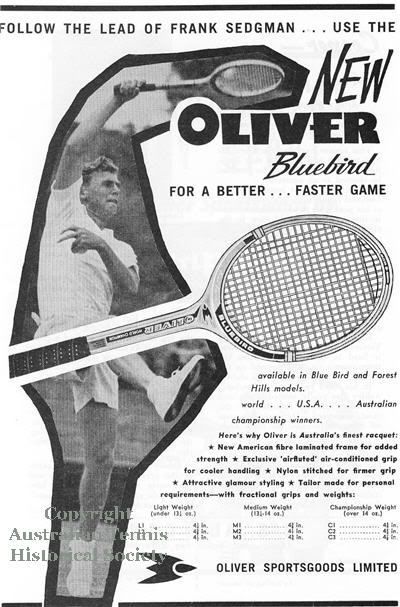 We can only look back over the record books for Frank Sedgman and truly admire and marvel at his achievements in Tennis on the court and off.  He has won every major event across Singles, Doubles and Mixed bar the French Singles title which is an amazing effort unlikely to be seen again.  We are pleased to report also that Frank is fit and well, is still actively involved in tennis administration, goes to the gym 3 times a week and plays golf. I suspect he would still give players years younger a run for their money.
Some good books: Jack Kramer's "The Game. My 40 Years in Tennis"1981, Harry Hopman's "Aces and Places" 1957, "Winning Tennis" by Frank Sedgman 1955, "Our Open" Tennis Australia 2004
Thanks for taking to the time to meet with us Frank, a great privilege.