In this section we introduce the history of tennis ball manufacture in Australia and the invention of the first (or very early) tennis ball machines.
Australian Tennis Balls began manufacture in the early 1900′s, with three companies becoming prominent. The competition was fierce with many balls being imported in both covered (lawn) and uncovered (asphalt) versions. This ad from the 1909 Davis Cup Program held in Australia is a very early example promoting Australian made balls.  They were not considered high quality and imported balls remained popular.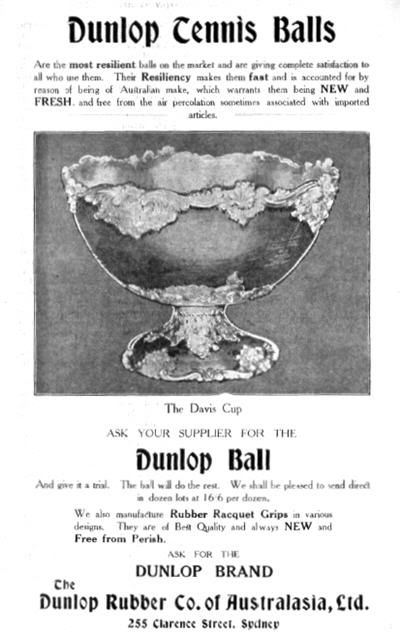 Many of the Australian companies were already in rubber products manufacturing such as Barnet Glass and Ormiston which produced raincoats and other waterproof clothing. Dunlop was famous for the development of the automotive tyre.
The big three makers Dunlop, Barnet Glass and Ormiston virtually created a cartel to own the Australian market and you can see some of their advertisements under that section while further pictures of finished products will be sourced for this section.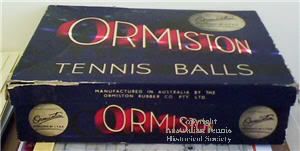 In 1926, Spalding also began ball manufacturing, in Melbourne, a plugless and stitchless ball. Learn more from the Spalding section.
Slazenger balls made in the UK were highly regarded, since they were sponsoring Wimbledon and were imported in large quantities. We are still researching Slazenger's manufacturing lines from their Sydney plant to find if they ever produced locally.
Here is an interesting article from 1924 about Tennis Ball manufacture.

Above. A very colourful ad from the 1924 Australasian Lawn Tennis magazine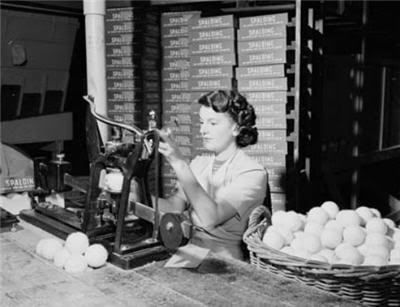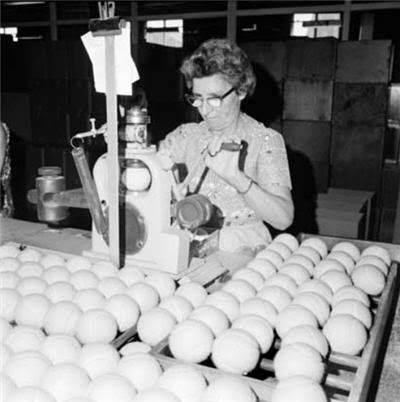 Ball Making was a fast growing high volume business. The pictures above show the laborious job of branding each of the balls which included adding numbers or coloured spots so that players over many courts could identify matching pairs. These shots are circa 1945.
Pictures Courtesy National  Archives Australia
Top ref NAA A1200, L3188   Bottom ref NAA A6180, 10/4/72/3
As the war effort caused a diversion of precious resources, people had to ration and do with whatever could be achieved.
You can't foresee this happening today. Recovering used tennis balls.
Ball machines were on the agenda in 1927/28 and in Renee Lacoste's " Lacoste On Tennis" he mentions making one to improve his practice sessions, however we have found reference to one possibly created earlier by an Australian in the Gippsland Times July 1922.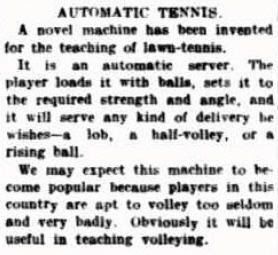 Below we have an actual photo of one invented by an Australian,  Percy Jepson in 1927, who we suspect also ran an engineering firm producing Fruit Packing machinery, hence his experience with the technology.
The motorised ball machine was called the "Machine Gun" and subsequent testing by Pat O'Hara Wood at South Yarra indicated it was an idea of some merit.  The unit was demonstrated in Myers retail store and invited tennis players to attend. Gerald Patterson demonstrated the unit to the  visiting French team, Brugnon and Boussus  and explained that Lacoste's machine was hand operated and not comparable to the machine version invented by Jepson.   Lacoste's machine was also brought to Australia to be demonstrated.  The Jepson did go offshore to the USA (Forest Hills) for evaluation in 1929 where Betty Nuthall and Vincent Richards tested it to positive reviews.
We found that Jepson Fruit Packing went in to liquidation in 1931, so unfortunately this interesting model may not have survived.
These articles from The Argus 1927 and All Tennis 1928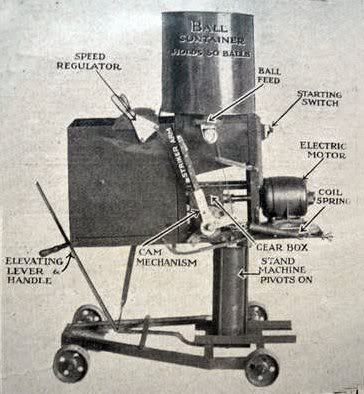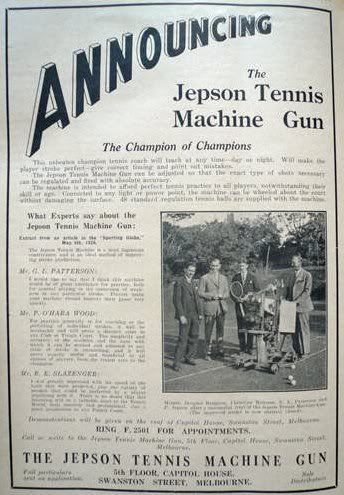 Visiting French players in 1928, Brugnon and Boussus are in this shot with Patterson and
the inventor Mr P Jepson (also below from the Argus)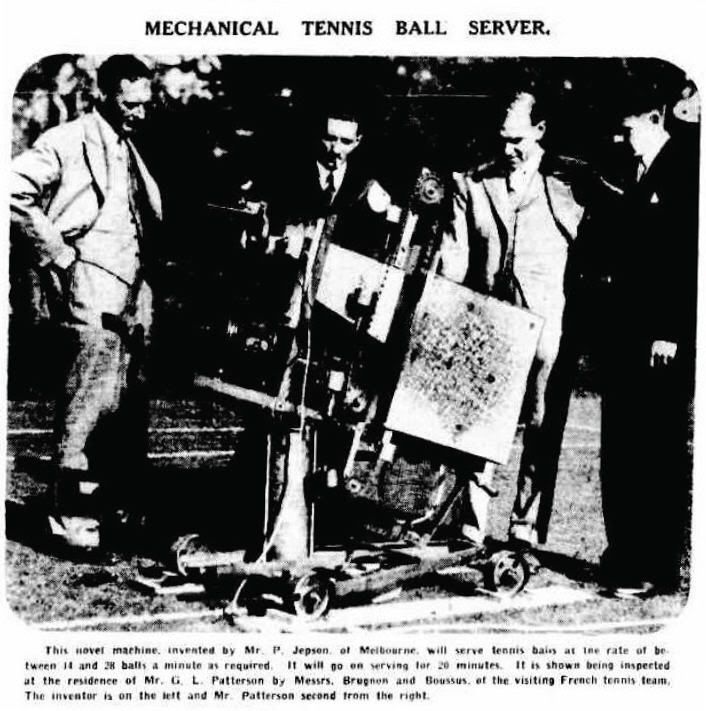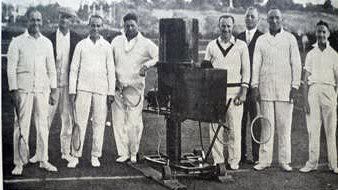 The Jepson being tested at the then South Yarra Tennis Club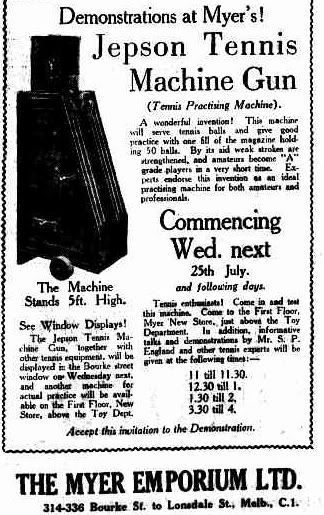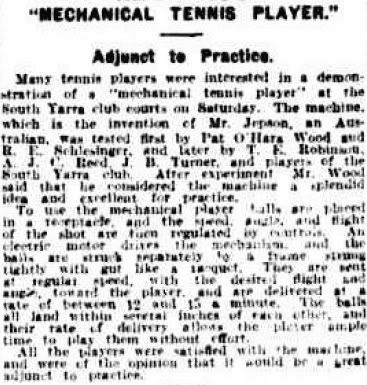 In November 1930, another Australian Inventor, Mr J.R. Black  from Adelaide (East Torrens & Interstate Player) came up with an electric motor tennis ball machine which he patented and found agents for in overseas markets.   These were being made by Newton McLaren Limited where Mr Black worked.  It held 48 balls and could toss or drive balls at 1.5,3 & 6 second intervals.
Apparently his inventiveness continued for this photo is labelled as his ball machine in 1963.
Photo Courtesy National Archives of Australia ref.  NAA A1200, L43279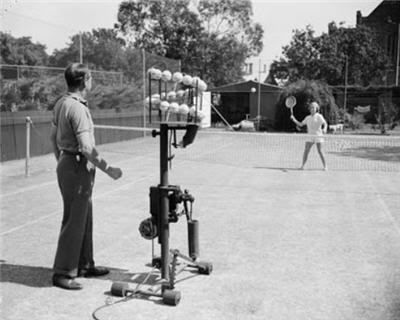 In 1939, another Melbourne inventor created a ball machine which would deliver 50 balls as lobs, volleys or ground shots.